Table of Contents:

A high number of untouched opportunities is indicative of a variety of pipeline management and hygiene problems. Unaddressed, this will lead to an issue with win rate (as untouched opps don't close), will likely negatively impact forecast accuracy, and is a great way to make sure Marketing is mad at you for squandered SQOs.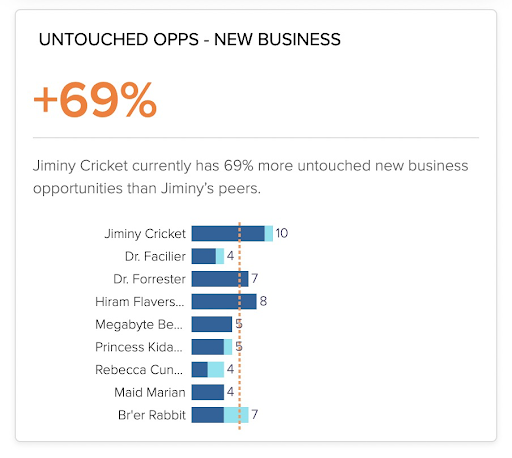 Understanding the Untouched Opps situation
A large number of untouched opportunities is an indicator of a variety of pipeline hygiene issues.

There can be a number of root causes:
poor time management by a rep who needs guidance on engaging their opps.

a pipeline full of "fake" opps that should have been closed out long ago.

an over loaded pipeline with too many opps for a rep to effectively engage.

Insufficient activity levels for engaging the number of opps a rep has in their pipe.
Diagnosing and fixing the root cause is critical, as all of the above indicate issues in the sales motion to be addressed. Outside of this article, learn more in the Atrium Playbook on Pipeline Hygiene Metrics and Guide to Making Performance Conversations Easy (order laminates here).
Diagnosing Possible Root Causes & Resolving Them
These are some of the most common root causes of an undesirable amount of untouched opportunities - figuring out the likely issue at hand will allow for applying the correct solution and fixing the problem.
Opp Overload?
Metric(s): Opportunities Owned
Action Item: Reduce the rep's opp count
A common root cause of an untouched opp problem is a rep owning too many opps and not having enough bandwidth to effectively work them.
This can be quickly diagnosed by looking at their total opp count - either "right now" or in the trailing 30 days, as compared to their peers.
If a given rep is overloaded with opps, and they are real, and not "fake," it may be necessary to cut them off from new opportunity inflow so they can more effectively manage their pipeline.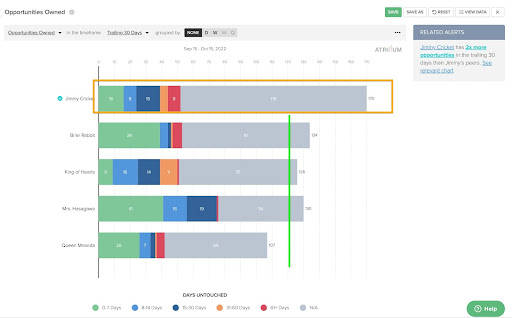 Prescription: In a situation like this, figure out how you can reduce the rep's opp count to a more manageable level.
If all the opps in the reps pipe are "real", then take them off of inbound until their opp count gets to a more manageable number - ideally put a reminder on your calendar in a week or two to see how their opp ownership is looking.
If there's an opportunity to clean up their pipe from "fake" opps (see below), then have them clean those out by marking them as closed lost until they get to appropriate opp count level.
Low Activity Levels?
Metric(s): Opps Touched, Emails, Meetings, Calls
Action Item: Raise rep's activity levels.
Another common issue at the root of a high number of untouched opps can be lower than desired activity levels.
That is, if a given rep has low email, meeting, and opp touch volumes…then even with a standard complement of opps in their pipe, they're still going to have more untouched opps than you would expect.
Investigate this by looking at metrics like Opps Touched in the Trailing 30 Days: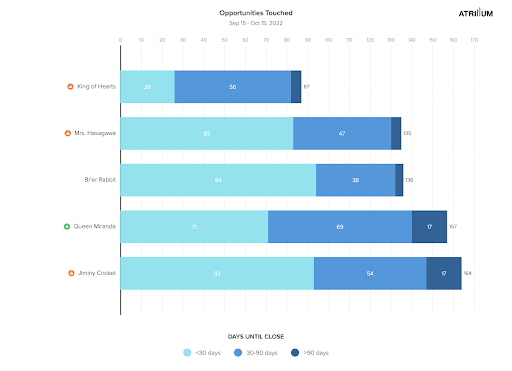 And other activity metrics like email and meeting volume.
Prescription: Discuss with the rep the importance of maintaining a high level of activity and spreading that activity consistently across their pipeline.
Consider blocking times on their calendar, a couple times a week, focused purely on pipeline maintenance, and tie that to an Atrium Opp Health View of current pipeline opps. Further investigate root causes of low customer activity.
Consider setting goals on email and meeting volumes on a weekly and monthly basis.
See more in the Pipeline Hygiene Atrium Playbook and the Gamification Playbook.
Fake Opps?
Metric(s): Stuck Opps
Action Item: Close out dead opps.
Often untouched opps are untouched because the rep knows they're not "real" - they should have been closed lost a while ago, and are just crufting up a rep's pipe.
A good way to diagnose this is to inspect the number of Stuck Opps in a rep's pipe. A large number of stuck opps that haven't moved a stage in more than 60 days is probably indicative of opps that are untouched for a reason, and ought to be closed out.
Prescription: Provide the rep with an Atrium opp health view of all their stuck opps, sorted by last touch date, and have them close lost the opps that haven't been touched in the longest amount of time. See more in the Pipeline Hygiene Atrium Playbook.
Scattered Focus?
Metric(s): Emails, Meetings, Opps Touched, Opps Owned
Action Item: Spread attention across a larger proportion of pipeline.

Another reason for a high number of untouched opps can be scattered focus on the part of a rep.
This is a more nuanced case, but is indicated by a similar number of opps as peers, solid activity levels as indicated by email and meeting volume, but still a high number of untouched opps and likely a lower number of unique opps touched.
This can indicate that while the rep is engaging in good activity levels (emails and meetings), he's struggling to spread that sufficiently across his pipeline.
Indications of this would be a lower number of opportunities touched than peers - like here: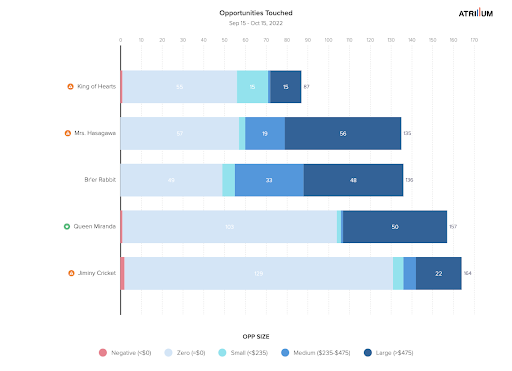 Even though the same rep has a comparable amount of emails sent and meeting volume.
Prescription: This is often indicative of a rep "working out of their inbox" instead of working out of their pipeline.
A good resolution here can be to block a couple of hours per week recurring on their calendar, with a good Atrium Opp Health View or other pipeline view, sorted from "last touched" linked in the meeting invite.
See more in the Pipeline Hygiene Atrium Playbook.