Table of Contents
Overview
As Atrium supports a variety of international customers, and customers that have individuals in various countries, there are a variety of ways customers can manipulate currency in Atrium.
Specifically, organizations can:
1. Change Displayed Currency Symbol: Atrium defaults to showing all values using the US "$" sign. If your organization stores values in Salesforce for closed won deals, open opportunities, etc. in a different value (e.g., Euros "€" or Yen "¥"), you can choose to display that symbol as the default value for all your users in Atrium.
2. Convert Default Currency To a User's Preferred Currency: Additionally, many organizations save their default currency as a certain value, but have international users who would prefer to view those in their local currency. E.g., A sales manager in Europe who works for an American sales organization, who would like to view their deals in Euros. That user can modify their Atrium user account to convert the organization's stored default currency (e.g., USD $) into Euros, to display in their own Atrium account.
To get assistance is modifying any of your currency settings in Atrium, email your CSM for assistance in configuring the backend settings.
How Displaying Currency Works in Atrium
The default way Atrium displays all currency values (e.g. those associated with Closed Won Opps, Bookings, Pipeline values, etc.) is a singular currency for an entire Atrium account. Further, Atrium defaults to displaying USD "$".
Modifying What Currency Symbol Displays In Atrium
If you would like to change the currency symbol that presents in Atrium such that it matches the currency that is stored in Salesforce, you can do that by changing the currency symbol.
For example, if your organization is based in France, and values are stored in Salesforce in Euros, and you would like to display that in Atrium, you can do so. Email your CSM to request that change.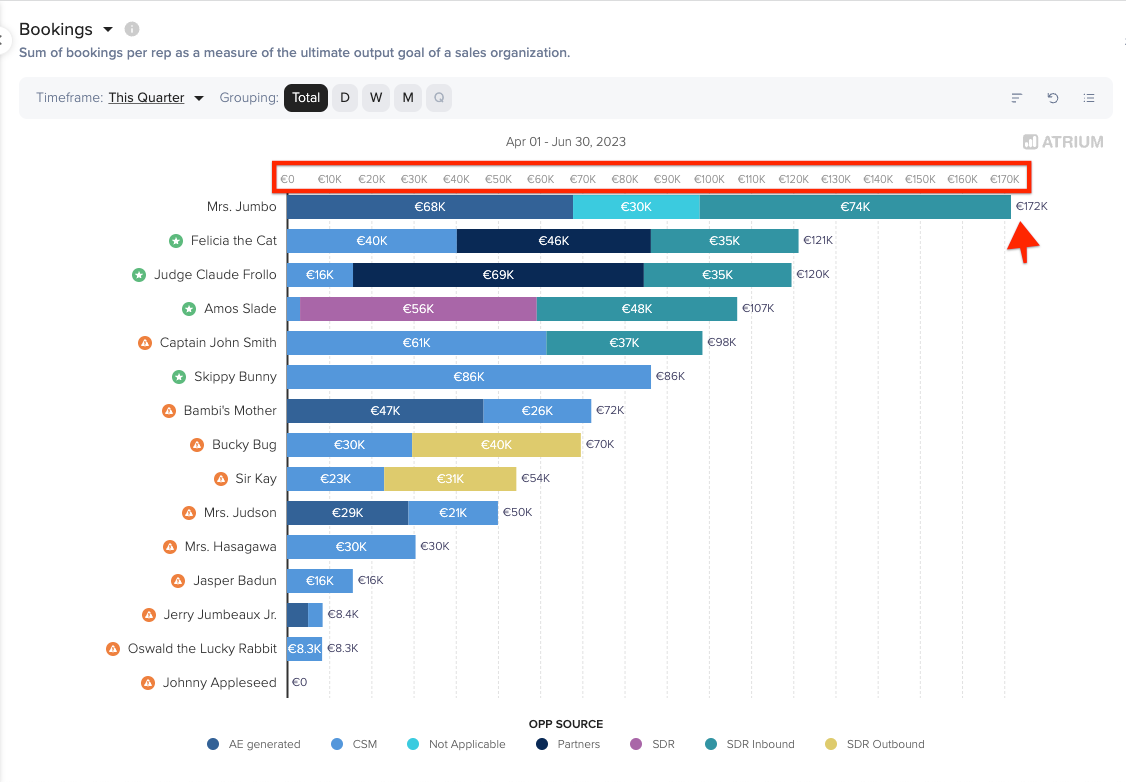 Converting Salesforce Currency Value Into Another Currency Value
If you would like to convert the values that are stored in Salesforce into a different currency, and display that converted value in Atrium, you can also do that.
For example, if a sales manager works for an European organization that stores their values into Salesforce in Euros (as above), but would like to view that in their Atrium account as USD $, you can do that, as well. Email your CSM to request that change.