Important Technical Considerations
Overview
If you have a rep that will be on leave for some amount of predetermined time and do not want anomalies and alerts firing for that individual, Atrium has a tool to do so, called Alert Reset Date. Atrium will not fire any alerts or anomalies for that rep until after that date.
You would use this tool for employees who would be "on leave" for any significant amount of time that could cause their metrics to be impacted, whether this is a two week vacation or six months.
You can set it through the Employee Org Chart in your Atrium Instance.
What is the Alert Reset Date?
Atrium is all about delivering insights to managers to better manage reps. In the event that a rep is "on leave," we would not want errant insights and alerts to distract from actionable information. To this end, we have the "Alert Reset Date" that will prevent Alerts being "fired" for reps until the date has passed. You can access it from an Employee's information page in the Company Org Chart.
Navigating the Org Chart
For the whole process of setting the Anomaly Min Date for a rep, follow the steps in this video or read the instructions below.
Getting to your company's "Org Chart" is a simple, three click process. Simply click your name in the upper right corner to open the drop down menu. From there, select "Company" and then "Employee Org Chart."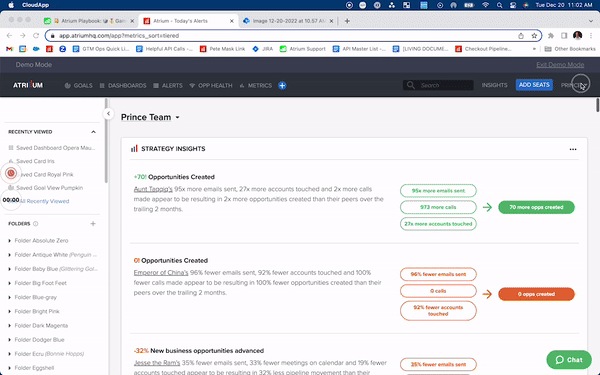 Once we are at the Org Chart, we can simply find an employee by searching her name in the search bar.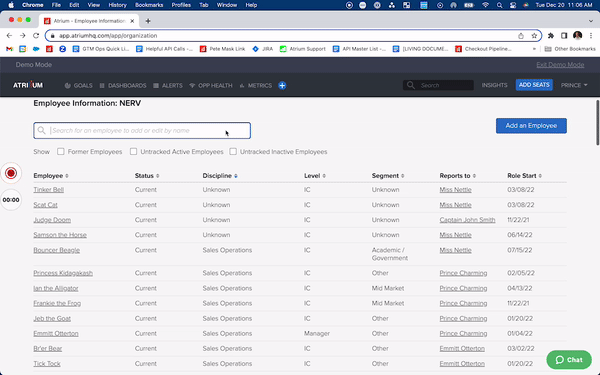 Setting Alert Reset Date
From the employee's Information page, we would edit the "Alert Reset Date" with the date the employee will return to work. Atrium will not fire any alerts for this employee until after that date.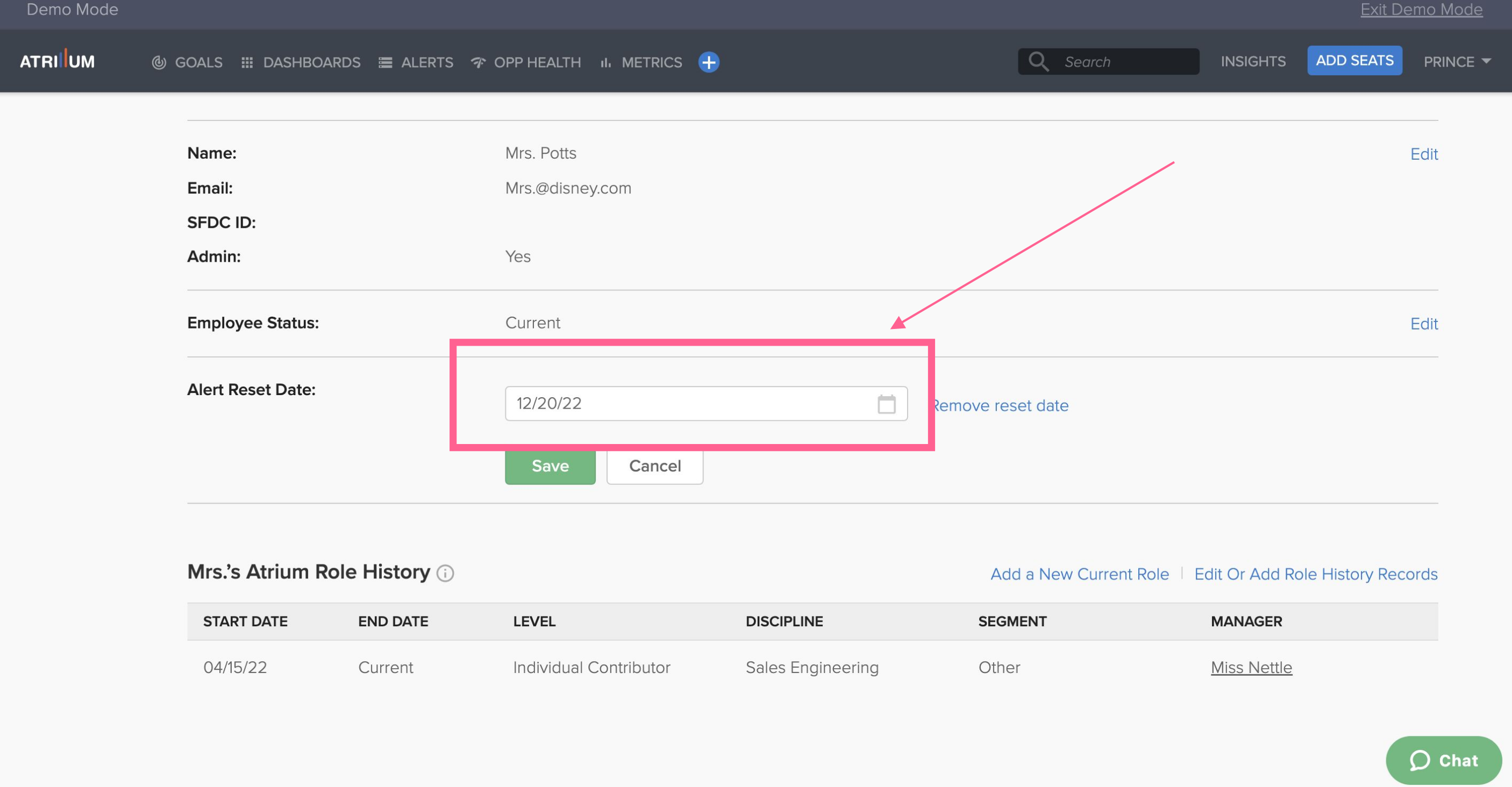 Important Technical Considerations
Because data is also removed from any anomaly consideration before that date, you can end up in a circumstance where a rep's data should be included in their team average for anomaly purposes but isn't, when we were really only trying to turn the alerting off. In this case, where you want alerts to be off for a temporary period of time, or you want to give a rep ramp time without alerting, set a calendar invite for yourself to reset the anomaly min date once that time period has passed so that data that should be included in the team average for the purpose of the team's "personal" alerts will be added in.
You can also set anomaly min dates at the manager level, which will then cascade down to all reps who report to that manager (or synthetic manager). So if you wanted to reset anomaly min date for Emails for thirty SDRs who report to two managers who report to a Director, setting it at the Director level will cascade down to those third reps. If you ever wanted to reset the anomaly min date, you can't "remove" it, but you could put it further in the past, such that it effectively is no longer influencing those targets.