Welcome to another Atrium Product Roundup - Q1 2023 edition!
This quarter, we released a ton of improvements to make Atrium even more customizable and easy to use.
Here's what we've been up to the past couple of months!
If you are interested in using any of these Atrium tools and need some help getting started, please reach out to your Atrium CSM!
You can now have up to 16 custom data filters in Atrium!
Custom Data Filters allow you to track the valuable data that is unique to your business by pulling in Salesforce fields and adding those fields as Custom Data Filters to Atrium Cards, Dashboards, Opp Health Views, and Goals. Add or edit your org's Custom Data Filters here.
You can now have a total of 16 Custom Data Filter slots, with 8 Opportunity object and 8 Account object filters available.
Custom Data Filters will help you further understand your data and let you keep track of all of the distinctive pieces of your sales motion. Not only can you configure most Atrium metrics using these custom data filters for use in Dashboards and Saved Cards, but you can configure specific Goals using these data filters as well. Pretty sweet, right?!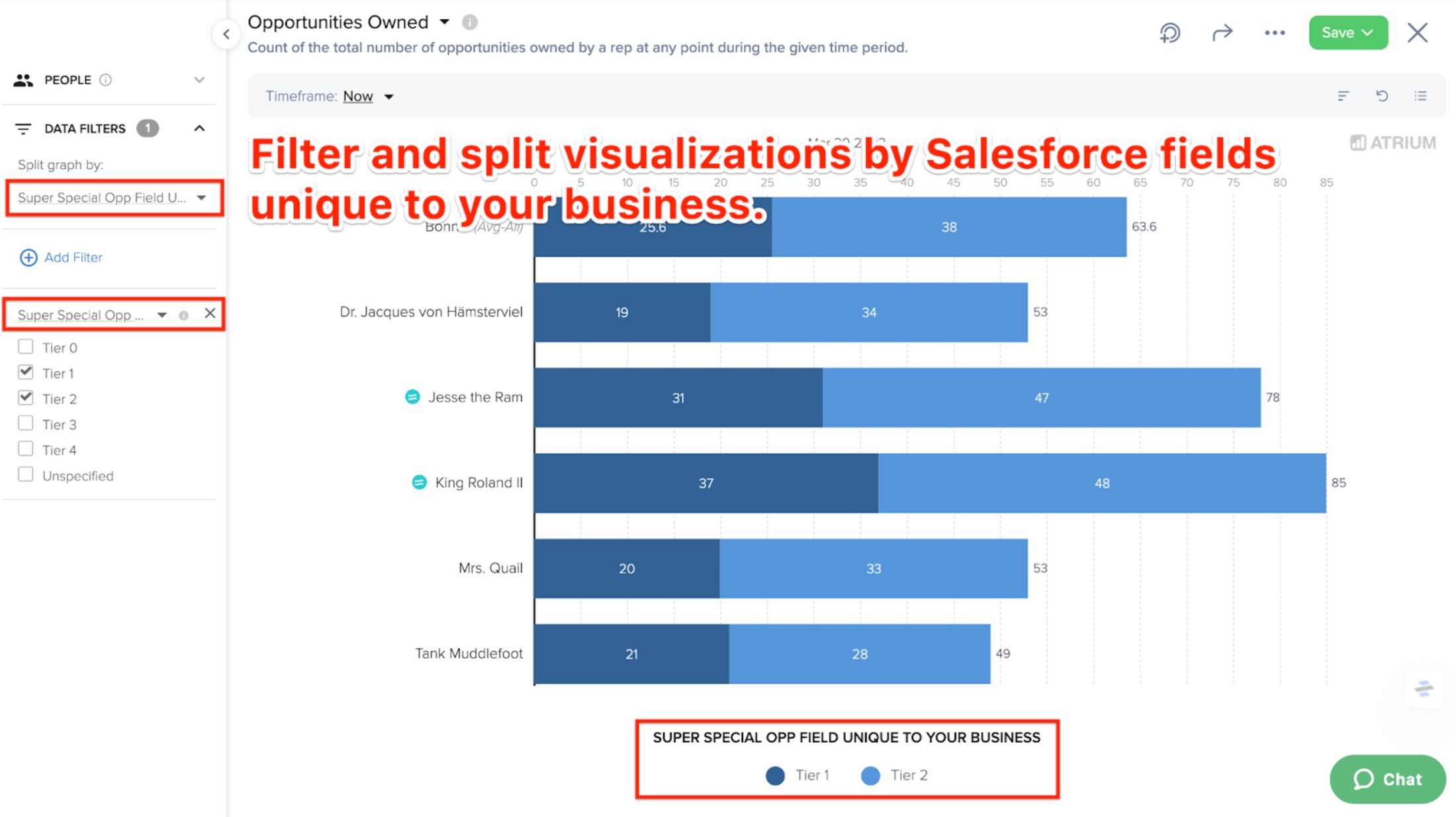 As an example, at Atrium, we created a field on the Opportunity for "First Meeting Persona" that records what role persona is taking a first meeting with our AEs. We did this because we want to see not only who our AEs are initially meeting with, but which of those opportunities are converting.
We then added that as a custom filter in Atrium, and now we're able to see which personas our team is having the most success with, and which personas they're having trouble moving down the pipeline. That way, we can provide coaching around how they should be demonstrating the product and the value proposition to each specific type of person.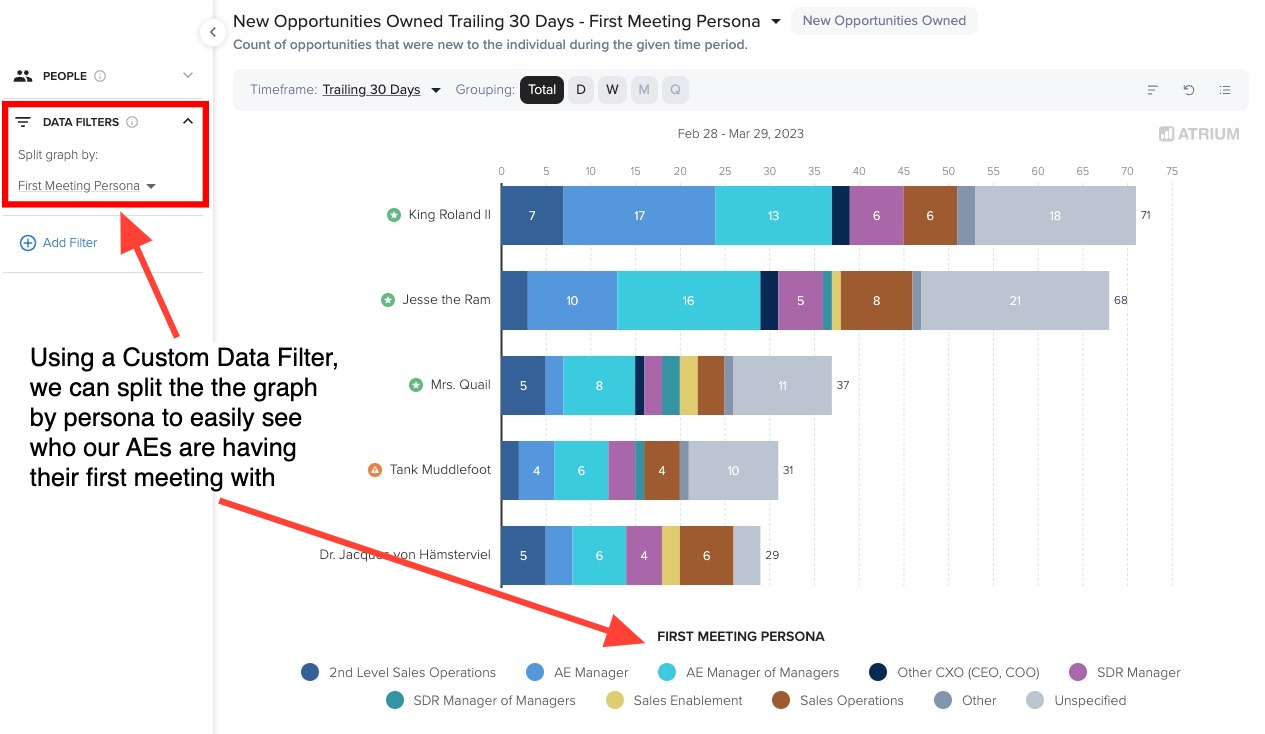 There are a ton of other ways you can utilize Custom Data Filters to better understand and improve your team's performance. Check out the Support Article here, or schedule time with your trusty Atrium CSM to get started!
Track up to 4 specific Tasks or Events from Salesforce in Atrium with 4 Custom Activity Cards.
The newly expanded Custom Tasks & Events Cards (Support Doc) lets you use Atrium to measure up to four specific Salesforce Activities - Tasks or Events - that are important to your business.

Simply configure the type of Salesforce Event or Task you want to show in Atrium, and Atrium will automatically pull and track that data for you.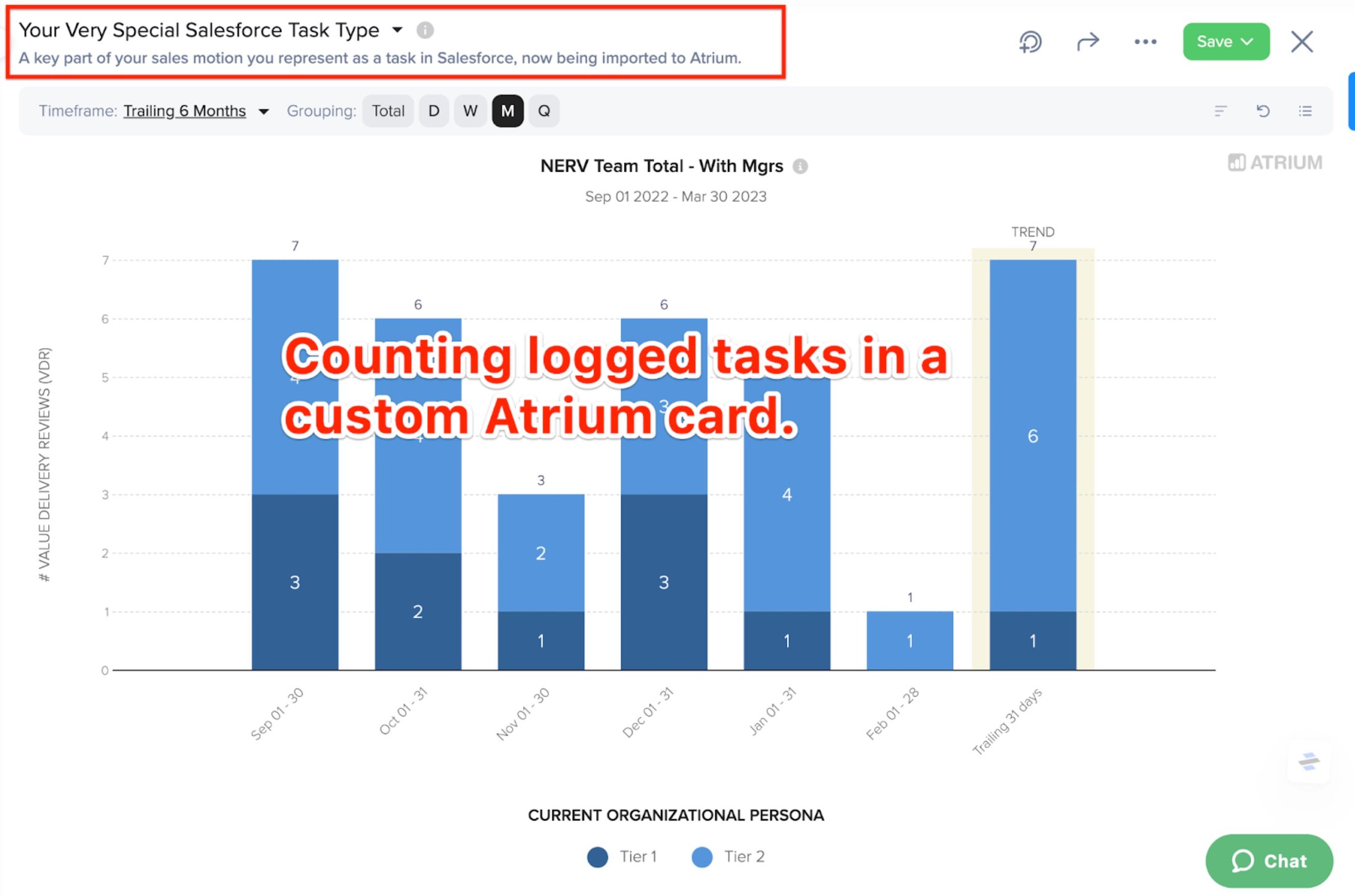 Atrium will treat these custom cards the same as any other Atrium metric, which means that in addition to enabling you to create and save these custom metrics in Dashboards and Saved Cards, Atrium will continuously monitor these activities for personal trend alerts or peer comparison anomalies for all reps in your organization. Alerts on these custom metrics can be aggregated into Alert Feeds, and you will be able to set associated Goals for any rep or team.
Common uses of this might be using Tasks or Events to track special types of meetings, behaviors unique to your sales methodology, "plays" your reps are engaged in, LinkedIn activities, Slack conversations, Website chats, or text messages. Anything you track as Tasks or Events in Salesforce you can now import to Atrium.
For more information on Custom Tasks & Events, take a spin through this support article.
Custom Goal Views allow you to see specific sets of team or rep goals.
Our new Custom Goal View functionality lets Atrium customers create customized sets of goals based on Atrium metrics.
Previously, Atrium automatically organized goals by team or employee. When you looked at a default goal view, you saw 100% of the goals for that rep or team. This could be overwhelming!
Now, you're able to completely customize your goals views to show a subset of whatever goals you'd like. For example, you may want to view just your team's weekly activity goals, or track the status of specific initiatives, such as pipe hygiene goals.
You can create a Custom Goal View, configured to see only the goals you want, and then save it for easy access. Then, share it with your team via email or Slack!
For example, as a sales leader, you could build a GTM Team OKR Tracker that shows how each team in the GTM Org is performing against their overall quarterly goals. That way, you are just seeing the high-level view of how your team is performing. This view alerts you of any issues so you can quickly jump in and investigate if something seems to be amiss, but you're not getting lost in granular metrics on a day to day basis.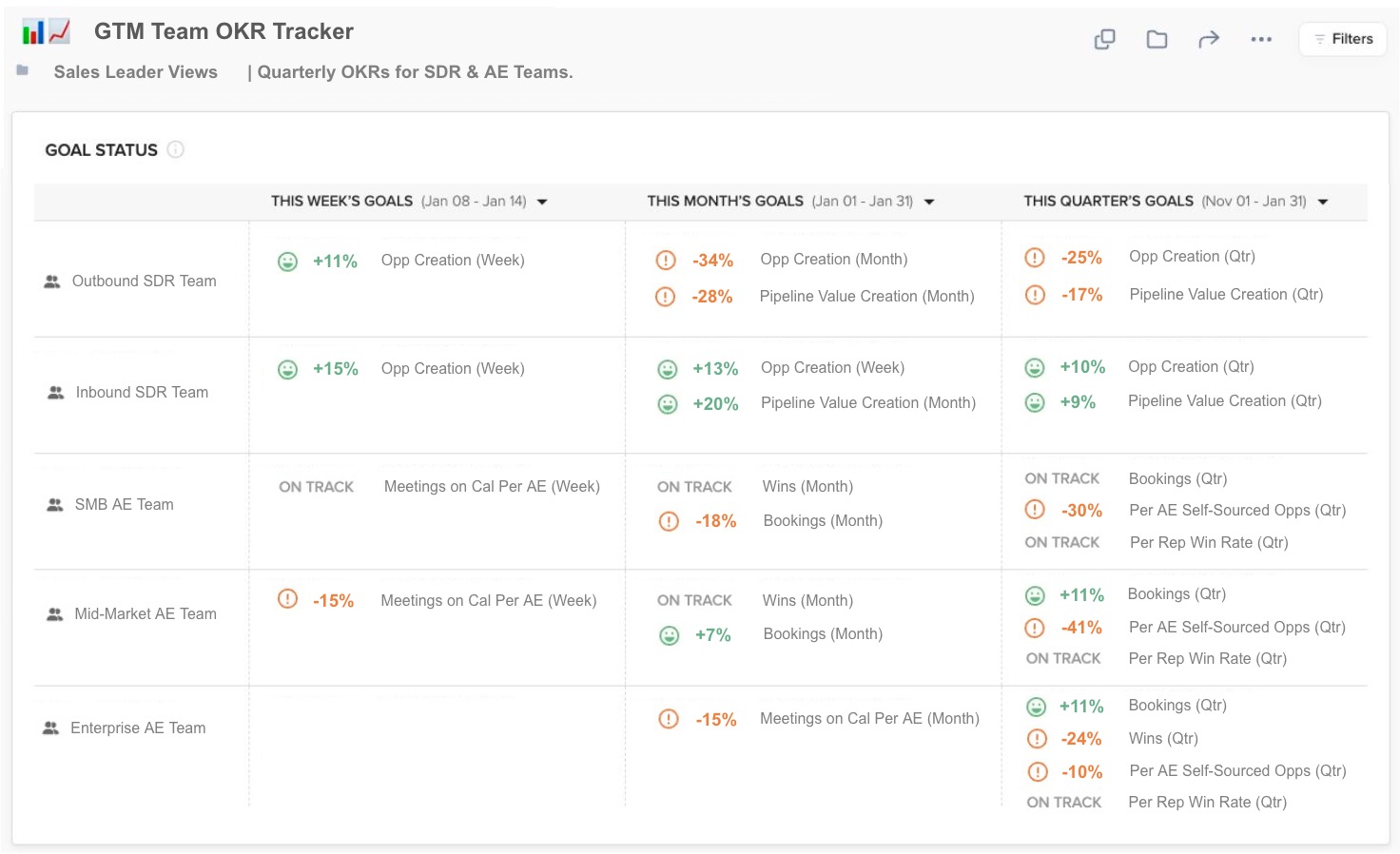 For more information on Custom Goal Views, check out this support article.
Choose which Custom Goal View you'd like to show up on each rep or team profile page!
In addition to creating custom sets of goals with Custom Goal Views, you can choose exactly which Goal View you'd like to show up on each rep or team's profile page. For example, you may have multiple custom goal views for your team relating to various initiatives, but when you look at your team's profile page, you just want to see their high-level quarterly goals.
You can choose your 'Q2 Sales Team Goals' View to populate whenever you go to your Mid-Market Team's profile page in Atrium. Exactly the data you need, right where you need it.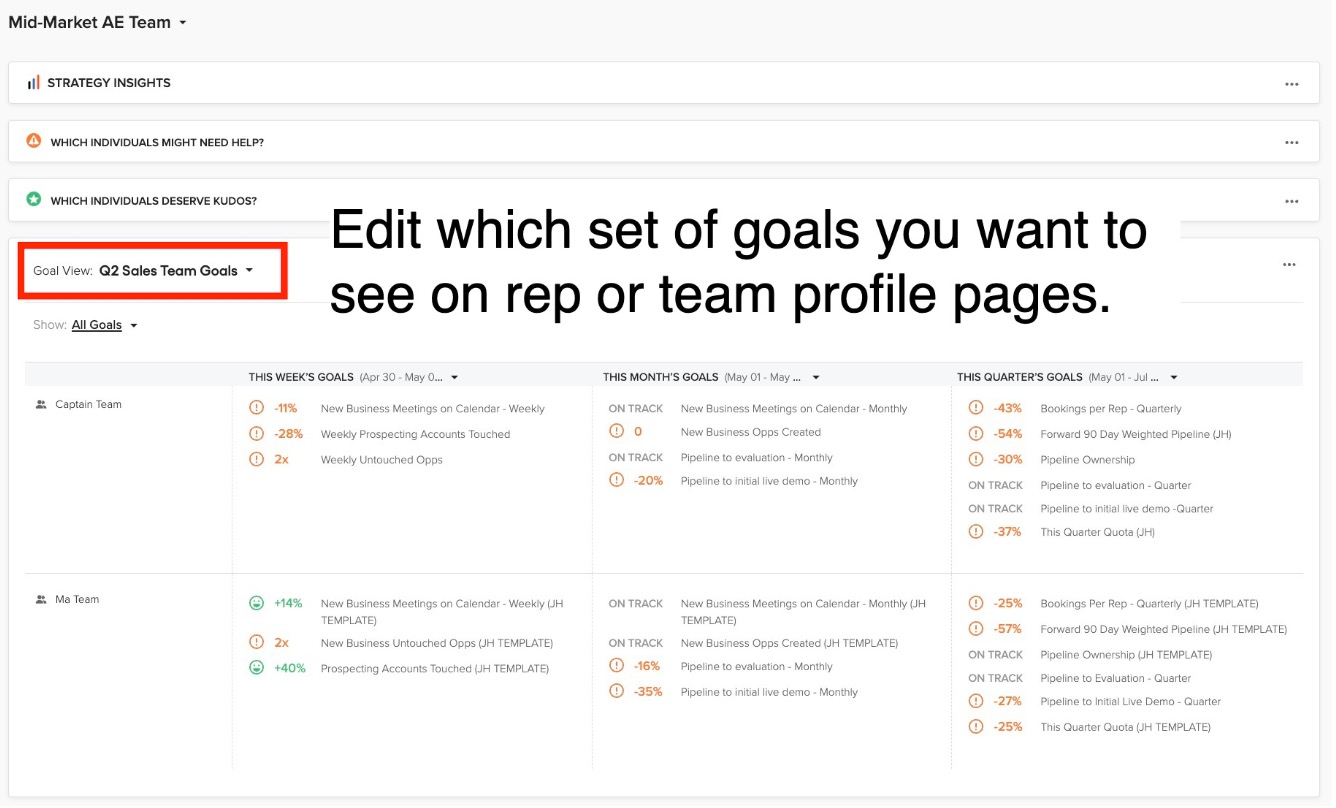 Analyze the performance of any group of individuals, regardless of their position in the org chart.
This is an update I am especially excited about! You may want to look at the performance of a group of individuals that sit in different teams, geographies, or verticals within your business. You can now create Custom Groups in Atrium that allow you to analyze the performance of any group of people, regardless of their position in the org chart.

For example, you may want to see the call and email baselines for all of your top performers across each of your SDR teams. Or, you might need to analyze the performance of all of your Enterprise AEs, even though they're based in different countries. With Custom Groups, you can do just that, plus save those groups on Dashboard Tiles and Saved Cards so you can revisit them any time.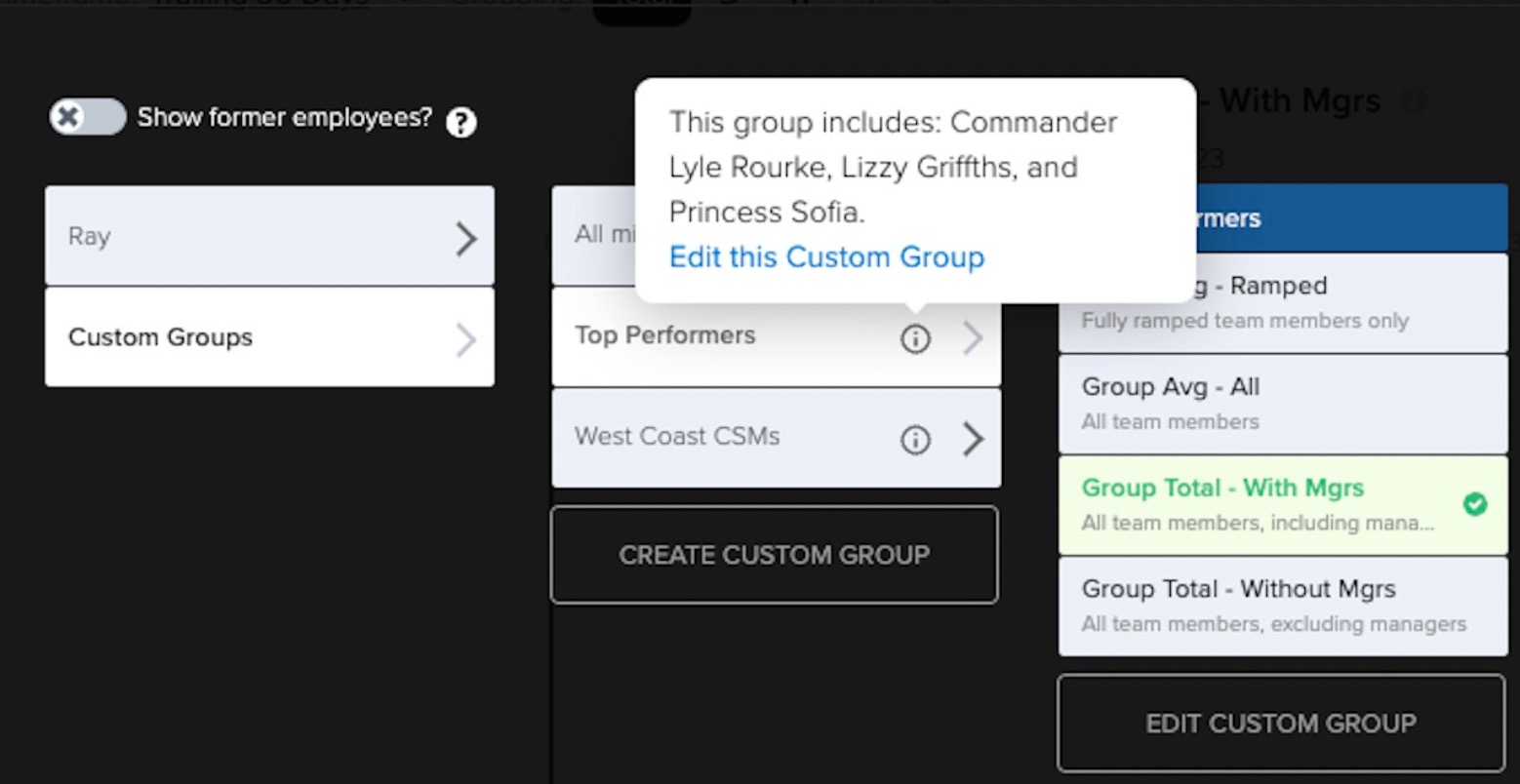 For more detailed information around setting up a Custom Group, check out this support doc.
Set a goal directly from a metric card.
I'm thrilled to share another update that has been highly requested by our lovely customers—the ability to set goals in Atrium directly from a metrics card! You will now see an icon in the top right corner of a metrics card that you've just configured that allows you to quickly and easily set a goal on that metric.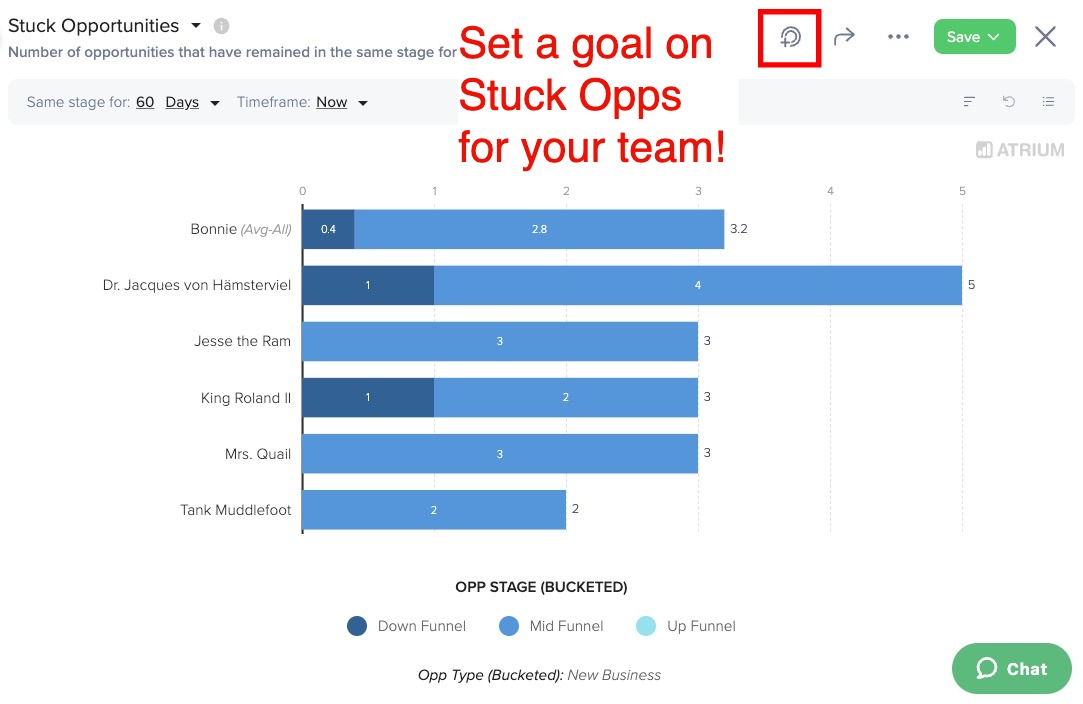 Say your team has a specific initiative this quarter to improve pipeline hygiene. You might be checking out your team's Stuck Opportunities and see that some of your reps have a few too many opps that haven't progressed in 60+ days. You can simply click the Set a Goal icon in the top right, and quickly create a goal that will hold your reps accountable to either advancing or clearing out their stagnant opportunities.
What's that saying? Easy peasy, lemon squeezy!
Easily review historical performance when setting goals.
Setting appropriate goals can be tricky, especially when you aren't sure how high to set a given goal. For example, you know that your Mid-Market AE Team needs to do more self prospecting, but what is a reasonable goal to set for how many new accounts they should touch each month?
One helpful piece of information when setting a goal is to know the historical performance of the rep or team on the given goal metric. Atrium now makes it easy to see that historical performance when setting a goal.
When configuring a goal, the "See historical performance for this metric." link will take you directly to an Atrium metric card showing the historical performance of the given rep or team, for the selected metric, with the same configuration of data filters and time period.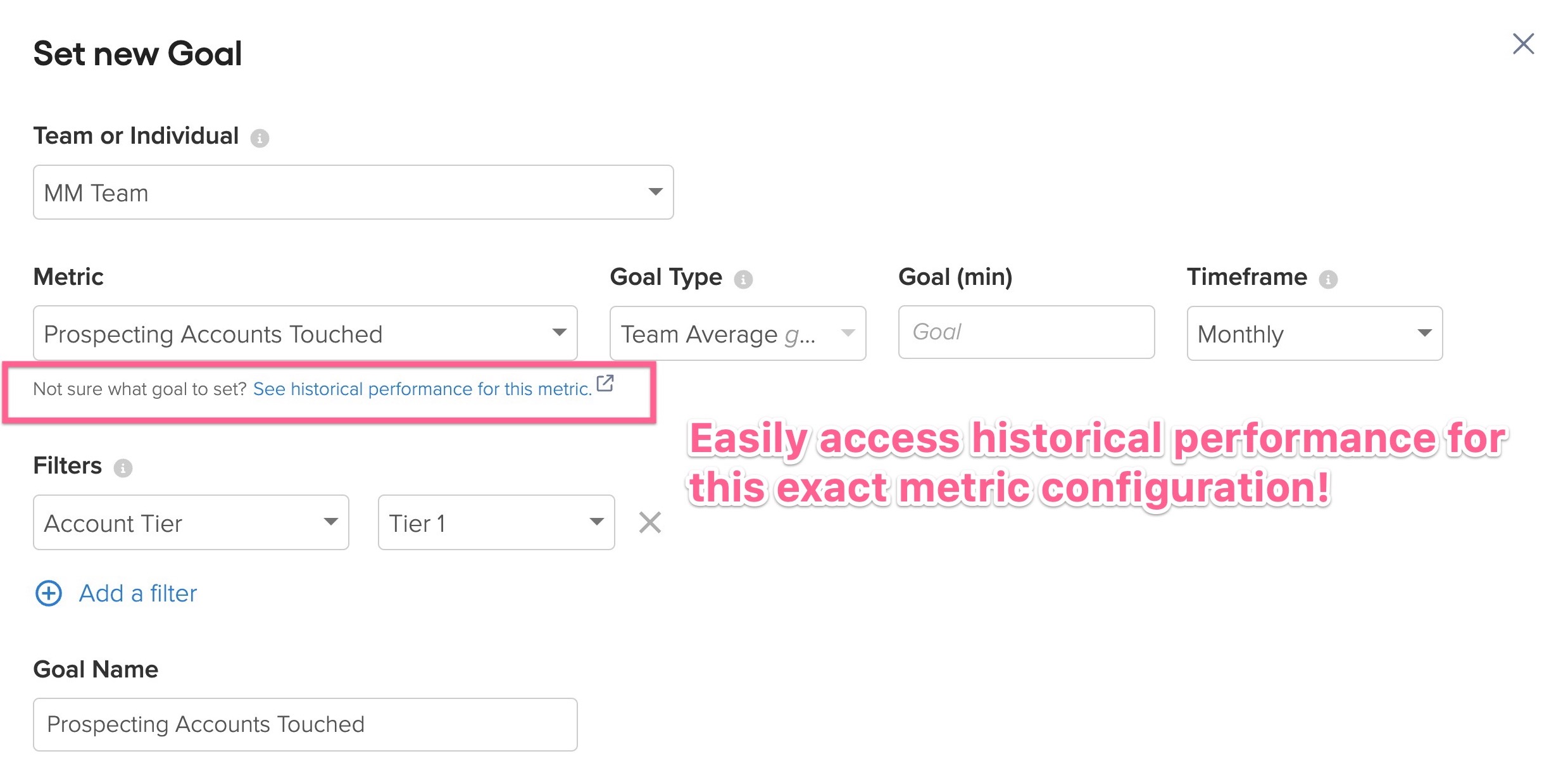 No USD, no problem. Customize your currency symbol in Atrium!
This update is small, but packs a big punch! In an effort to make Atrium even more customizable and usable for all customers, you now have the option to choose any currency symbol or "unit of value" in your Atrium instance.
That is exactly like it sounds—Atrium will accurately reflect the currency that you use to track bookings, or if you prefer to display non monetary units of value, you can do that instead. In the past, we enabled organizations to update their currency symbol, but we now enable you to customize your currency symbol on a user-by-user basis! If your colleagues use USD, but your team focuses on Yen, your Atrium instance can reflect that!
For currencies other than USD, Atrium will also convert your pipeline and bookings values to reflect their true monetary value with respect to the currency you've chosen.
You can choose to change the symbol from $ to any currency symbol (like €), any text, or no symbol at all.
Simply ask your CSM to update it for you and they'll get it done!
That's all for now, folks!
Thanks so much for being an Atrium customer. We have a ton of exciting new releases coming up on the horizon and we can't wait to share them with you!