At a higher level, emails in Atrium come directly from Microsoft/Google or from Salesforce. This can be customized by each "Segment/Discipline" combo (watch this 1 min explainer on Segment/Disciplines). Talk to your Atrium CSM to determine/change which of the two your organization is pulling Email data from!
The below visual explains how Email data shows up in Atrium, as it is used on the Emails Sent, Email Engagement, Accounts Touched and other cards.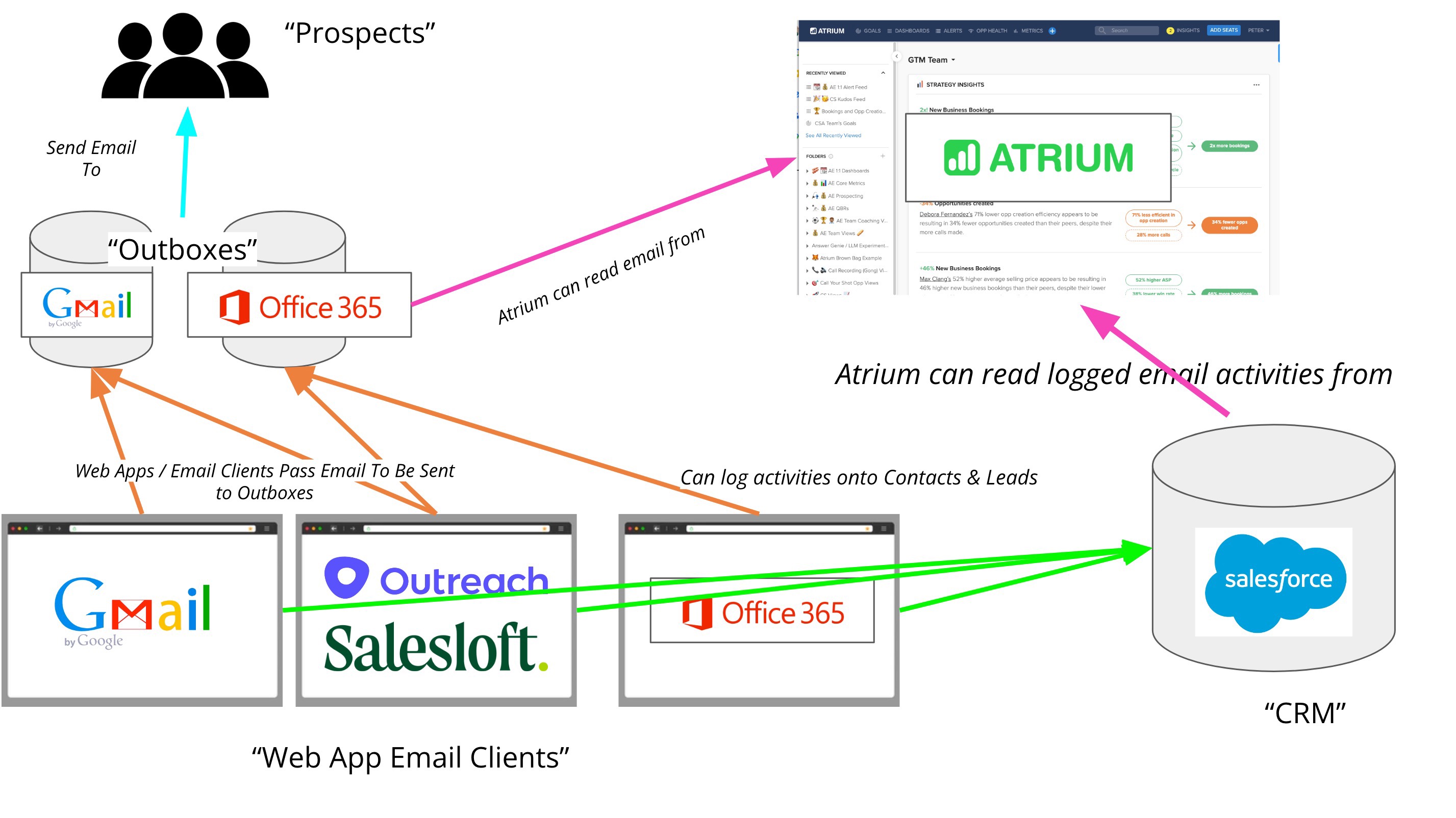 For more information on how Atrium handles interactions between Objects for Touches, Emails, Calls, Meetings "Accounts" (Companies), "Contacts" (People), Leads, Opportunities and more, check out this support article on the subject!
Emails pulled from Microsoft/Google
When we are authorized and "pointed" towards Gmail or Microsoft, we pull the emails directly from reps' "outboxes" to reflect the emails they send, as well as tracking replies for calculating Email Engagement Rate.
Microsoft and Google can also export their related email data directly to Salesforce.
Salesforce
If we are set to pull from Salesforce, we pull any Task that matches your email mappings (link here) to be considered an Email in Atrium, such as below:

Web Apps, such as Outreach and Salesloft, can log rep activity in Salesforce as Tasks (associated with Contacts & Leads). Even though Atrium does not directly integrate with any third party service such as Outreach or Salesloft, we can display any of the associated activity data, provided that the Emails are appropriately mapped to the specified field on the Task object.
Tracking Email Data from Multiple GSuite/Office365 Outboxes
If your org has multiple Google or Microsoft instances (BDR teams are a common example), the best way to completely capture email data is to ensure all of your reps' activity is unified under one Salesforce ID.
This will allow Atrium to pull all email activity from a singular source, as we are not able to pull from multiple GMail/O365 outboxes.