One of the things that Atrium customers ask from our CS team is to transform how their managers manage with data.
This includes holding Atrium users accountable to leveraging Atrium in their day to day managerial efforts - which shows up in Atrium usage.
We want to ensure that Atrium customers are getting loads of value out of their Atrium investment, and that CROs and VPs of RevOps can see if they have managers who are not leveraging Atrium day to day.
Usage Leaderboard Broadcasts: To help facilitate this, the Atrium CX team sets up usage leaderboard reports that broadcast via email to customer leadership, and individual users (like managers and reps) if customers would like.
Our most successful users are in the product daily (15-20 days active in trailing 30), which drives awareness of rep and team performance, and higher performance of those teams.

Example Report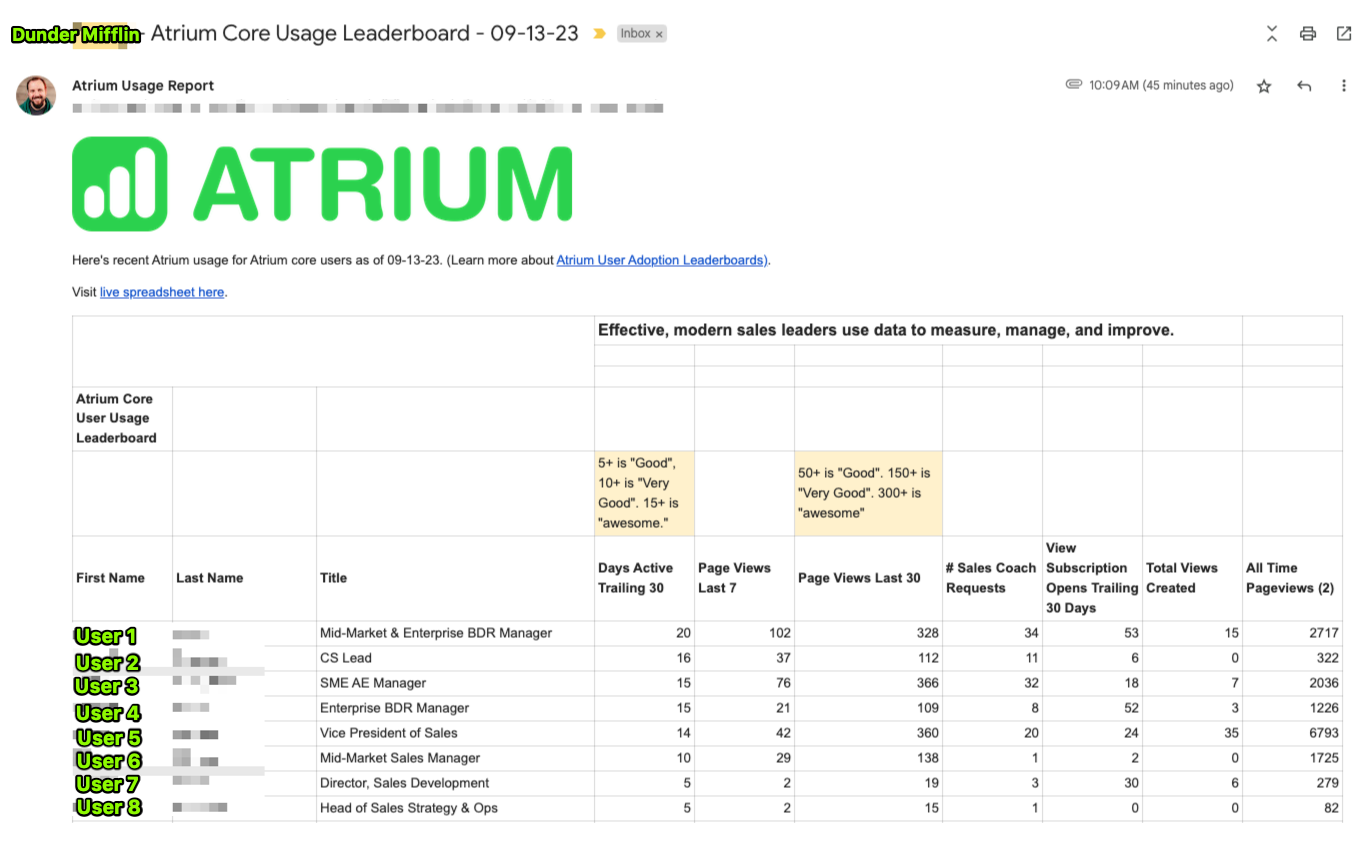 FAQ:
Where does this data come from? Atrium uses Segment to instrument clicks and pageviews on our site, and then send that information into our cloud data warehouse, Redshift. This information is then piped via Census over to Salesforce, where all of our users are modeled as Contact objects. Each customer has a report for their org showing licensed users, along with that usage data, which we then broadcast via email using an app to interested stakeholders at customer orgs.
Can I put my reps in here? You sure can. Just email your Atrium CSM to do so.
Why is someone's usage 0 who I know is using Atrium well? Typically that indicates an ad blocker keeping Segment from logging pageviews and clicks.
If this adoption data is off, is Atrium's data off? No! Totally different systems. Atrium's data comes from your CRM, Calendar, and Email system. The usage leaderboard data comes from Segment. If you have questions, email your Atrium CSM.