The Custom Tasks & Events Cards and Calls Card now have their own Custom Data Filters!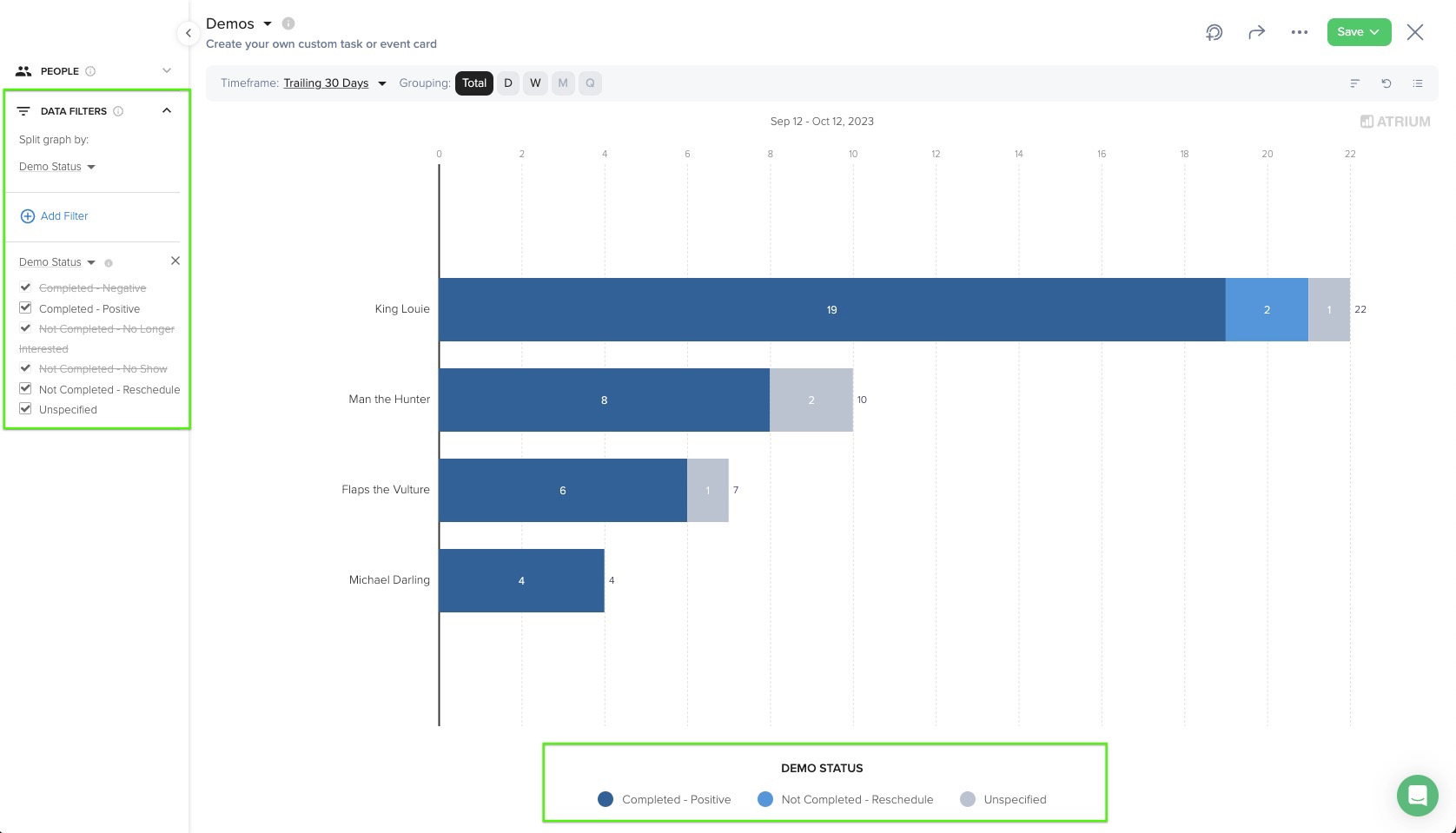 Learn more about the Custom Tasks & Events Card
Overview
The Calls card and each Custom Task and Event card now has 4 Custom Task or Event Data Filter slots available to setup. This means that each of those cards can have their own 4 data filters from the SFDC object you have used (Event cards can use Event fields as filters and Task cards can use Task fields as filters). 
This will enable teams to be able to filter their activity cards by relevant fields to get more insights in Atrium. 
For example: If you have a Custom Event card setup to track Demo Events, you might want to filter this card by Meeting Status to view demos that have been held vs pending. 
Setting Up These Filters. 
In your Admin Tool, in the Custom Data Filter Mapping, you will first select Add a Custom Filter
When you select the dropdown under "Which custom data filter would you like to add?" you will see 4 available slots for each of the Custom Activity cards and the Calls card.
Select the card you would like to create a filter for.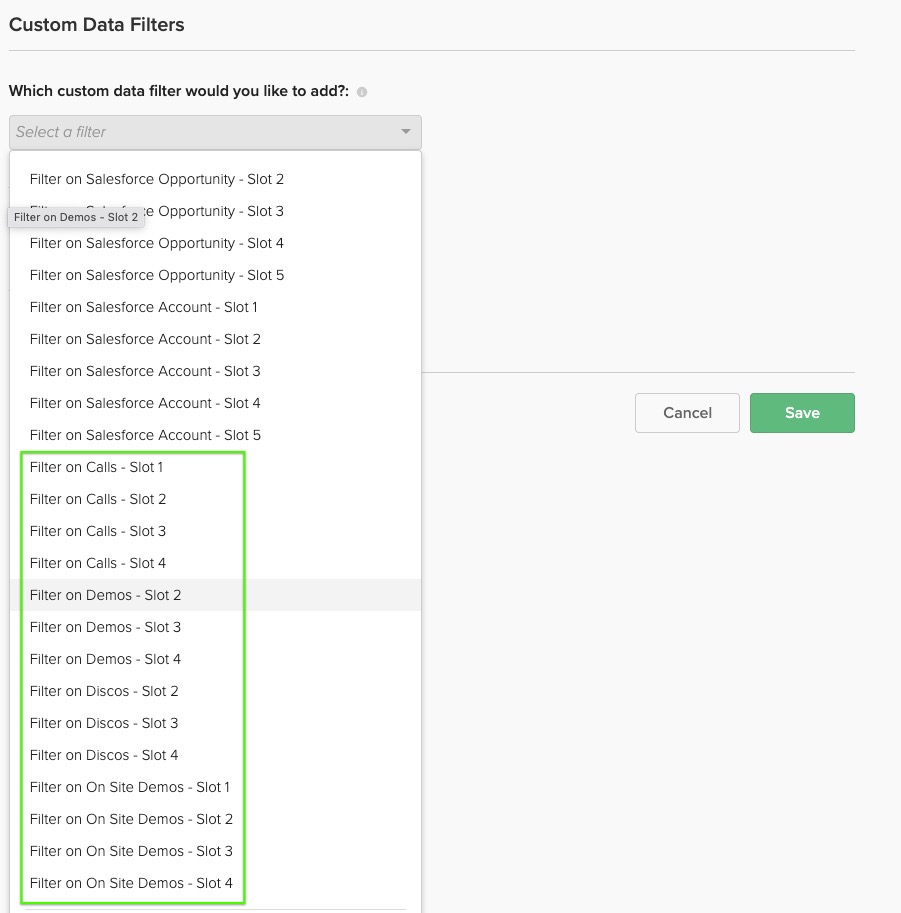 Note: If you haven't setup Custom Activity Cards and would like to, learn more here. 
Next you will select the field from either the Task or Event object in SFDC for this card. You can also edit the name of the filter if you would like to customize what displays on the card.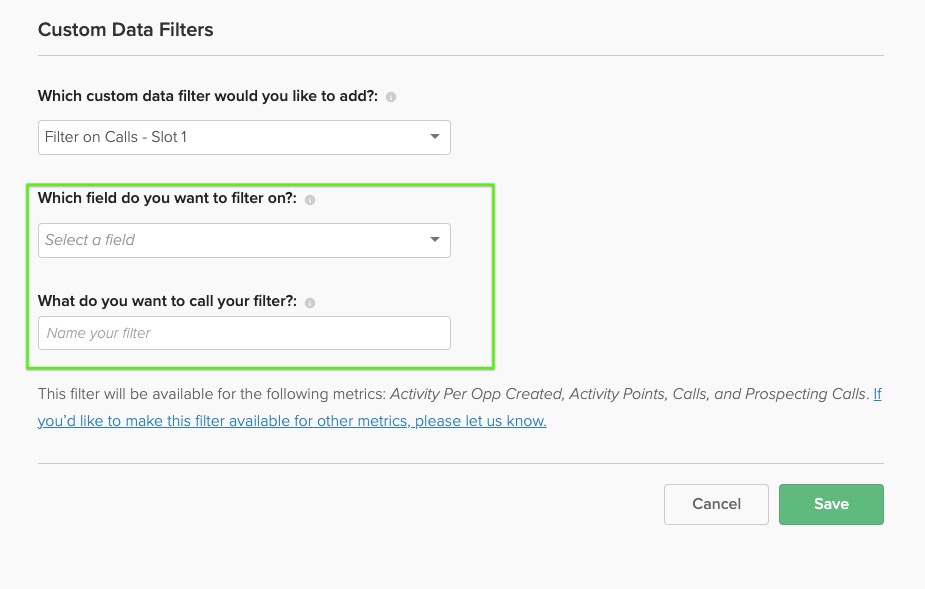 Once you Save this setting, it will take a few hours for the filters to populate before you can start using! 
Why It's Important
Activity volume is an important precursor to sales performance and many teams are tracking additional activities in Salesforce to understand what reps are doing to be successful. Custom Data Filters allow you to view these activities more granularly and have better insights into your team's performance. You can either subdivide cards to view how totals are comprised or remove filter values to view more specific activity trends. 
How to Use It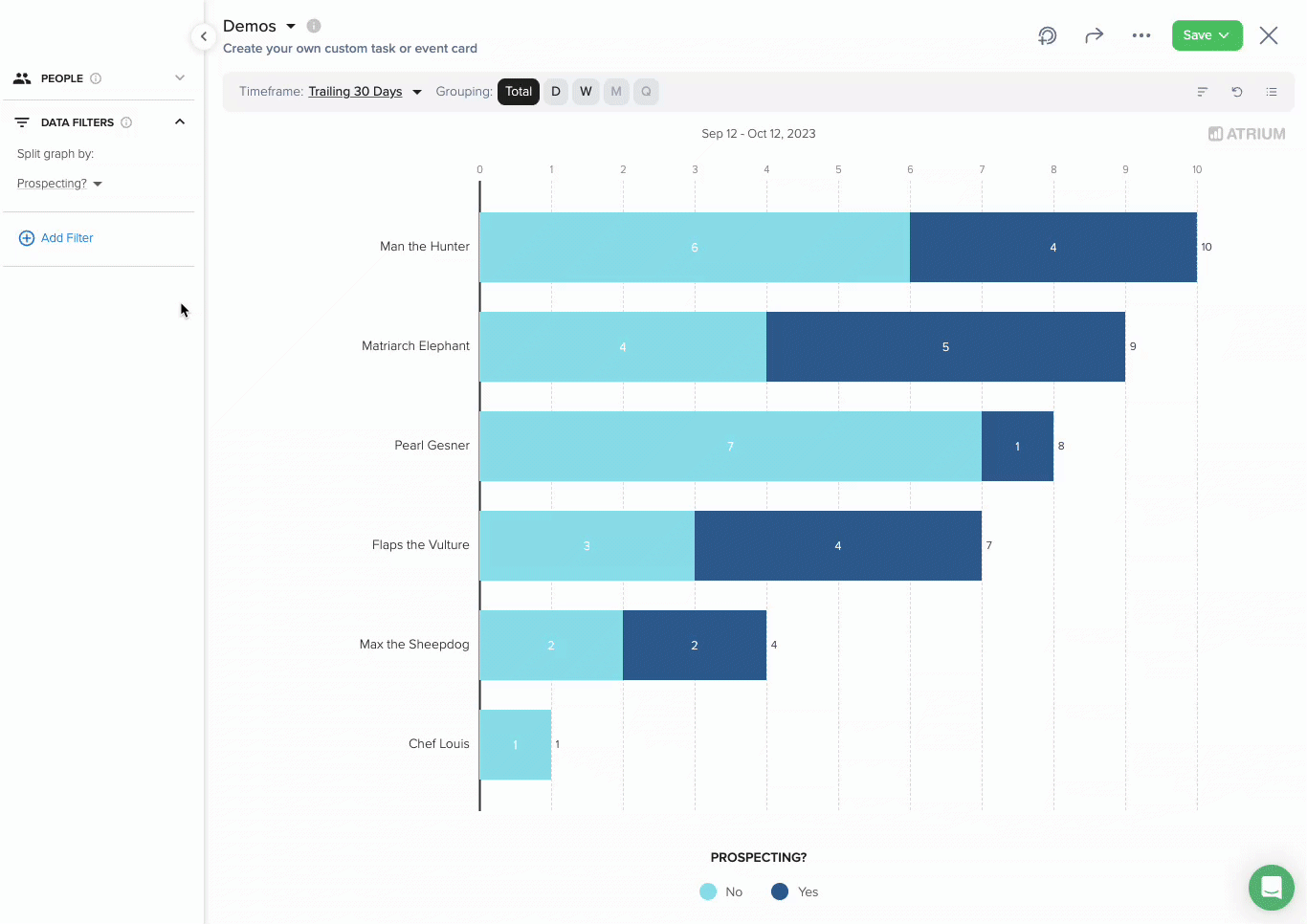 The Custom Tasks & Activity Filters can be used in the same way you use Custom Data Filters on other Saved Views you use for your Effort Metrics in Atrium (emails, calls, meetings, etc).  These filters will help give a more complete and granular picture of the effort reps are putting into their prospecting and selling motions so you understand where they are spending their time and how well those efforts are working to deliver down-funnel outcomes. 
Add an "InMail Type" filter to your "LinkedIn InMails" card to filter by Inbound or Outbound InMails this week
Add a "Meeting Status" filter to your "Demos" card to track how many "Completed" demos your reps have for the trailing quarter 
Add a "Call Type" filter to your "Calls" card to view your calls by Demo vs Disco calls this month. 
Additional Details
Why don't I see the Meeting Type filter on the Calls Card?
Once you've picked the card you want a Task or Event filter on, Atrium will only show you filters for that object. For the Calls Card, Atrium pulls only Tasks, so if you are trying to pull an Event filter onto this card, it is not supported. 
If you are trying to add a filter to one of your Custom Task or Event cards and don't see a filter you expect to see, first confirm that field displays on the object that is setup on that card.  
Why don't I see every field on the Task or Event object for my card?
Not every field type is supported for custom data filters, so Atrium will only show the fields supported for custom data filters. Learn more about what fields are supported here.