What do we mean when we talk about "pipeline health"?
One first principle that many organizations use when setting up their CRMs is that an Opportunity (as represented by that object in Salesforce) should accurately represent the sales work required to win a contract. Stages map to the key milestones in the customer's buying journey so that you can understand how customers are progressing and where they're exiting the sales process, and the characteristics of deals throughout that process help sales reps and managers learn what a successful buying process looks like.
If opportunities are not promptly Closed Lost when they are no longer viable, inactive opportunities become part a rep's pipeline and opportunity counts and may exaggerate the pipeline that's actually available to be closed in a given period and create cognitive overhead for the rep and the manager to figure out what "real" at any given point in time.
The open opportunities in an AE's name should represent only that set of opportunities that are actively being worked and, more importantly, are showing signs that the customer is actively progressing through the stages of the buying journey. Pipeline health means just this, that all of a rep's pipeline is real and responsive.
Metrics can help you ensure good pipeline health, because they allow you to set the criteria that you will use to identify "problem" opportunities.

An opportunity is problematic - and should likely be closed lost - if it isn't actively being worked by the sales rep. This means that any opportunities that have gone untouched for a certain amount of time - say, something like two weeks - are likely problematic because a lack of activity on the part of the rep means that they are not actively working the opportunity.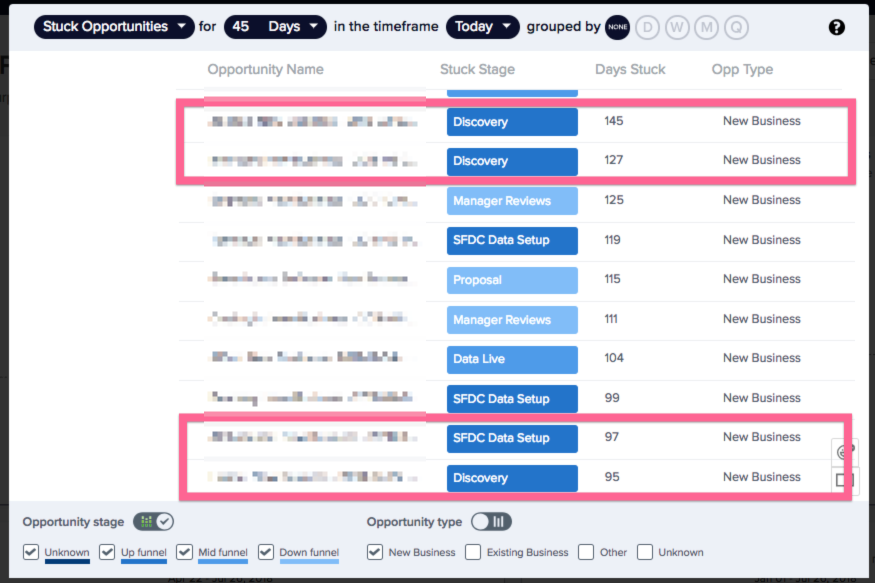 The opportunity names are blurred, but the opportunities called out with red boxes are those that are both untouched and stuck.
Similarly, if an opportunity is extremely old - say, more than twice your average sales cycle time for a given segment - that also likely indicates a customer who is not progressing and an opportunity that should be closed lost.
Taking Action
Once you determine the set of metrics that you want to use to identify "problem opps", create a dashboard or report with those metrics and include that dashboard in your 1:1 or pipeline review meeting with each AE. If you're using Atrium, the metrics you might use could be the untouched opportunities card in conjunction with the opportunity age cards and stuck opportunities card. In this way, reviewing pipeline for overall health is something that takes place as part of your normal review cadence with your reps.
Asking an AE to do a big pipeline cleanup feels like a big administrative burden when that ask comes down. If, instead, pipeline is always kept clean and healthy, then this process is about checking in on the couple of questionable opportunities each week spending the time saved from figuring out what part of a rep's pipeline should be ignored on more productive sales coaching.
"Revisit", "Re-Engage", or "On Hold" Opportunities
In too many organizations, using the CRM to model and instrument the sales process is overwhelmed by the desire of individual AEs to use the CRM as a means of exerting control over the greatest possible number of accounts. Opportunities remain open indefinitely in order to stake claim to accounts - after all, no one else can work that account if I have an open opportunity on it, right? Instead of rejecting this kind of behavior, some sales organizations will create special stages that are the equivalent of opportunity purgatory in order to give sales reps a place to hold "inactive" opportunities where they intend to re-engage at some point in the future.
The problem with this kind of approach is that it subverts the purpose of having defined sales processes in favor of territorialism. If opportunities remain open indefinitely, it's impossible to determine the actual average sales cycle time it takes to close a new deal or the win rate on unique opportunities, key inputs that allow sales ops and finance to determine what inputs the sales organization needs in order to be successful, or for presenting metrics to an organization's board or prospective investors.
Furthermore, even if these opportunities are in a special stage that's excluded from key reports, there's still some cognitive overhead required to sort them out until they need to be re-engaged and to nurture them in the interim - a function better suited to marketing.
Having an opportunity stage that's the equivalent of purgatory stymies other areas of the business from being able to do their jobs effectively. Instead, organizations should enforce the use of Closed Lost Reasons, in order to understand why deals are being lost and whether there will be an opportunity to re-engage in the future. Then, that re-engagement process can be not only created, but automated, by setting rules for when re-engagement should happen and what, if anything, should trigger it. Many organizations automatically e-mail prospects 90 days after an opportunity is Closed Lost, as long as the reason the deal was lost indicates that a future opportunity is possible. This is a more efficient process to ensure that opportunities that should be re-engaged don't fall through the cracks and that a rep's open pipeline is an accurate reflection of the business they might close.