Overview
Goals are one way that Atrium proactively monitors rep and team performance metrics for you. When you set a goal for a specific metric, Atrium will start tracking performance against that goal, and report out if a rep or team exceeds or is pacing behind being able to reach that goal.
Adding a new goal
When you first start using Atrium, you may want to set goals for your teams, if you're a sales or CS manager, or if you're in ops or enablement.
To set a new goal, you will first navigate to the profile page of the team or individual you want to set a goal for.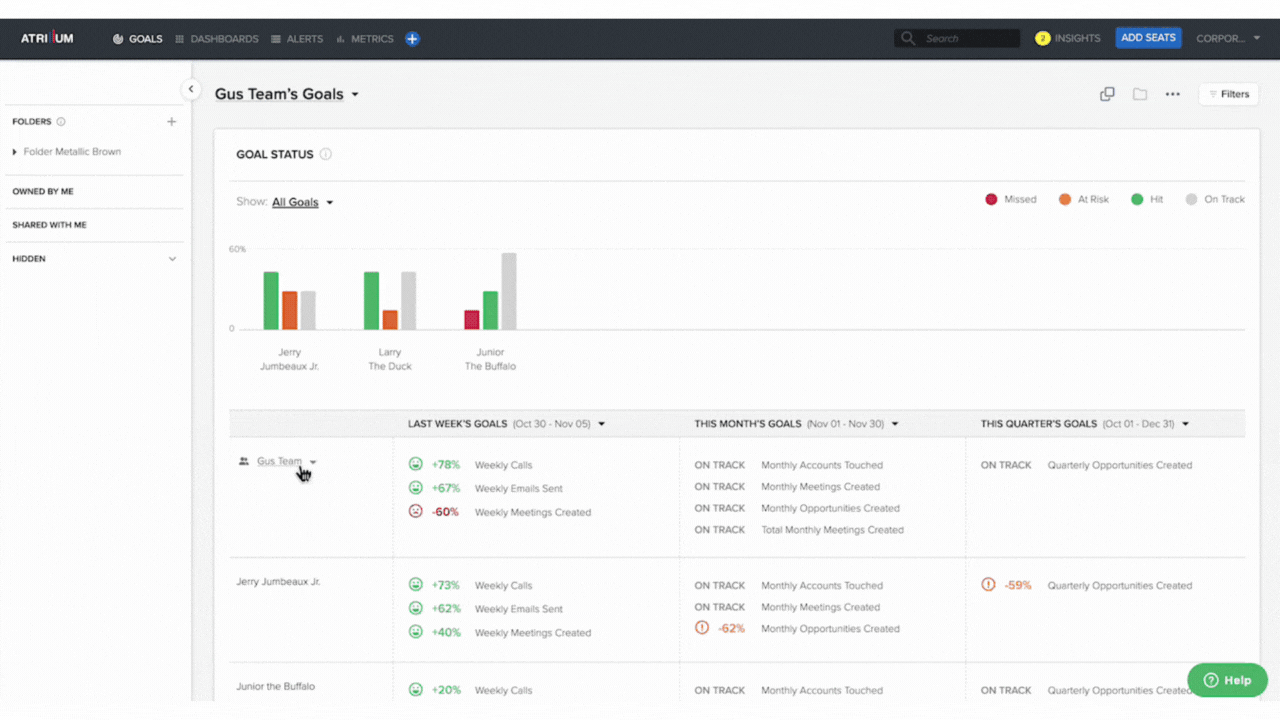 If they don't have any existing goals set, you'll see an "Add a Goal" button in place of the goal widget.

If some goals have been set, and you want to set goals against additional metrics, click the team name on the top row of the metrics grid and select "Add a goal." By clicking the team name you are setting a goal for the whole team. To add a goal for a specific individual click their name in the grid instead.
Atrium will ask you which metric you want to set a goal for and what you want that goal to be. Each metric has a default timeframe, in this case the default for a Meetings Created goal is weekly. You can always adjust these defaults to what makes sense for your business.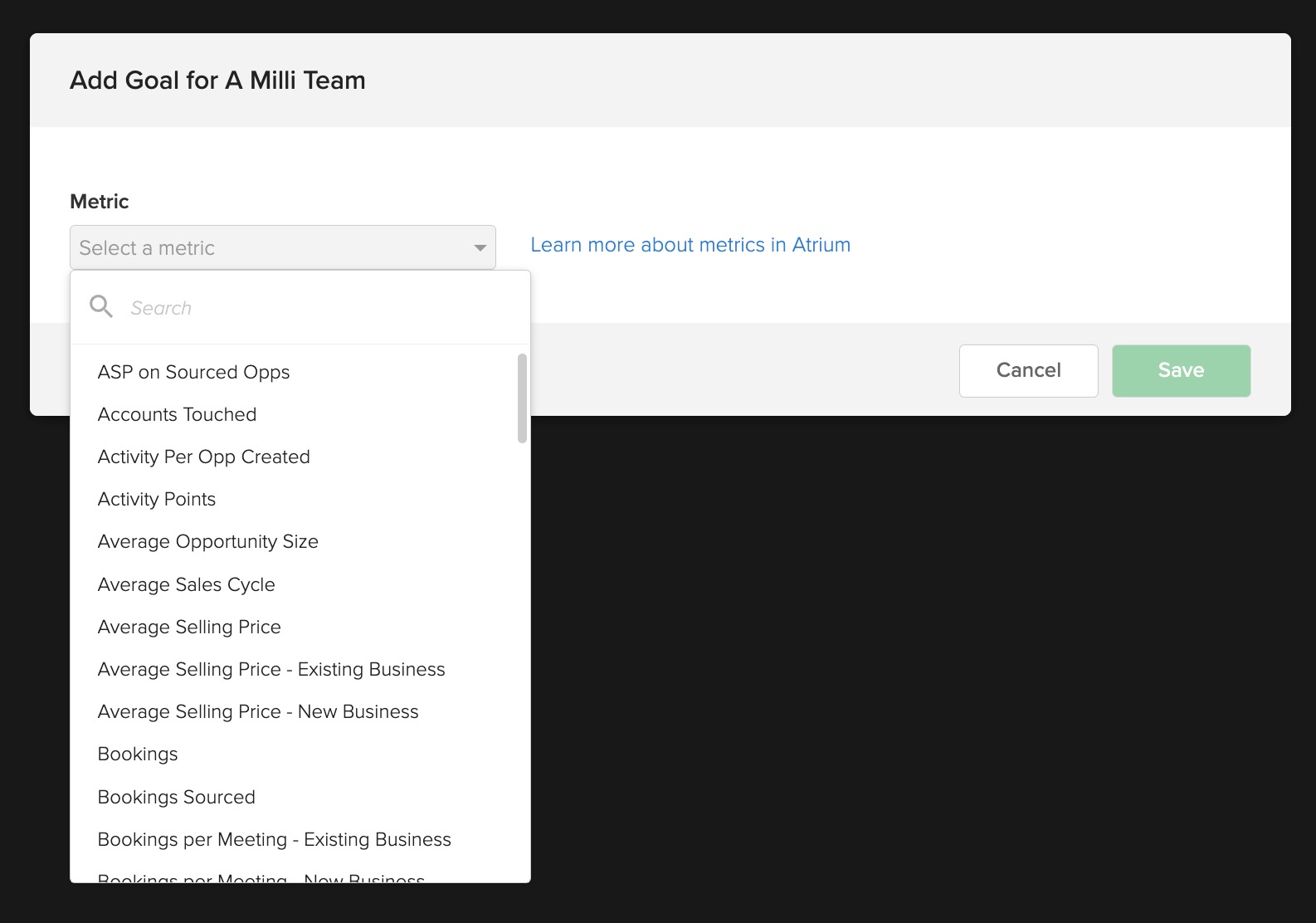 If you want to get more granular with this goal, you can add filters by selecting the "Add a filter" option underneath the metric name. When you do so, all available filters for this metric will appear in a dropdown menu. For this example, maybe we want to set a goal for initial meetings created. Once we set that filter, it will also make sense to rename the goal appropriately.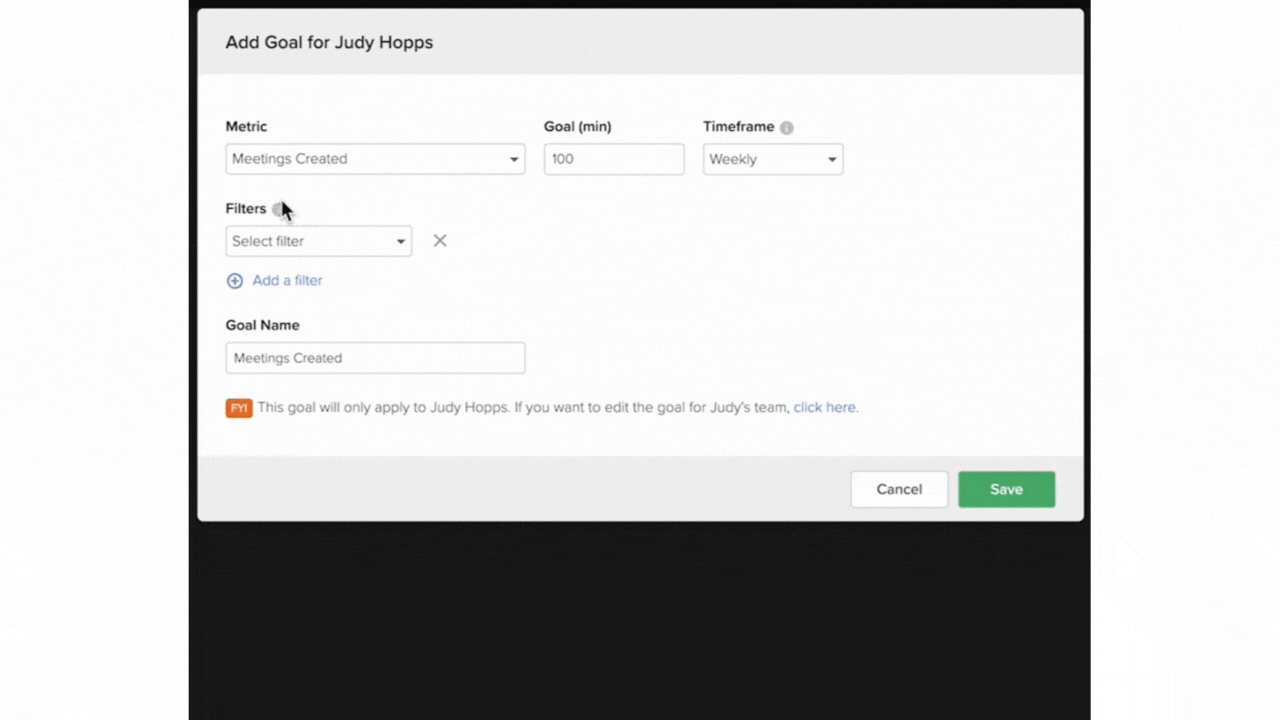 You can also create multiple goals tied to the same metric with different combinations of timeframes and filters. For example, if you use account tiers to segment your reps' books of business, perhaps it makes sense to set specific goals for Tier 1 accounts who may require more attention.
Additionally, you can set new goals directly from any metrics card. When on a metrics card, click on the set a goal icon
on the top right of the card. The selections on the goal box will already be pre-filled in with the current card's configuration (current metrics, same data filters, same people, and same timeframes). You have all the same options as setting goals from the main goal page or a custom goal view but without having to leave the metrics card you are on.
Editing or removing an existing goal
To edit or remove any goal that has previously been set, click into the team name and select "Edit a goal." The drop down will include all goals you currently have set for the team. Once you select a metric, you will see and be able to adjust the goal, timeframe and filters. If you want to remove the goal completely, select the "Remove Goal" button on the bottom left.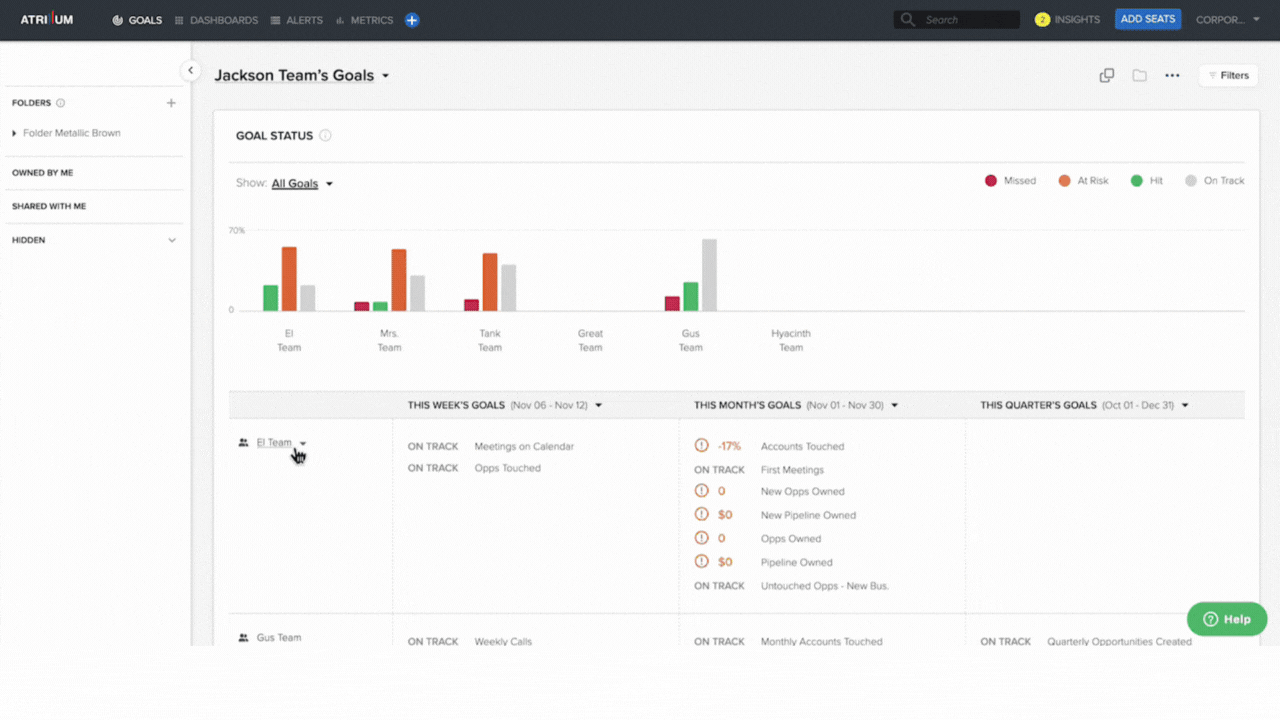 Setting a Team Goal
Goals can be set at the individual or team level. Team level goals include team average and team total goals.
A team average goal will be set as a…

A team average goal for any teams below this

level

An individual goal for any current and future team members
If any employees on this team or teams below this level currently have different goals set for this specific goal configuration, this will overwrite their existing goal.
A team total goal will only be set at the team's level.
Atrium allows you to set a team average goal for any type of team, whether all the same segment and discipline or multiple segment and discipline combinations (mixed team). Atrium will show a warning message when you are about to set a team average goal for a mixed team since team members with different segments/disciplines have different goals.
When setting or changing team average goals, Atrium will override any adjustments made at an individual's level. So if you adjusted an individual's goal that was set from a team average goal and then adjusted and saved this team average goal, those changes would overwrite any changes you made.
Ramping goals
The majority of goals in Atrium, and all goals against things you can count (e.g., bookings, meetings created), will ramp for new reps, so their goals will start low and increase as they become more tenured. The goals that do not ramp are ones like Contacts Touched per Account, where reps shouldn't need time to build up to a target. If you have a question as to what fully-ramped goals are translating to for a specific individual, you can view that individual's profile page to see their goals.
Atrium sets an expected time to full productivity that is customized by role for reach metric. When looking at a goal from the profile page of a ramping rep, ramping goals will have a (ramping) designation next to the goal name. Hovering over that designation will give you insight into how long the ramping period is for this rep, how far they are into ramp and what their adjusted goal is as a result.
You can customize your goal ramping preferences by going to Menu > Customization > Goals.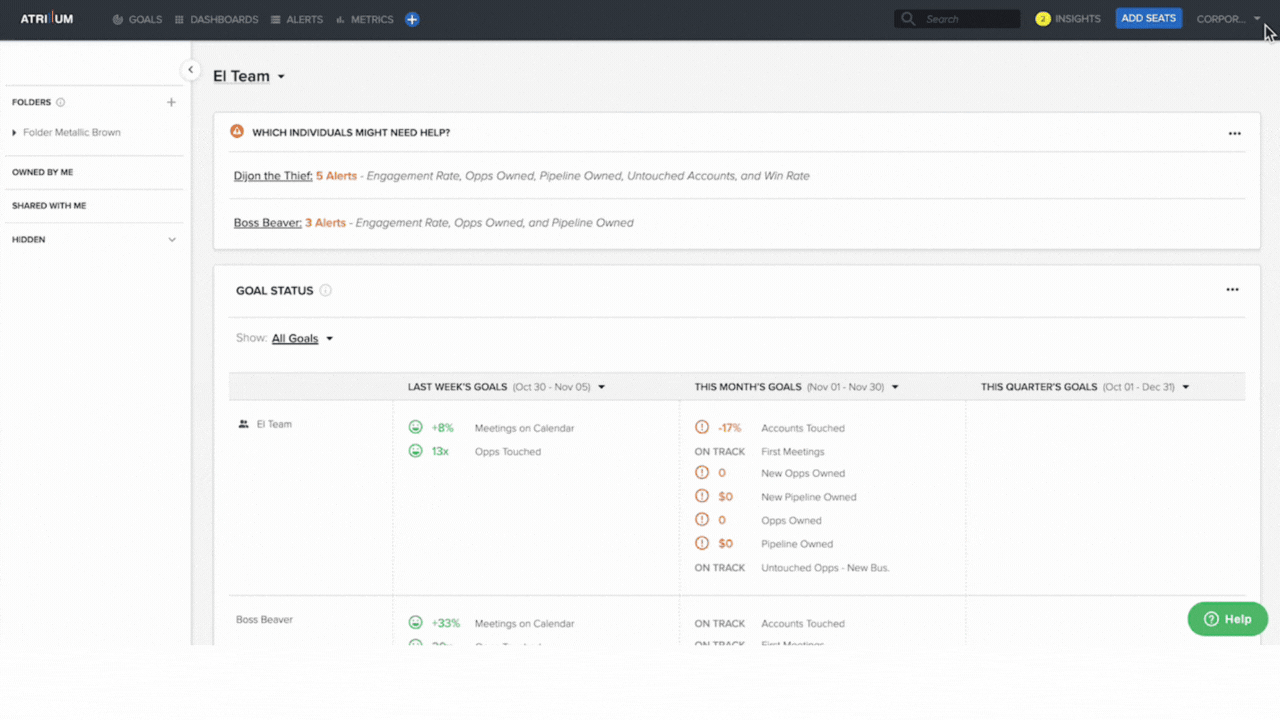 Combining Goals into Custom Goal Views
For information on how to combine Custom Goal Views, read more here: Custom Goal Views
FAQ
How does Atrium decide who shows up on a goals page as a target of interest?
Targets of interest are how we refer to who shows up in a goals page for both the goals summary (charts) and goals table (rows).
Targets of interest included must be current users in a goals supported discipline and follow at least one of the criteria below:
The target of the goals page will always show

The highest level non leaf descendants in each branch where the descendant has 1+ goals set (we do not keep traversing down)

The highest level descendants in each branch where;
The descendant has no goals set

The descendant has no ancestors with goals set

The descendant has no descendants with goals set
When do we show the "Add a Goal" button in the goals table?
If a target of interest has no goals, we will show the "Add a goal" button / link.
If there are no descendants in the highest branch, then we do not show an "add a goal" button (or row in the goals table). This may happen when an org rearranges teams and a synthetic manager no longer exists or no longer has direct reports.
What if I have a mixed team with some goals supported disciplines and some unsupported disciplines? Can I set a goal?
If this mixed-team has SOME (not all) descendants in an unsupported role, then you can set a goal for the team but it will not be propagated down to the unsupported ICs.

If this mixed-team has ALL descendants in an unsupported role, then you cannot set a goal.
What are goals supported disciplines?
Inside Sales

Outside Sales

Customer Success

Account Management

Inbound Sales Development

Outbound Sales Development

Sales Engineering