Goals are one way that Atrium proactively monitors rep and team performance metrics for you. When you set a goal for a specific metric, Atrium will start tracking performance against that goal, and report out if a rep or team exceeds or is pacing behind being able to reach that goal.
This article walks through how to:
Add a new goal
When you first start using Atrium, one of thing you may want to do is to set goals for your teams, if you're a sales manager, or the teams you support, if you're in ops or enablement.
Here's a video tutorial walking through how to do this.
To set a new goal, you will first navigate to the profile page of the team or individual you want to set a goal for. If they don't have any existing goals set, you'll see an "Add a Goal" button in place of the goal widget.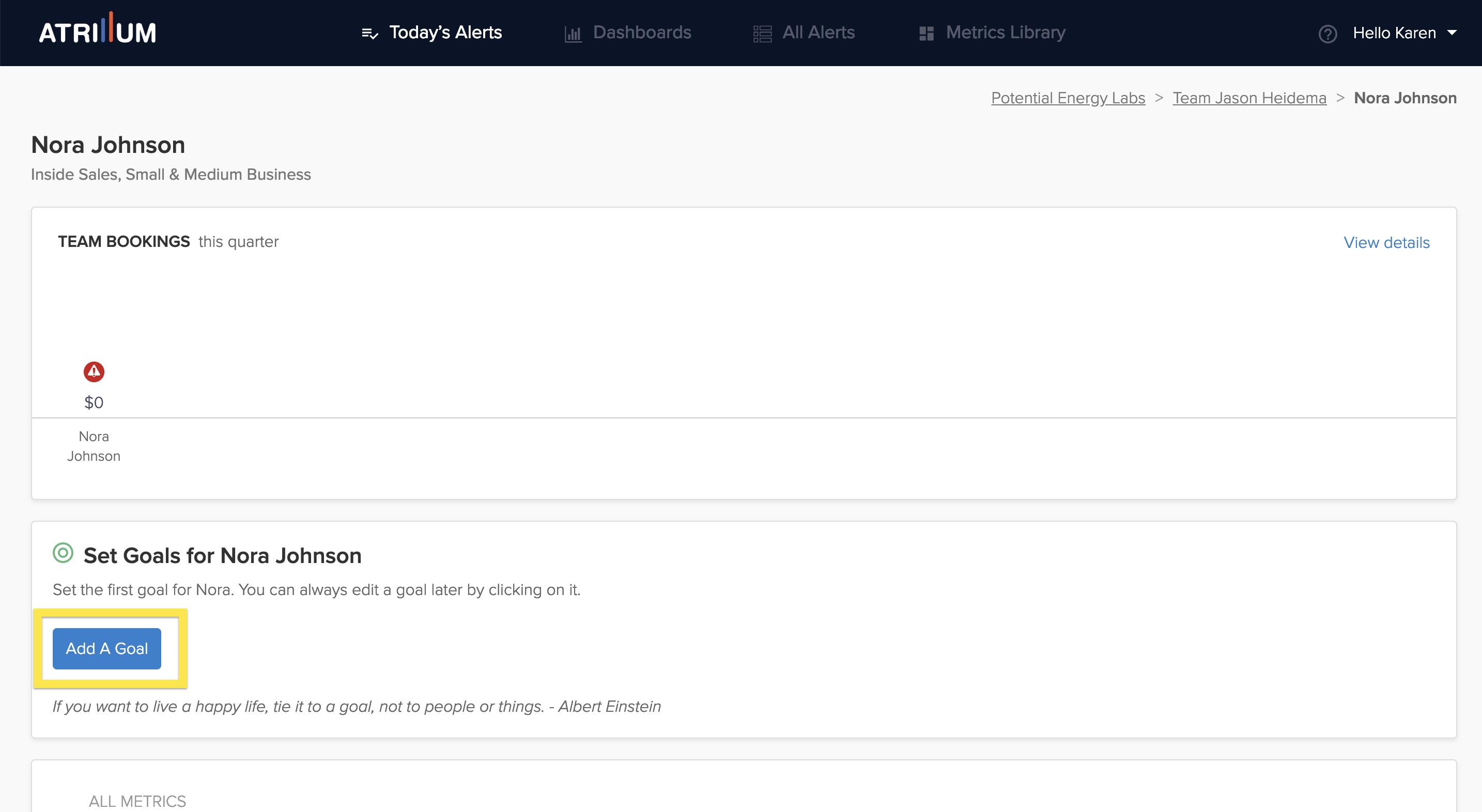 If some goals have been set, and you want to set goals against additional metrics, the option to add a goal will appear at the bottom of the goal widget on the profile page.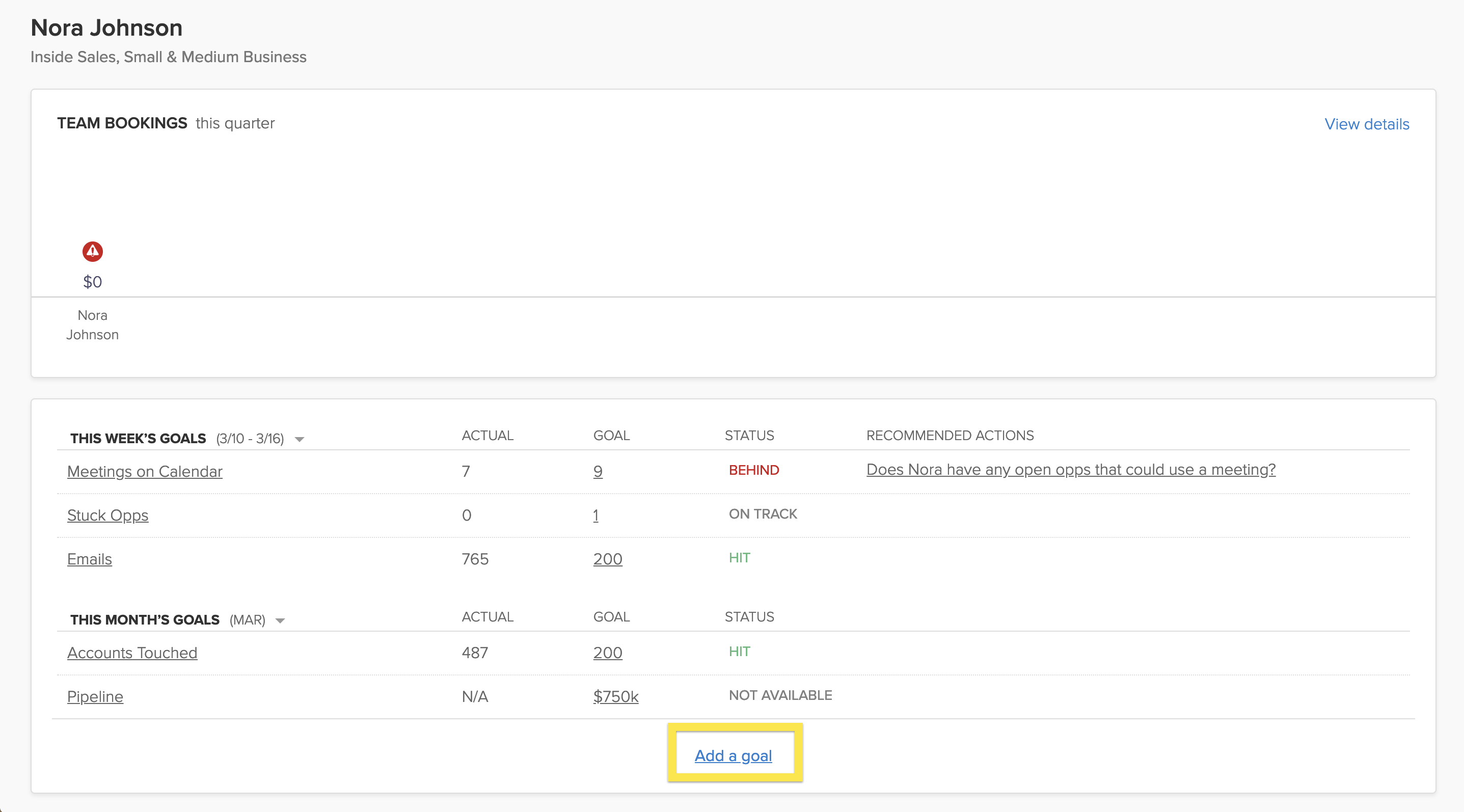 Once you click that button, Atrium will ask you which metric you want to set a goal for and what you want that goal to be.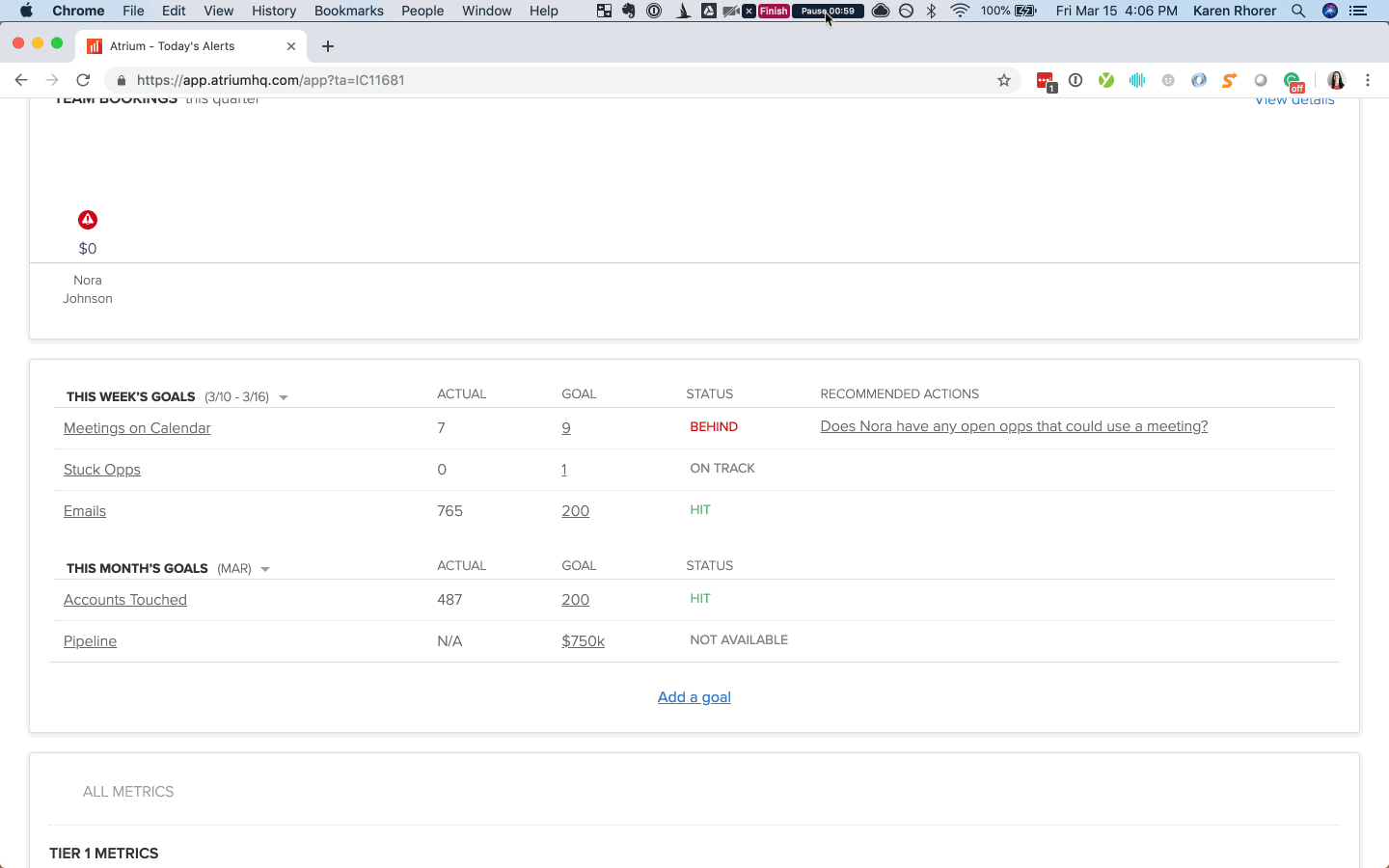 Remove a goal
If you decide that you no longer want to have a goal set against a specific metric, you can click into the goal that is currently set for that metric and select "Remove goal".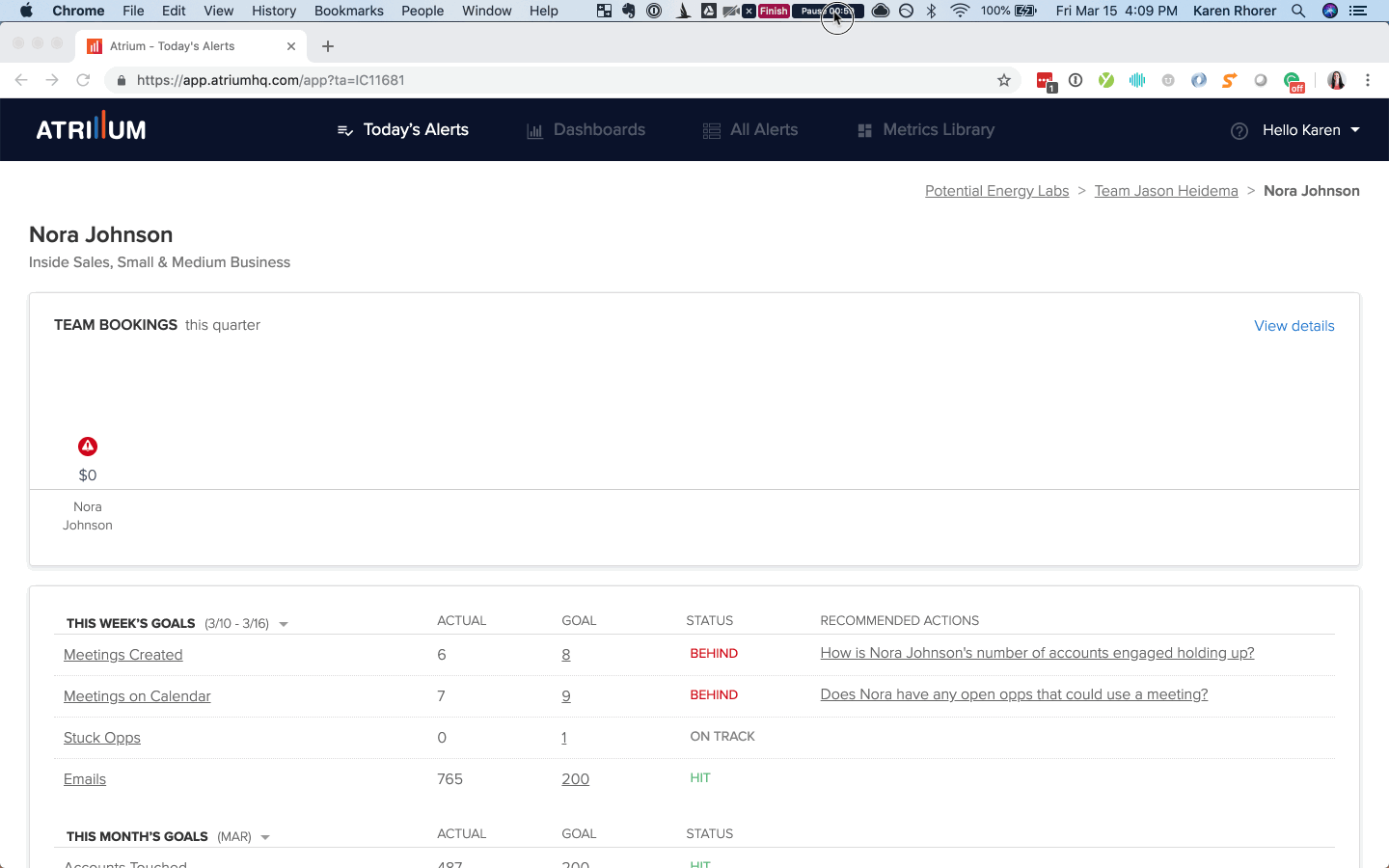 Edit an existing goal
Finally, to edit an existing goal, you'll click into the goal that's currently set and overwrite the existing goal.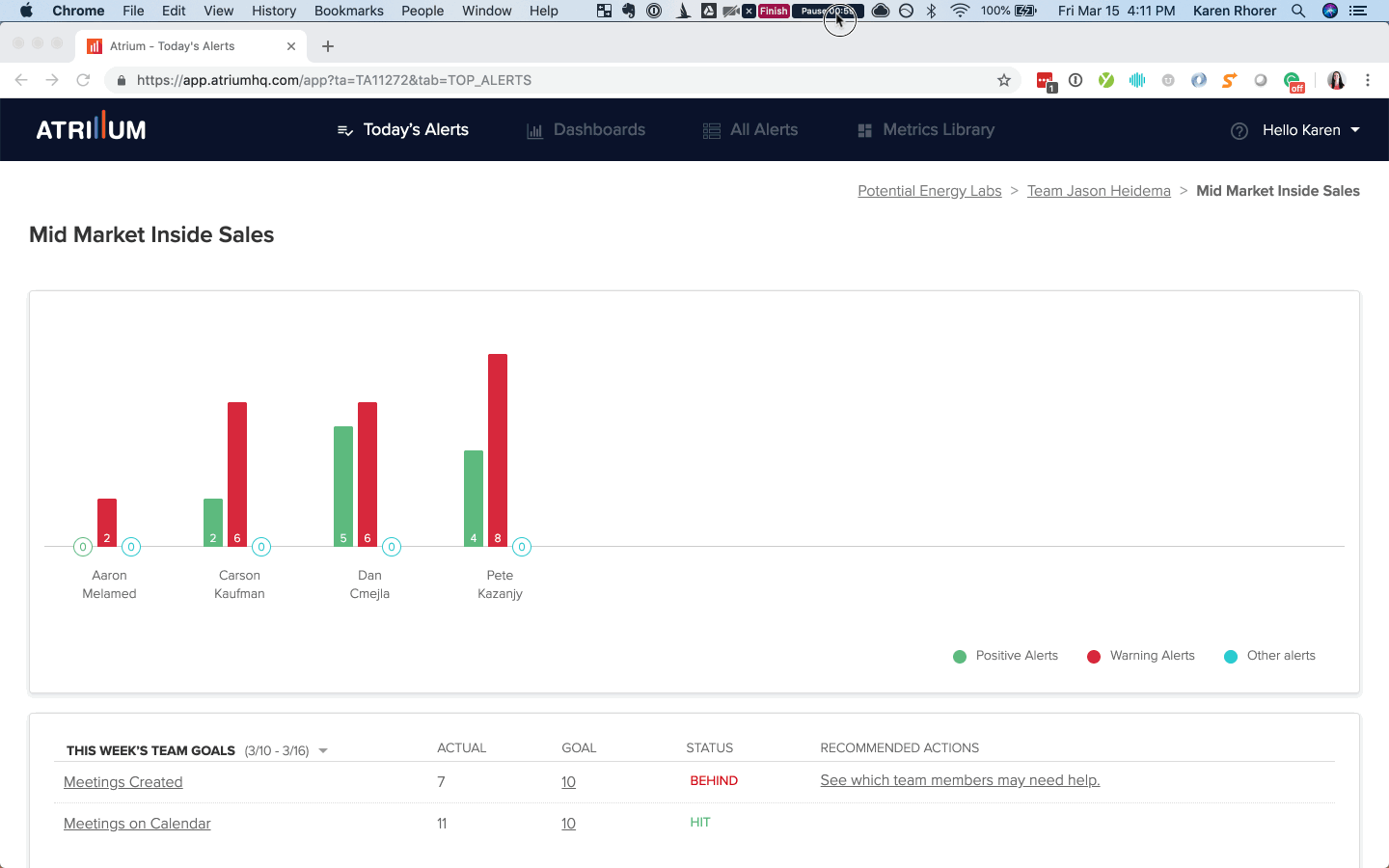 Team goal setting
Goals can be set at the individual or team level. A goal set from the team's profile page will set the same goal for all members of that team. When setting a goal for a team, Atrium will tell you that team's historical average on the metric you're setting the goal for.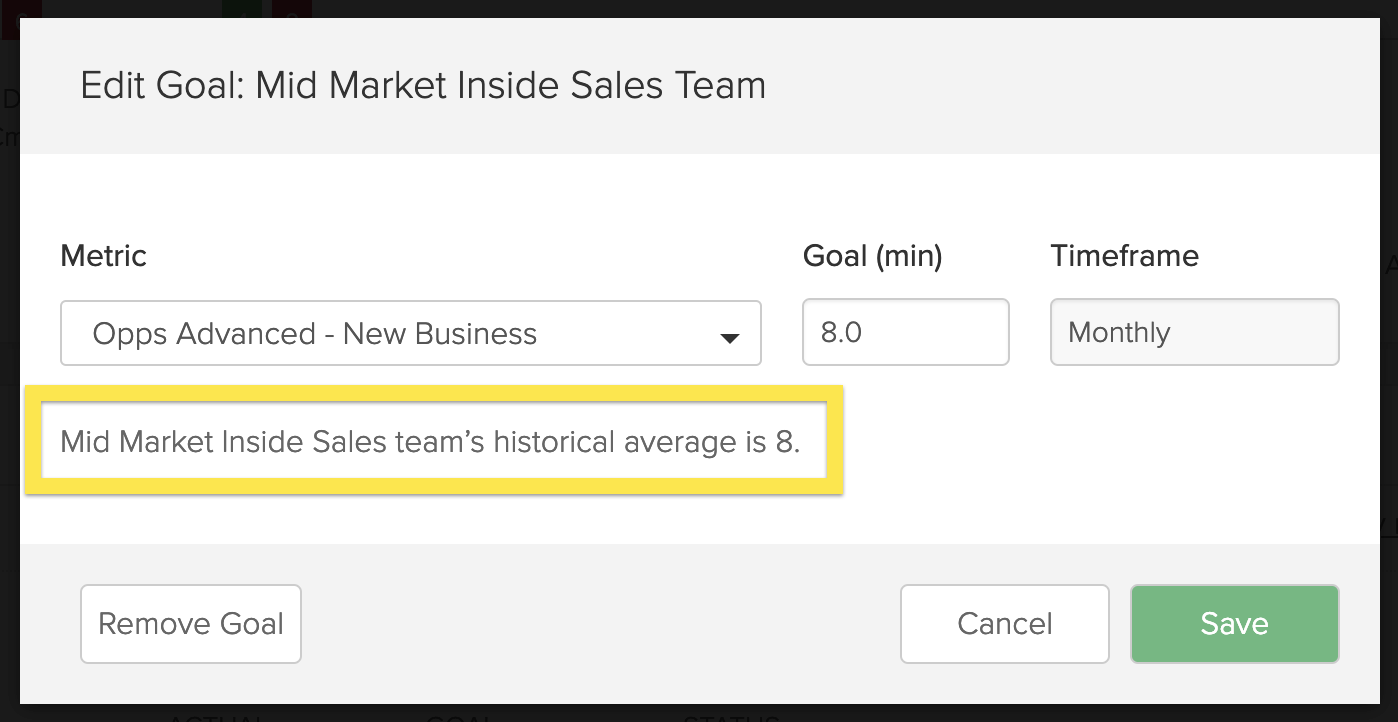 Ramping goals
The majority of goals in Atrium, and all goals against things you can count (e.g., bookings, meetings created), will ramp for new reps, so their goals will start low and increase as they become more tenured. The goals that do not ramp are ones like Contacts Touched per Account, where reps shouldn't need time to build up to a target. If you have a question as to what fully-ramped goals are translating to for a specific individual, you can view that individual's profile page to see their goals. Here's a video explaining that in more detail:
Atrium sets an expected time to full productivity that is customized for each metric and role. When looking at goal from the profile page of a ramping rep, you'll see an explanation like this one, that explains how many weeks or months we're ramping that metric over.