Coaching for Improvement - Untouched Opps and Days Between Opp Touches
One metric that can be extremely useful in understanding the health and cleanliness of a sales rep's pipeline is their number of Untouched Opps (definition, card link). This metric tracks the number of opportunities a rep owns that have gone 30 days or longer without a sales touch - an outbound email, a call, or a meeting - and that don't have a meeting scheduled in the future, either.
As a result, untouched opportunities indicate stale pipeline, and if this number is consistently high, it means that the rep struggles to stay on top of their deals. Maybe this is a one-time issue at the end of busy quarter, and it's quickly resolved, or maybe it indicates that a rep is overloaded or struggles with good pipeline management.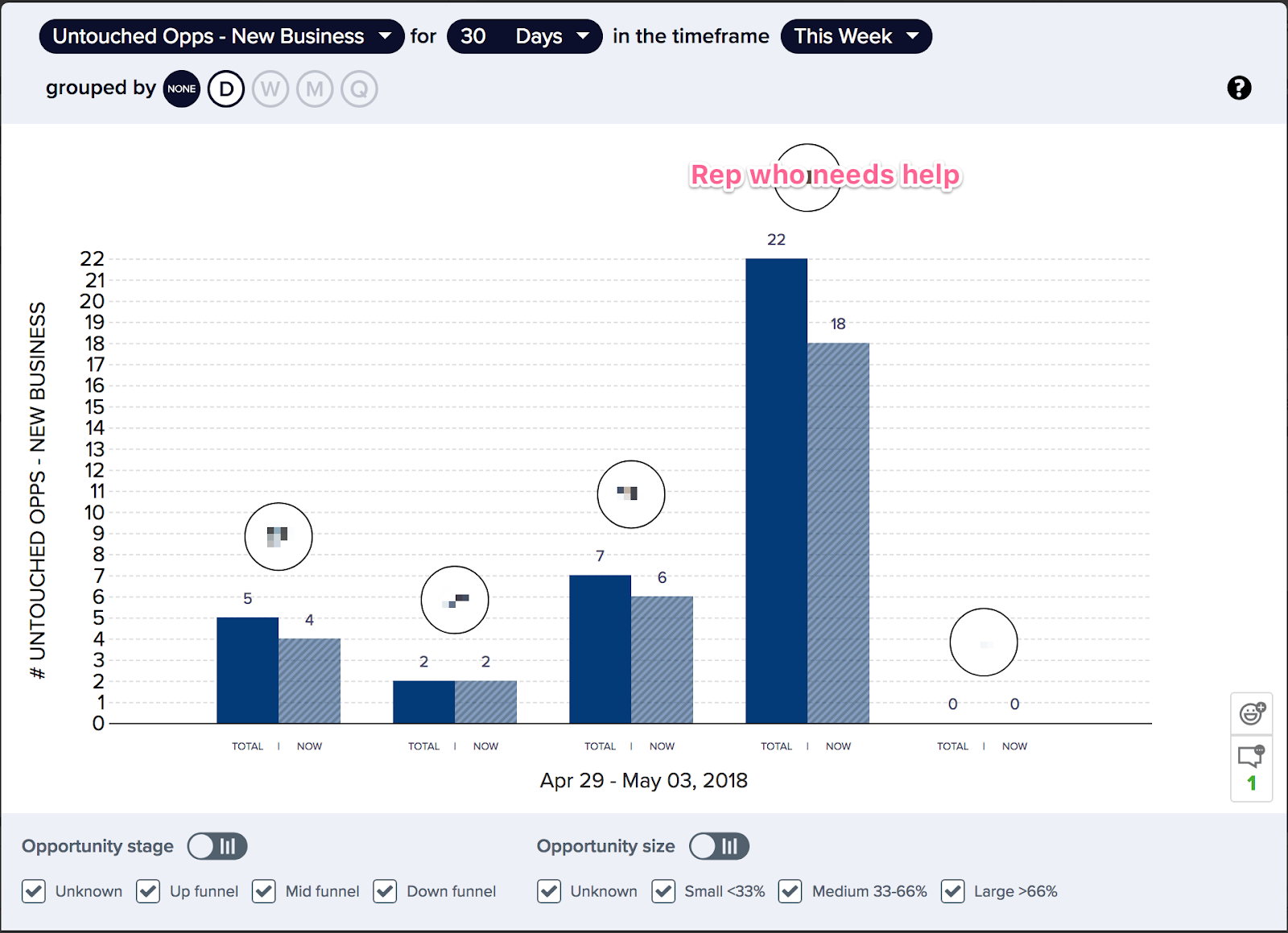 Another "quality of pipeline management" metric is Days Between Opportunity Touches (definition, card link). This measures the frequency of interaction with open opportunities. A rep who has a high number of untouched opportunities will likely also have a higher number of Days Between Touches, as those Untouched Opps will drag the average up.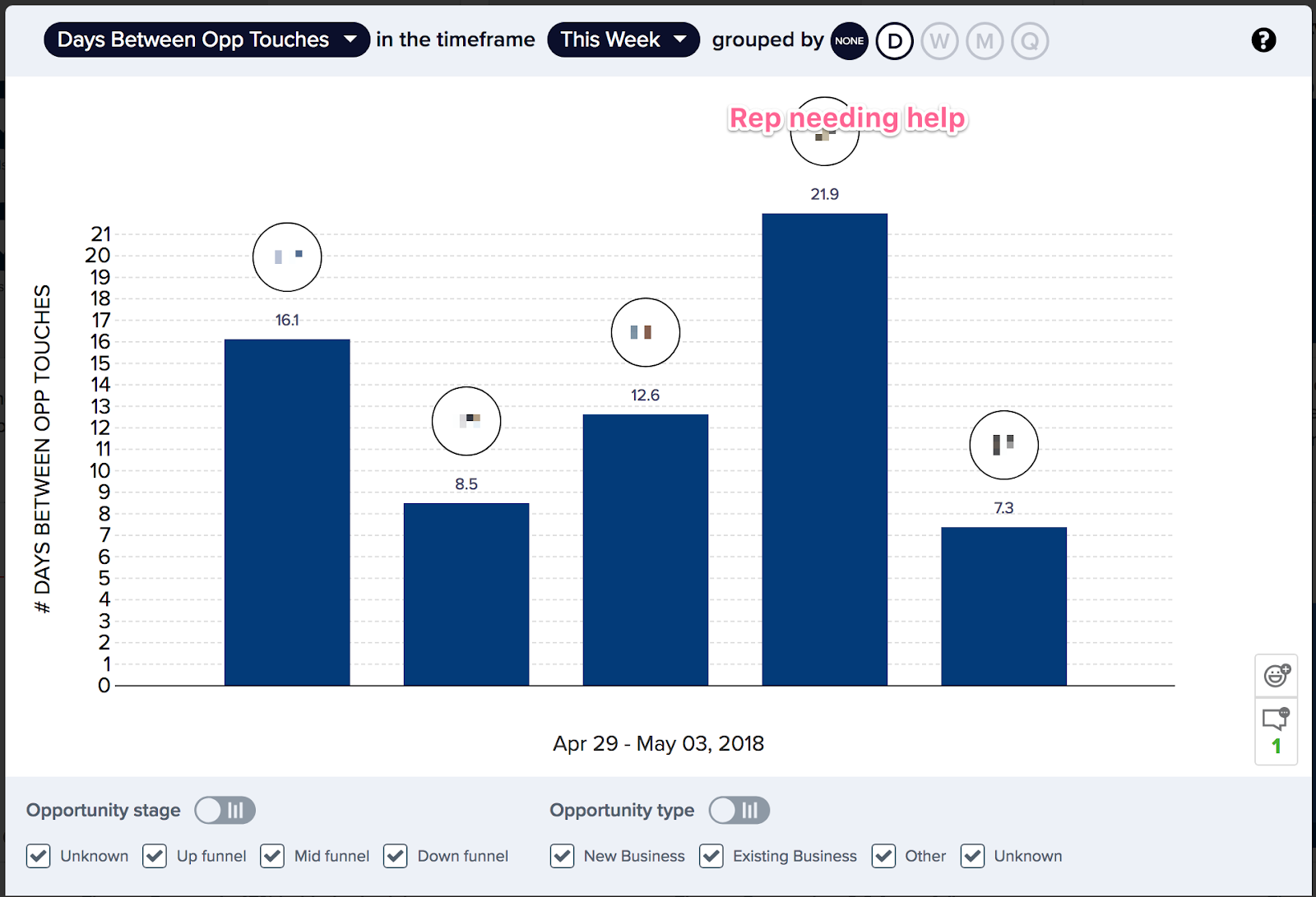 Both are leading indicators to win rate (per the Metrics Diagnosis Guide) - as being in touch with your opps is required to winning them, and conversely, being out of touch with your opps is a good way to let deals go sideways and die on the vine
So, as a manager, if this metric is higher than where you'd like it to be (hint: you'd like it to be zero), what do you do?
Explain to the rep why good pipeline management is important.

If you haven't had a conversation about pipeline management before, this is a good time to explain why it matters.



Closing out opportunities that aren't going anywhere helps the rep and you, as the manager, have a clear sense of what's "real" in pipeline. If you don't know that an AE's pipeline is too light for them to hit their number for the quarter, because it's being artificially inflated by stale opps, then you don't know that you need to help them with strategies to build up their pipeline with high-quality opportunities, in order to set them up to hit their number. Clogging up pipeline with stale opportunities also makes it harder for the rep to stay on top of the opportunities that are actually good opportunities that should be worked, and creates the risk of additional opps going cold because they were hidden in Salesforce by a bunch of nonsense.





Finally, a closed opportunity is generally a signal to the rest of the organization. Marketing and Sales Development generally lay off any accounts with currently open opportunities, and closing these out says that it's okay for Marketing and Sales Development to re-engage and potentially to create a fresh opportunities at those accounts that have gone cold.





So, once the rep understands this, the directive is clear -
"Work it, or close it."

If they think there's a real possibility of re-engaging, and you agree, then they should do so, but if not, close it and move on.

If an opportunity is just over that 30-day untouched threshold, it's certainly gone stale, but it may be salvageable (you can inspect this by selecting "View data" on the Atrium card to see exactly how many days the opp has been untouched). There's an argument for setting up a short sequence to these opps to see if there's a favorable response that can restart the opportunity.

However, even in this case, a Sales Development Rep may be better positioned to do this, and certainly for opportunities that have gone months without a touch, there's no real benefit to having the AE try to do what's essentially cold outreach. In these cases, close the opp out, and let the part of the organization best positioned to nurture or prospect into these accounts do their jobs.


Confirm that the rep isn't overloaded.

If you've had the above conversations, and the rep continues to struggle to stay in touch with all of their opportunities, ask yourself whether they might be overloaded. You can check their opportunity count to ensure that they aren't carrying an unreasonable number of opportunities such that they're being set up to let some fall through the cracks. You can also look at the number of meetings the rep is having every week to check this - most reps are operating at full capacity if they're having ~20 meetings per week for an SMB rep, or ~15 meetings per week for a Mid-Market AE. If you expect them to do appropriate prep and follow-up for their meetings, participate in internal meetings and discussions, attend regular training sessions, etc., then you need to make sure that they actually have enough bandwidth to do all of those things.

If they are

overloaded, then maybe it's time to ask for additional headcount or, barring that, tighten down on your qualification criteria. If that isn't the problem - and they have slack in their calendar that they could be using for pipeline management - then the rep likely needs coaching in effective pipeline management, and general time management, strategies (e.g., a recurring time block on the calendar, twice weekly for pipeline maintenance).
As with all performance conversations, remember to document the conversation! (Use our Guide to Making Performance Conversations Easy!) Make sure you and your AE are both clear on what the issue is and what steps you're taking to address it so that you can revisit during future 1:1s to ensure that, once this problem is fixed, it doesn't recur.
Again, addressing performance issues early and often is key, as discussed in Atrium's "The Problem with Sales Performance Problems" note.
Of course, feel free to reach out to your Atrium Sales Strategy Success Manager if you need any help on using these metrics, or implementing any of these coaching strategies. We're here to help!