Atrium Customer Success Resources Library


Coaching for Improvement - Average Selling Price
One of the output metrics that's important to monitor for your team is Average Selling Price, which is the average bookings value of each new business opportunity closed won during a specific period. This metric is incredibly useful in forecasting - if you know your team's ASP, then you know how many deals on average a rep needs to close each month in order to hit quota and can work backwards from there to determine what kind of input metrics they need to be delivering.
Bookings = Opportunities Closed * Win Rate * Average Selling Price
Having a rep with a much lower ASP than the rest of the team means they need to work more opps, or win those opps at a much higher rate, to generate the same outcome.
As a manager - how do you help a rep whose ASP is lower than the team average?
1. Assess their sales funnel and the type of account they are targeting
You first want to understand what is causing the ASP to be lower and see if this is a result of your rep starting with lower potential value opportunities. Take a look at their pipeline and understand how big the companies they are targeting are and what value deal they are starting with. Their lower ASP may be caused by the rep feeling "safer" working smaller deals or targeting smaller companies. They may need coaching to target the right kinds of accounts that have the potential to produce bigger deals or coaching around asking for bigger budgets from the beginning.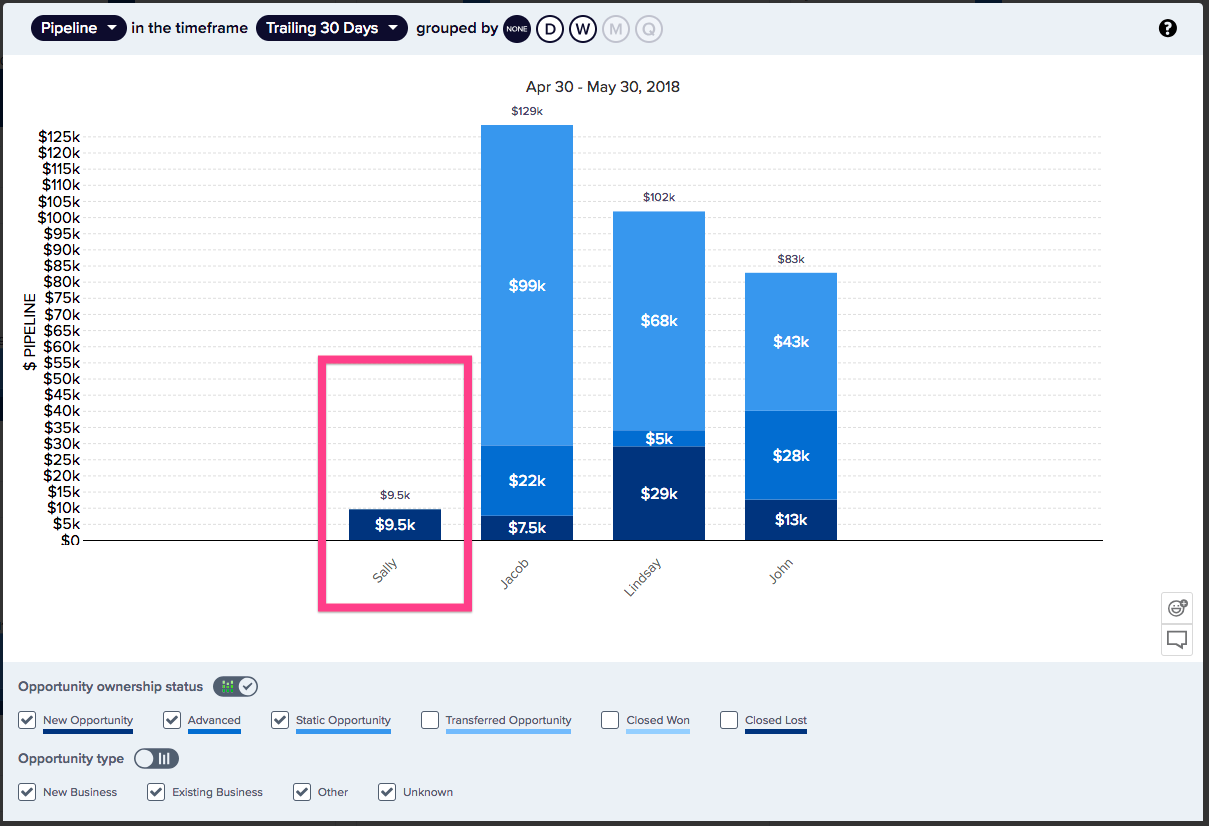 By understanding what their pipeline looks like and if the root cause is the deals they are working versus their selling behaviors, you, as their manager, can help redirect their efforts so they are working smarter from the beginning.
2. Look at discounting practices
Alternately, low ASP may be caused by the rep offering aggressive discounts out of fear of losing the deal. Take a look at their pipeline and understand how deals at each stage compare with their peers. This rep may be targeting the right accounts, but offering discounts early and often in order to appeal to the prospect and not stand firm on their negotiations. This can be a confidence issue or a lack of ability to properly objection handle when a prospect pushes back on budget. In this case, they may need help communicating value and standing firm on pricing.
3. Assess the number of contacts they are interacting with at each account
Another useful metric for digging deeper into how to improve a rep's ASP is taking a look at their Contacts per Account to see how they compare with their peers. Are they engaging with more than one person on their opps? If they are single-threading deals, they may not be engaging enough stakeholders, which can result in them not getting an accurate picture of the total budget available across all of the potential users of the product, or may mean that they aren't reaching the right decision makers.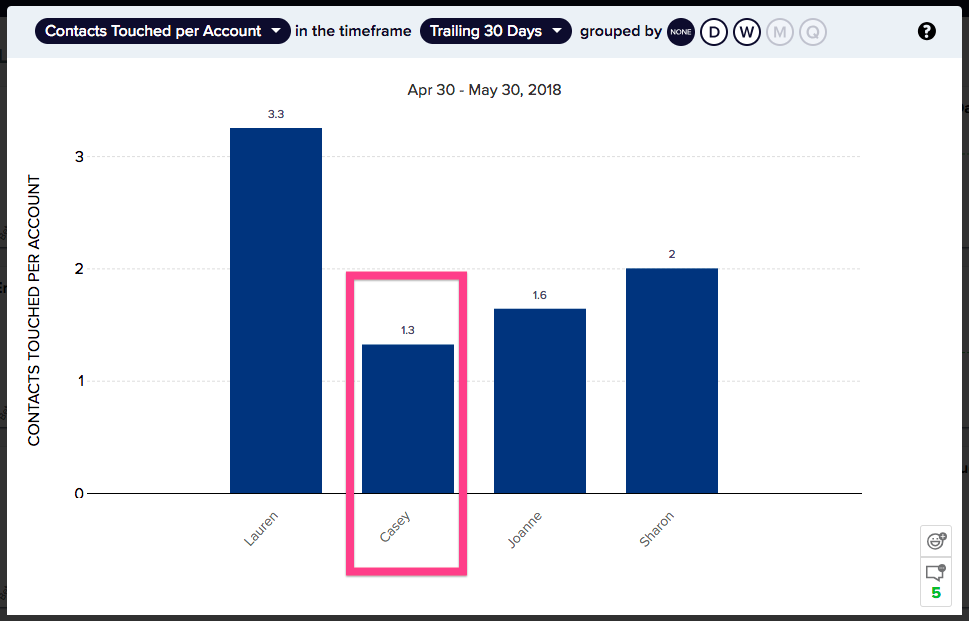 An important precursor to ASP is to see if this rep is getting enough depth in their accounts to make sure they they are creating a compelling case with multiple stakeholders and securing their champion. In addition to that, they need to have the right contact involved and get an accurate picture of the budget to maximize their deals. If their contacts per account is lower than their peers, this rep probably needs help with creating a compelling case to secure more meetings and get all of the appropriate contacts involved in their sale.
4. Shadow meetings to understand other coaching opportunities
While Atrium's metrics can help point you in the right direction, as a manager, you have the best experience to give hands-on coaching. For example, if you identify a discounting issue, then shadowing down-funnel calls can help you diagnose whether it's value communication or negotiation skills that need coaching.
A big part of ASP is negotiation skills and communicating value effectively. A rep with low ASP may need more hands-on coaching in how they are delivering their pitch and negotiating effectively. By listening to calls in 1:1s or going on meetings with them, you can see first-hand where their messaging might be off or where they need to stand firm on pricing pushback. This is where you, as their manager, can add a lot of value and improve their selling skills. From here, you can track how this coaching moves the needle in Atrium.
As with all performance conversations, remember to document the conversation! Make sure you and your AE are both clear on what the issue is and what steps you're taking to address it so that you can revisit during future 1:1s to ensure that, once this problem is fixed, it doesn't recur.