All Atrium Metrics Catalog by Role, Goals, and Use Case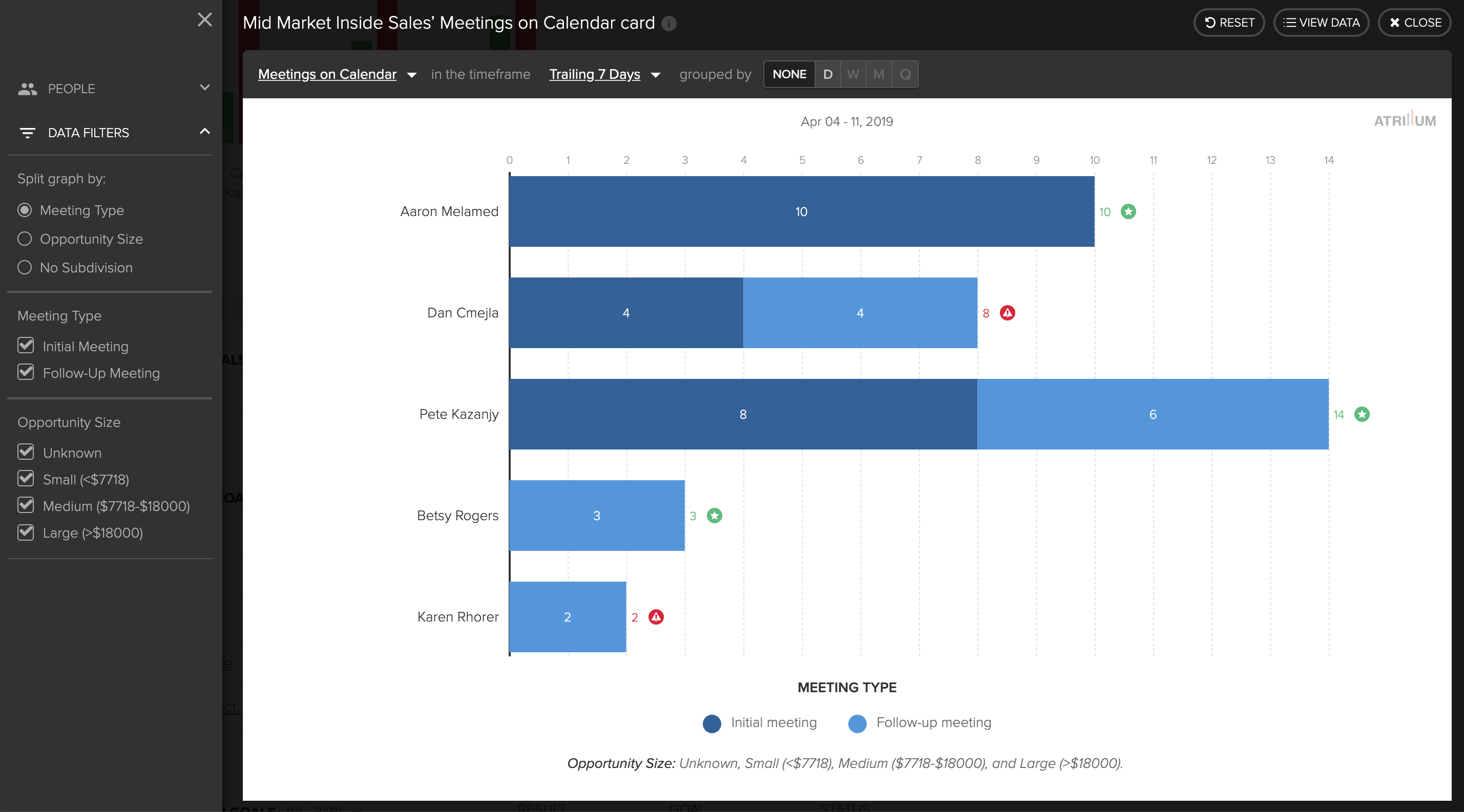 Card in Atrium: Meetings on Calendar card
Overview
Total number of external-facing meetings per rep. (Learn more about how Atrium Actions & Objects work to calculate metrics.)
Metric Time Vector:The date on which the meeting invite is scheduled.
Metric Value Vector:The sum of unique meetings on the calendar with an external participant.
Why It's Important
Because prospect- and customer-facing meetings are a key precursor to sales and a strong early indicator as to whether a rep is tracking towards goals.
Who It's Useful For
All reps who have external-facing meetings and those reps' managers. SDRs can use this metric to track their demo or discovery call creation success, AEs can see their initial discovery, demo, and follow-up meetings with prospects, and AMs and CSMs can see their customer meetings.
Definition
For individuals, the total number of external meetings completed in a backward-looking time interval or scheduled for a forward-looking time interval. These meetings are further categorized, for a given rep, as either the initial meeting with an Account or a follow-up meeting with an Account. For teams, the average number of meetings per rep or the total number of meetings across the team.
Because we pull this information from the Google Calendar, we assume that any meeting invite that remains on the calendar with accepted attendees is for a meeting that actually took place, while any meeting invite that was deleted or moved represents a meeting that was cancelled or rescheduled.
Data Used
The Meetings card is populated directly with calendar data - either Google Calendar or Office 365 - depending on your organizations' settings. In most cases, Atrium can use "single player" Google Calendar data from a single user's Google Calendar connection, or after the Atrium Google Workspace application has been installed. For Office 365 customers, the Meetings card will only be populated after providing administrative access to Office 365 calendar.

All meetings on an individual's Google Calendar where (1) the individual is the owner of or an attendee on a calendar invite (and has accepted the invite) and (2) at least one attendee on the calendar invite either has a corporate email domain or has an email address that is associated (and has accepted the invite) with a Contact in Salesforce.
Note: Meetings are associated to opportunities according to whether contacts on the meeting invite have an email domain that matches the email domain of the Account or of any Contacts associated with the Account.
Alerting
This alert is based on meetings scheduled on the individual's Google calendar during the current calendar week, including those that have already taken place and those that are yet to take place. Alerts will fire at an individual beginning on Tuesday if that individual is at least 25% above or below their historical 13-week trend, or at least 25% above or below the average number of meetings scheduled for all of her peer reps.
For teams, it will fire if meetings scheduled are at least 25% above or below that team's historical 13-week trend, or 25% above or below the contemporaneous average of other teams.
An escalated version of this alert monitors on a monthly basis.
Back of Card
The data on the back of this card shows, for each meeting on the calendar, the Company Name of the associated Account or corporate domain of the email address if Atrium could not find an associated Account, the name of the meeting as it appears on the calendar, whether the meeting was an initial meeting with an account or a follow-up meeting, and the size of the associated Opportunity, if there is one.
How to Use It
Meetings will be used differently depending on who the user is. For an SDR team, this card will be a measure of meetings set for the team (provided that they remain on the calendar invite) and thus can be treated as more of an output metric, viewed in the context of emails and accounts touched as the inputs.
For AEs, AMs, and CSMs, this card can be used to understand the volume of prospect and customer interactions that those reps are having with their accounts.
"Initial" vs. "Follow Up" Meetings
"Initial" vs. "Follow Up" meetings are calculated on a "per opportunity" basis. So if an opportunity is marked as closed (won or lost), then future associated meetings will be reset with respect to "initial" or "follow-up" designation. This means that the next future meeting will be listed as "initial" and not "follow-up."
Recurring Meetings
Recurring meetings will show each of the recurring meetings as individual meetings in the grouped timeframe.