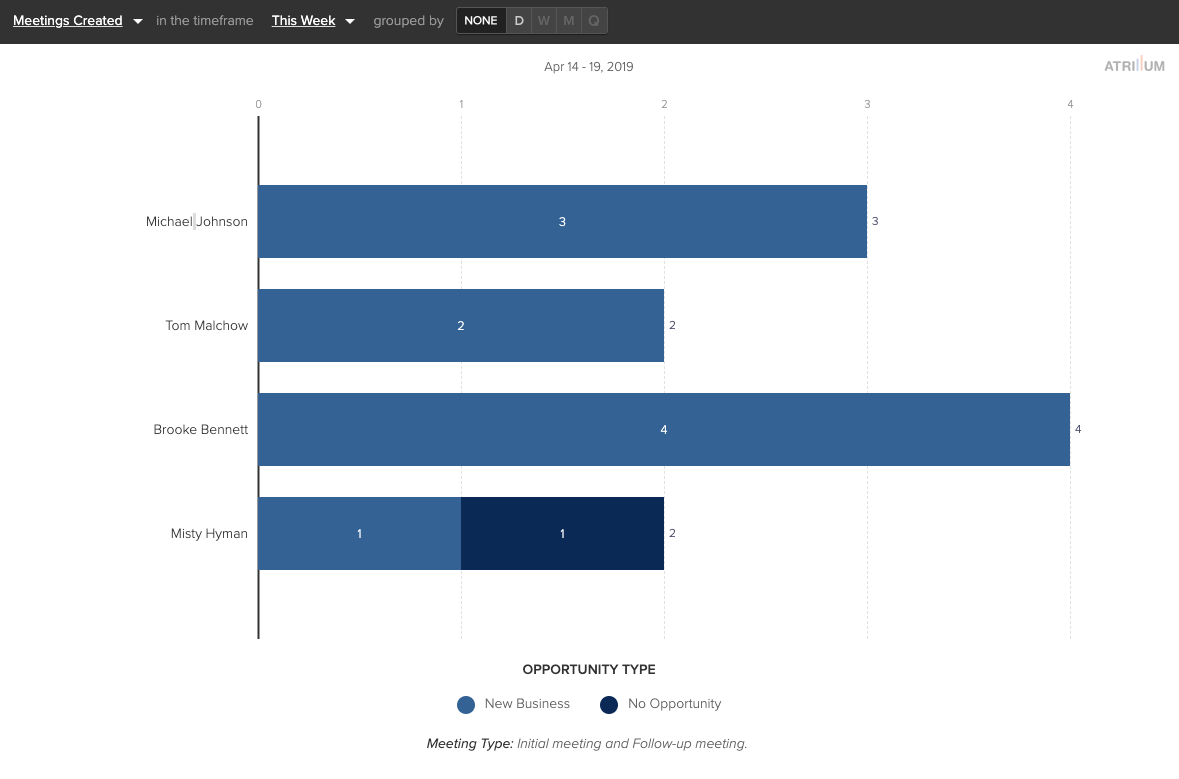 Link: Meetings Created card

Overview: Total number of external-facing meetings created by the rep during the time period.

Why it's important: The Meetings Created card lets you easily identify where the external meetings on each rep's calendar are coming from, including how many meetings each SDR is scheduling for the AEs and how many initial meetings AEs are creating for themselves.

Who it's useful for: SDRs, AEs, AMs, and their managers.

Definition: For individuals, the number of unique external-facing meetings created on any Google calendar within the organization in the given time frame. Creating a recurring meeting counts as a single meeting for the purpose of this card. For teams, the average number of meetings created per individual on the team.

What data is used?: All meetings on the Google Calendar of any individual within the organization where at least one attendee on the calendar invite either has a corporate email domain or has an email address that is associated with a Contact in Salesforce, where the rep in question was the creator of the Google Calendar invite.

Alerting: This alert is based on meetings created by the rep during the current calendar week, including those that have already taken place and those that are yet to take place. Alerts will generate if that individual is at least 25% above or below their historical 13-week trend, or at least 25% above or below the average number of meetings scheduled for all of her peer reps. Goal alerts will also be based on the calendar week.
For teams, it will fire if meetings scheduled are at least 25% above or below that team's historical 13-week trend, or 25% above or below the contemporaneous average of other teams.
An escalated version of this alert monitors on a monthly basis.

Back of Card: The data on the back of this card shows, for each meeting created, which Account the meeting is associated to, the title of the meeting as it appears on the calendar, the type of meeting (initial vs. follow-up), and the type of opportunity (new vs. existing business), if any, to which the meeting is associated.

How to use it: The Meetings Created card is especially useful for organizations where SDRs create meetings directly on other individuals' calendars or where they create and then subsequently decline the calendar invite.
This metric is also useful for organizations where SDRs remain on the initial meeting invite to see an earlier indicator of meeting volume than the meetings on their calendars.
The data filters on this card may also be used to identify places where a meeting has been created but an opportunity has not yet been created, and to see whether hybrid AE-AM reps are creating more meetings with their prospects or customers.
Important to note: If an opportunity is marked as closed, then all associated meetings will be reset. This means that any future meetings will be listed as initial and not follow up.