All Atrium Metrics Catalog by Role, Goals, and Use Case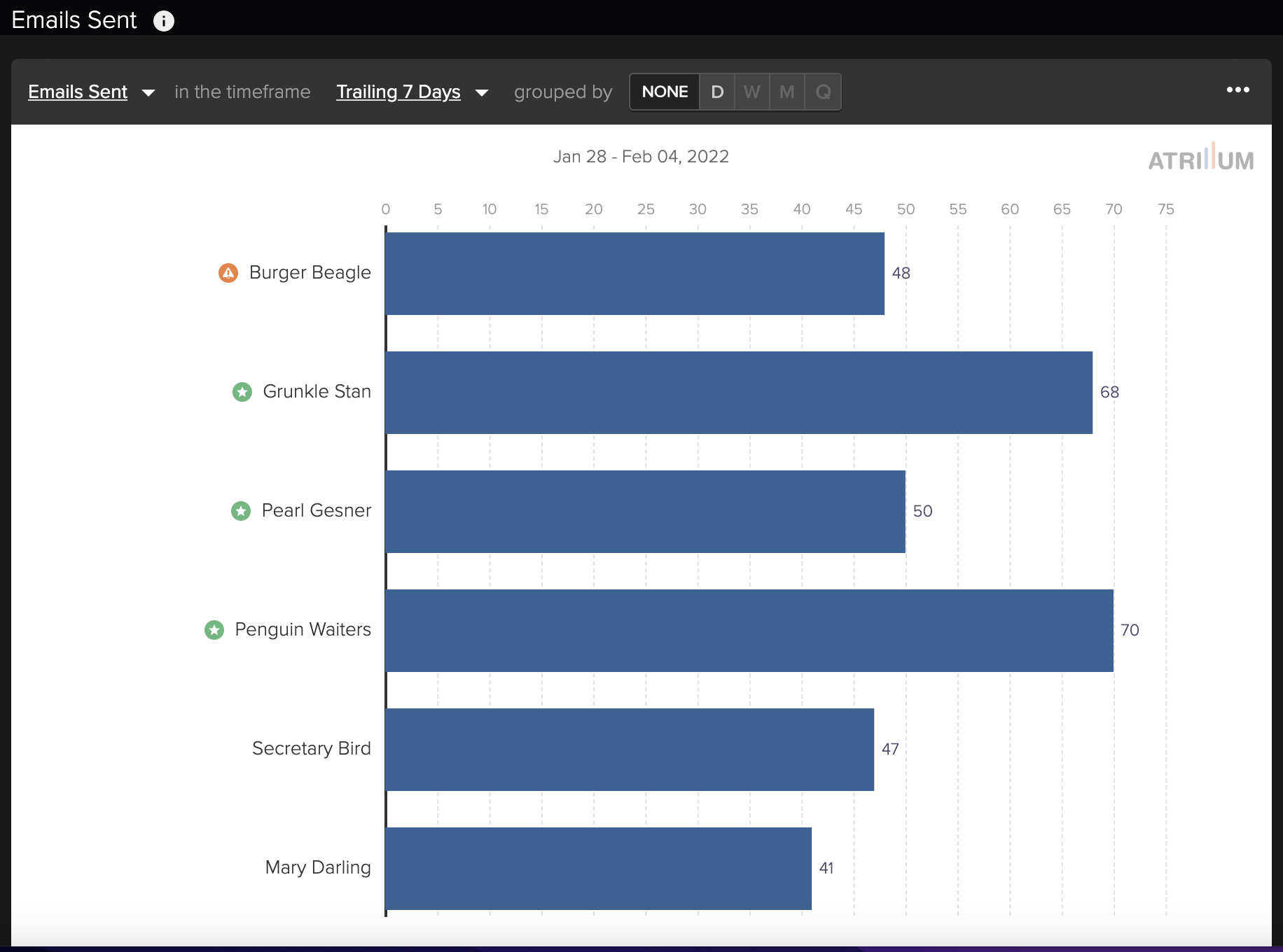 Card in Atrium: Emails Sent card
Overview
The emails sent card reflects all emails sent to a corporate email address or to a contact in Salesforce. For an individual, we display the total number of emails sent and for a team we display either the average or total, depending on the team metric you select to view. (Learn more about how Atrium Actions & Objects work to calculate metrics.)
Metric Time Vector:The date on which the email was sent.
Metric Value Vector:The number of emails sent.
What Data is Used
We pull Email Data Salesforce Task Data or directly from Microsoft/Google. This depends on how your Atrium instance is configured! You can learn more in our support article regarding How Email Data Ends up in Atrium or reach out to support@atriumhq.com with any questions!
Why It's Important
The first step in the sales process is activity. From prospecting to down-funnel opportunities, emails are vital for monitoring workflow with new opportunities and potential new customers. This metric is also used to track touch points within existing customer relationships.
How Do I Use It?
This card works well on 1:1 dashboards, Kudos Feed Alerts, and Low Activity Alerts where leading indicators are a top priority.
This card pairs well with Calls, Email Engagement, Accounts Touched, Contacts Touched, and Contacts Touched per Account. For AE Teams, it also pairs well with Prospecting cards. For SDR teams, it also pairs with Activity per Opp Created.
Set goals on this card to monitor team activity, efficiency, and performance.
Examples of How to Use It In Practice
For AE Teams, it's important to make sure that opps are being worked and contacts are being touched within a given opportunity. Emails are one of the easiest ways to ensure reps are working with and talking to the contacts in their pipeline.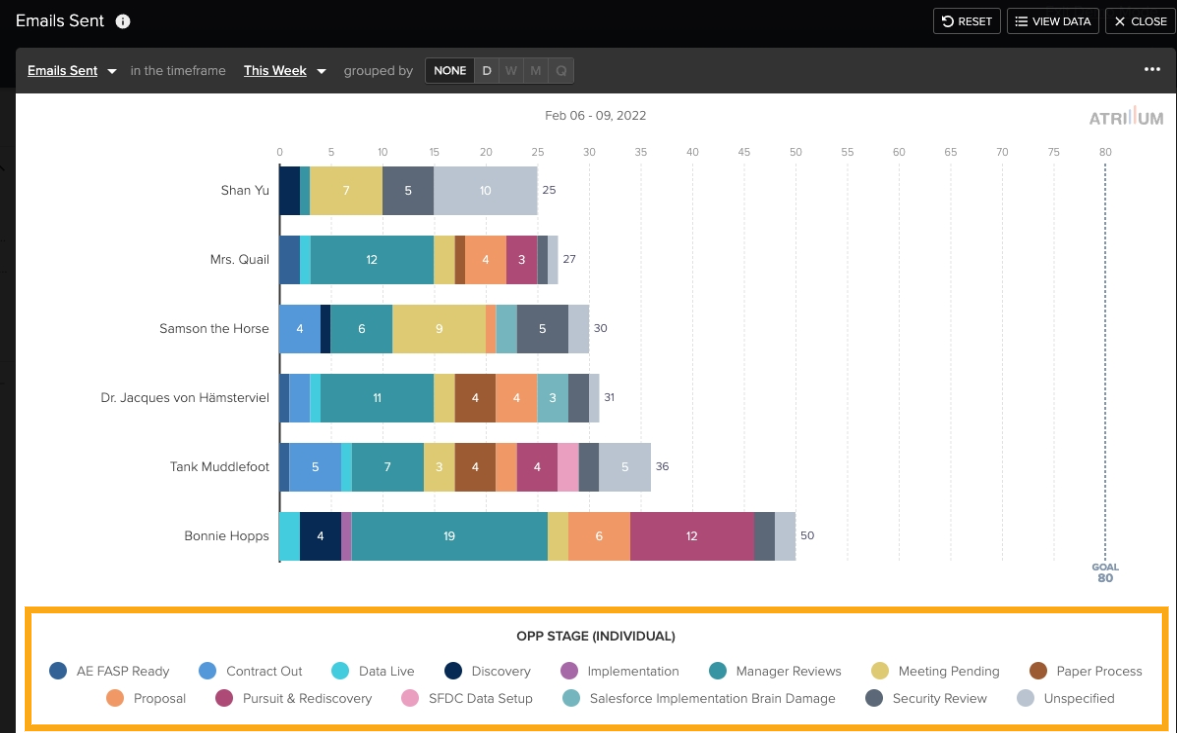 For SDR teams, not only is it a great way to track week-over-week activities, but also ramp of new employees and sales team members.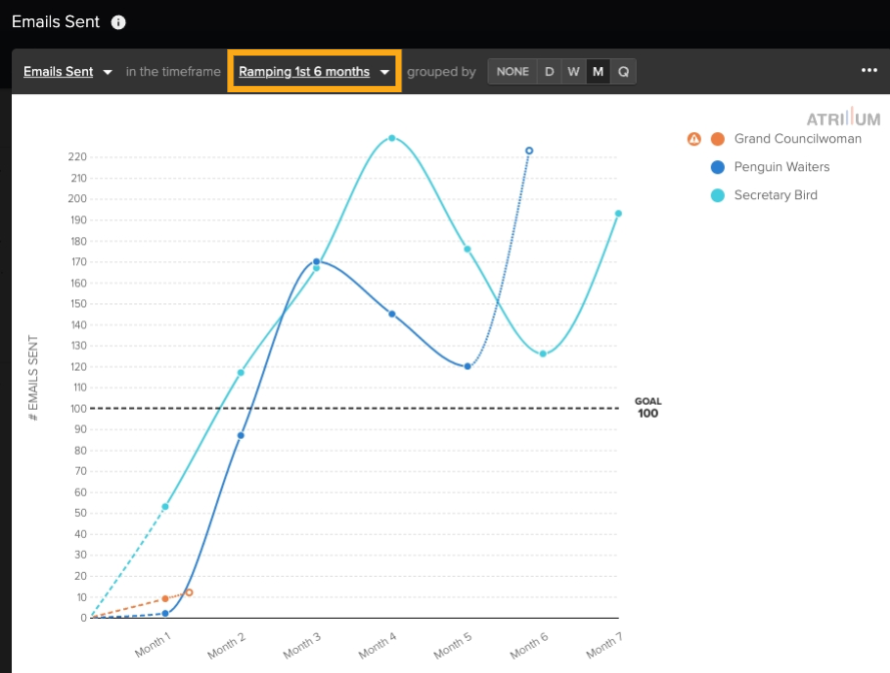 And, for Account Management and Customer Success teams, the Emails Sent card helps managers know how much activity is being done outside of meetings with existing customers.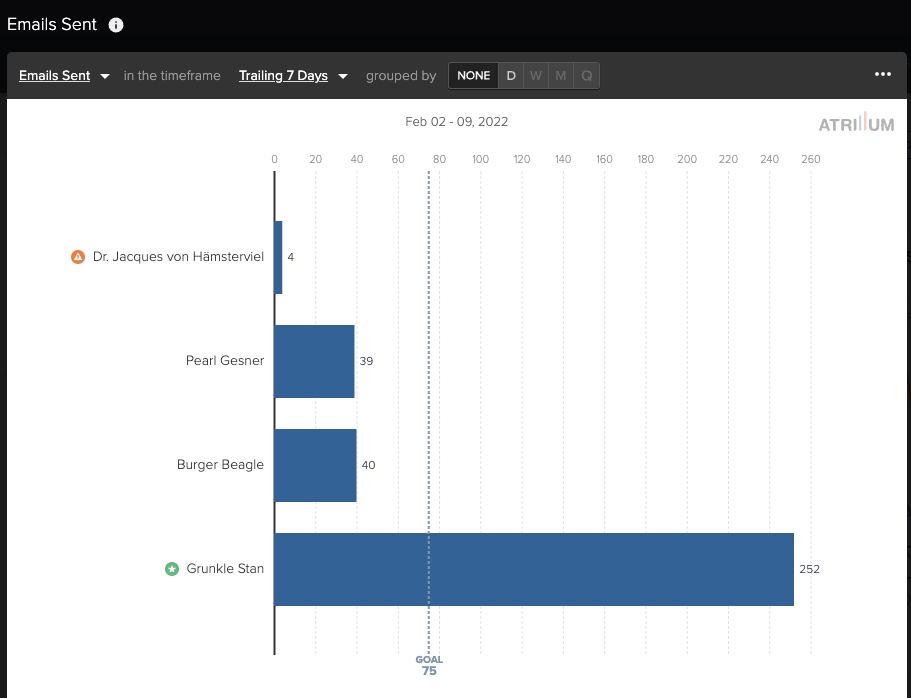 FAQ/Additional Details
We typically pull email data from your corporate email account, meaning G Suite or Microsoft, and rarely from Salesforce.
We do not integrate with any third-party platforms such as Salesloft or Outreach, however, so if we do pull email data for your company from within Salesforce and it will not be through the third-party integration Platform. Discrepancies in email count are typically attributed to how a third-party used to send emails is writing email copies over to your corporate email account; This FAQ article may help explain in more detail!