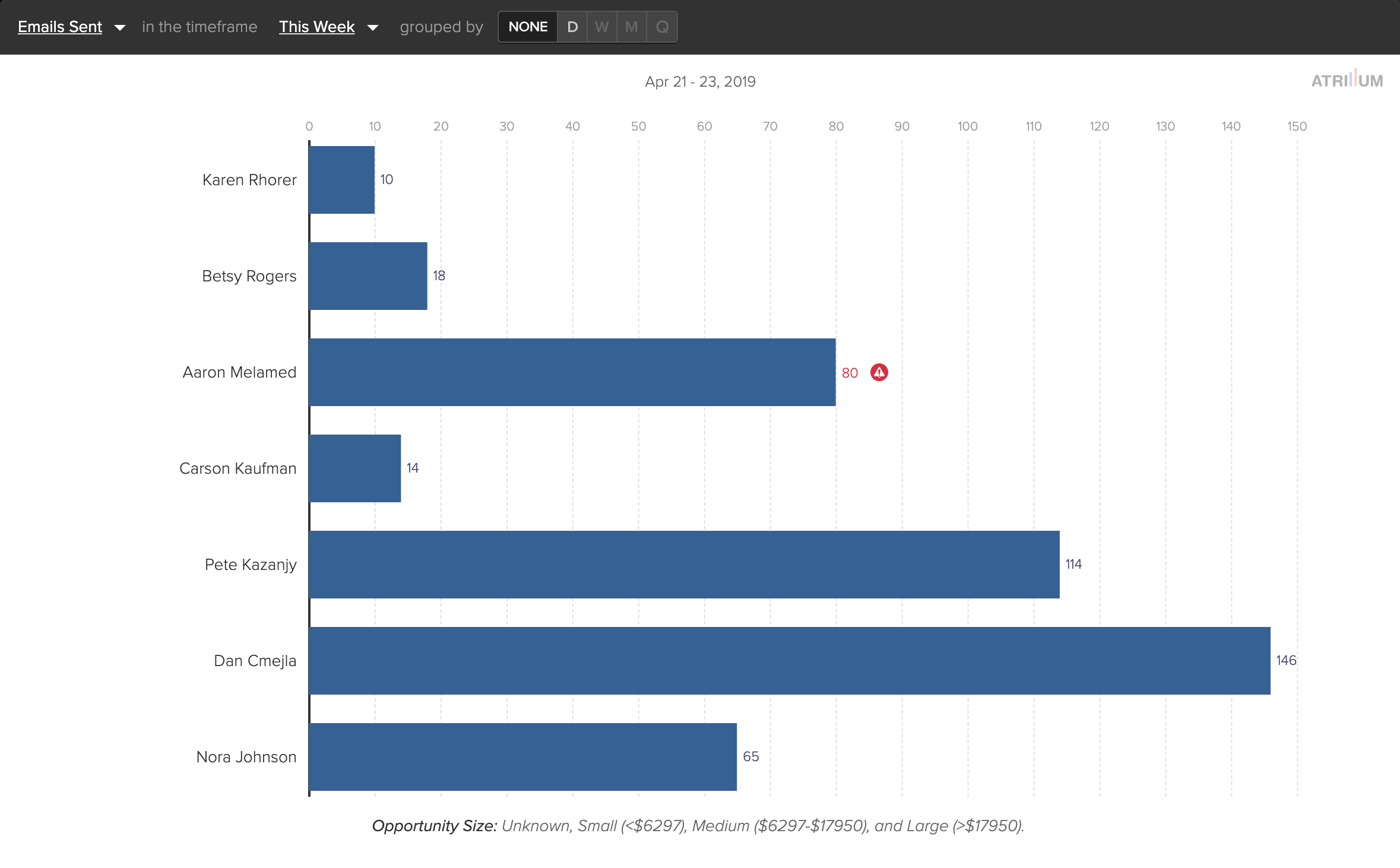 Link: Email Sent card

Overview: Total number of emails sent to external parties.

Why it's important: This metric measures selling effort in terms of email outreach, which is an extremely important component of most modern sales motions.

Who it's useful for: All sales and customer success employees and their managers.

Definition: For an individual, the count of unique emails sent to a corporate email domain or to an email address that is associated with a Contact in Salesforce. Each individual email is only counted once, regardless of the number of recipients.
For a team, the average or total of this figure for each rep on the team.

What data is used?: Outgoing email data from each individual's Gmail account.

Alerting: The default alert for this card is based on the volume of emails sent within a week. This alert will trigger beginning on Wednesday if a rep or a team has sent at least 25% more or fewer emails than they normally have by that point in the week. This alert will also trigger if a rep or team has sent at least 25% more or fewer emails than their peers.
This alert will clear if the rep or team moves back within 25% of historical or team performance or will clear and reset once a new week begins.
An escalated version of this alert monitors on a monthly basis

Back of Card: The data on the back of this card shows, for each email sent, the Company Name of the associated Account or corporate domain of the email address if Atrium could not find an associated Account, the subject of the email, and the size of the associated Opportunity, if there is one.

How to use it: Because this card is a measure of sales effort, one place it can be helpful is to understand how a new rep is ramping before lagging indicator metrics become available and within the context of other cards to understand the overall nature of a rep's performance. Another is as a check for a rep who is struggling to meet quota. If his "effort" metrics are in line with the rest of his team, then he needs sales coaching to convert that effort into outcomes. However, if his effort metrics are lower, then it may be that he is checked out or otherwise not putting in the work to fill the top of the pipeline.
This card can be used a general measure of "engagement" of a rep, as well, in that email is so central to how reps get their jobs done, sudden degradation of customer facing email can be a helpful indicator of disengagement before it starts showing up in other lagging metrics, like meetings, opportunities advanced, and bookings.