Create a New Dashboard
 First, go to the three-dot menu and select "Create a Dashboard".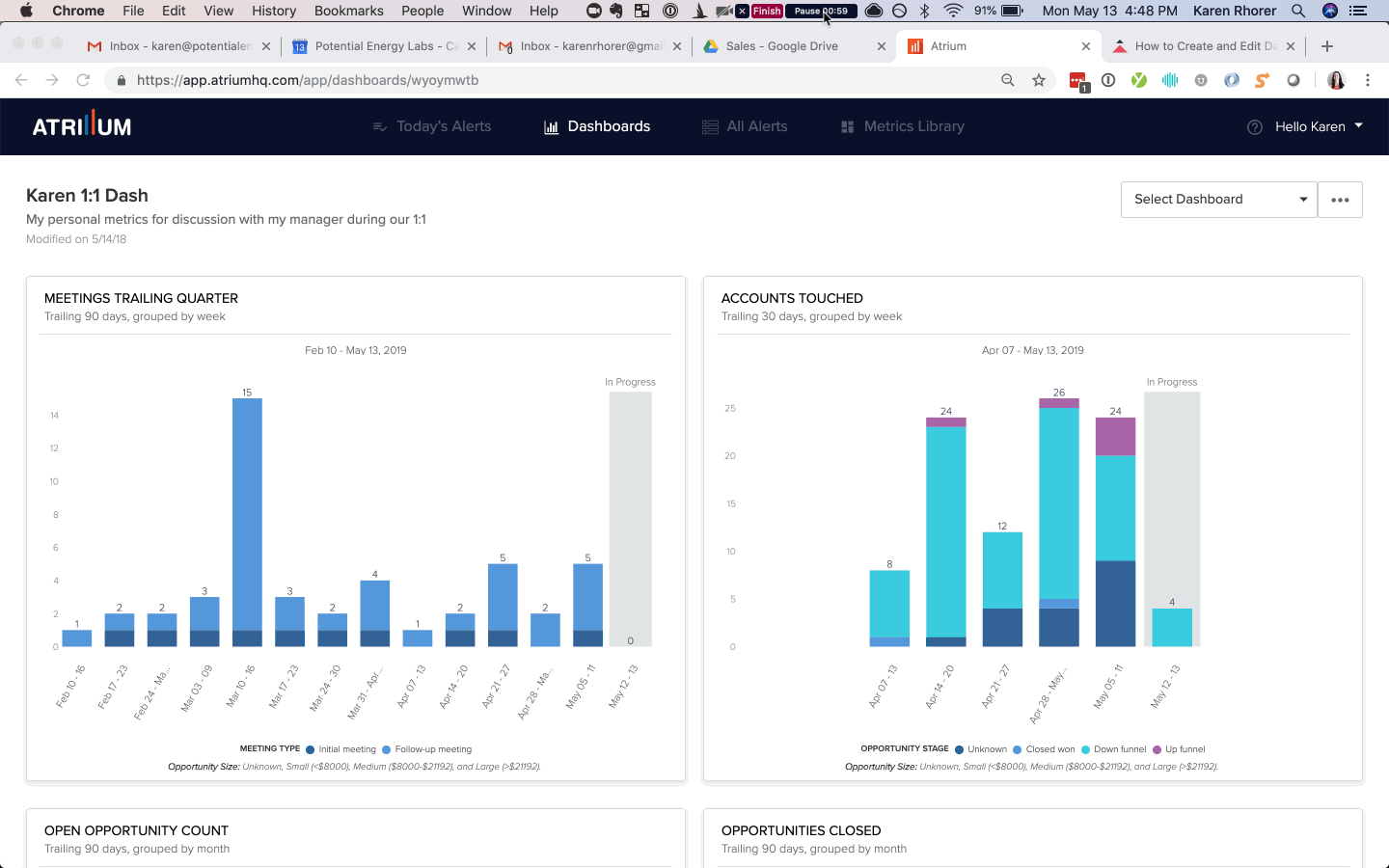 Give your new dashboard a name and description and start adding cards. For each card you add, you can edit all of the elements that are editable on any card view in Atrium and save that configuration - meaning that you can specify the individuals on the card, the timeframe and time grouping, and any filters that you would like to appear or apply to the card.
Clone an Existing Dashboard
Several dashboards come pre-loaded in Atrium, or others on your team may have shared dashboards with you. In either case, if you want to use an existing dashboard as a template for a new dashboard, you can clone and then edit the cloned copy of the dashboard.
To clone a dashboard, navigate to the three dots menu and select "Duplicate Dashboard".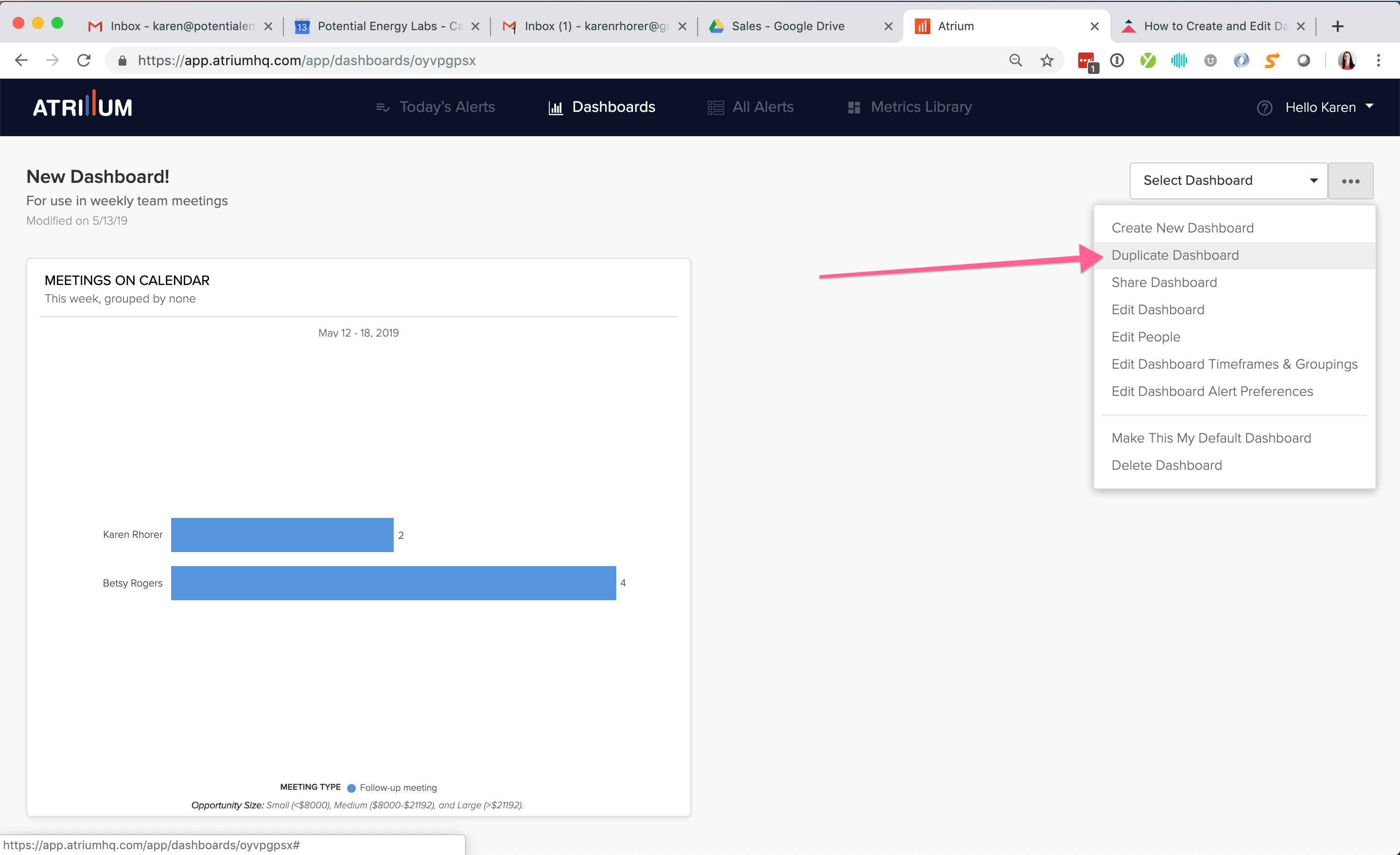 Share a Dashboard
Sharing a dashboard allows others to view the dashboard and causes the dashboard to show up in their "Select Dashboard" menu.
You have the option to share a dashboard with individuals or teams when initially creating that dashboard.
For a dashboard that has already been created, you can go to "Share Dashboard" in the three dots menu and then select which individuals or teams you'd like to share the dashboard with.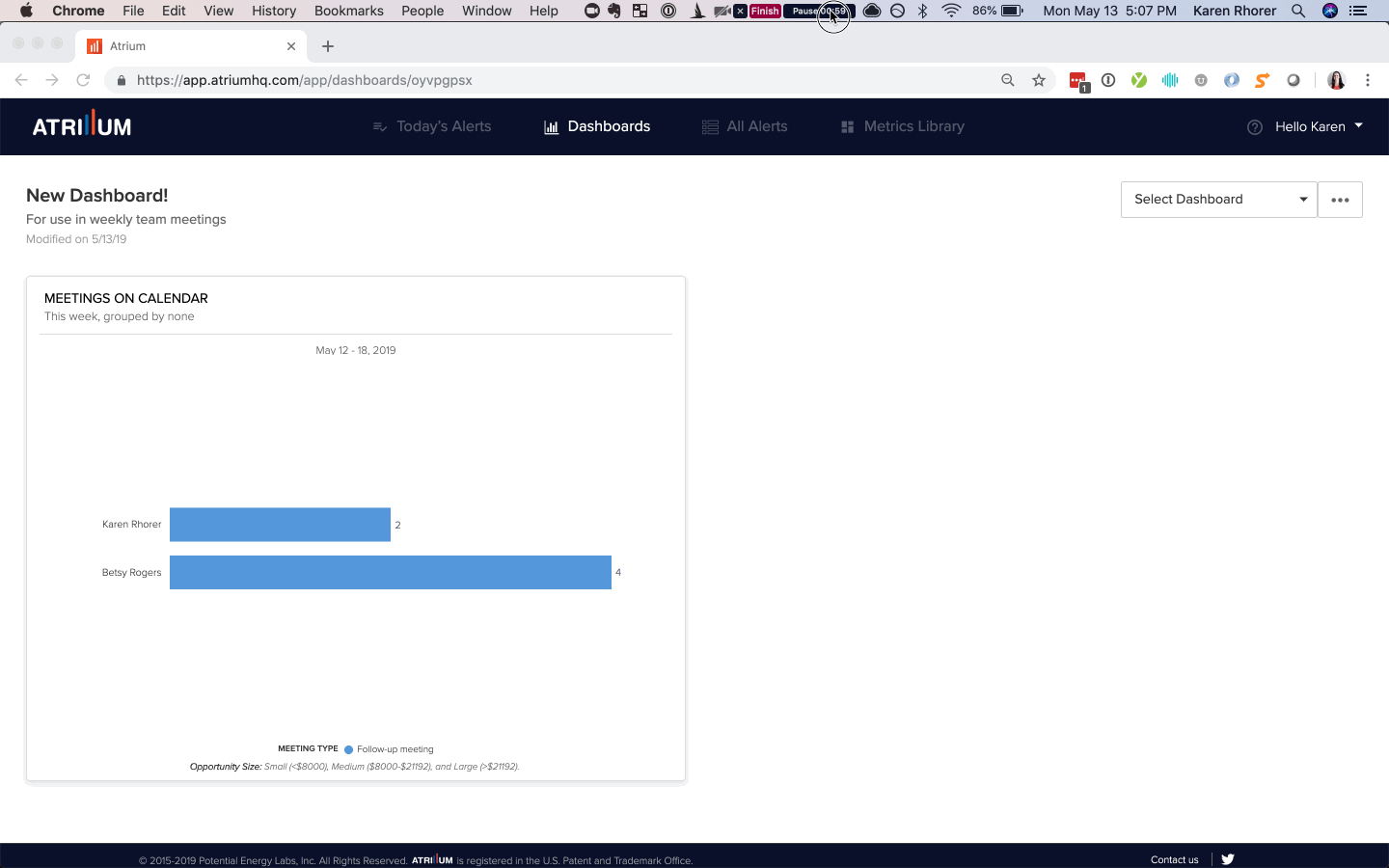 Edit a Dashboard
You have the option to either edit individual cards on a dashboard or to bulk edit all cards on a dashboard.
To edit an individual card or add a card, choose the "Edit Dashboard" option in from the three dot menu. From the resulting screen, you can add or delete individual cards, change which KPI is showing on a card, or change the individuals, timeframe, or grouping on a card. You can also change which filters are selected or change the number of days on the untouched opps and stuck opps cards.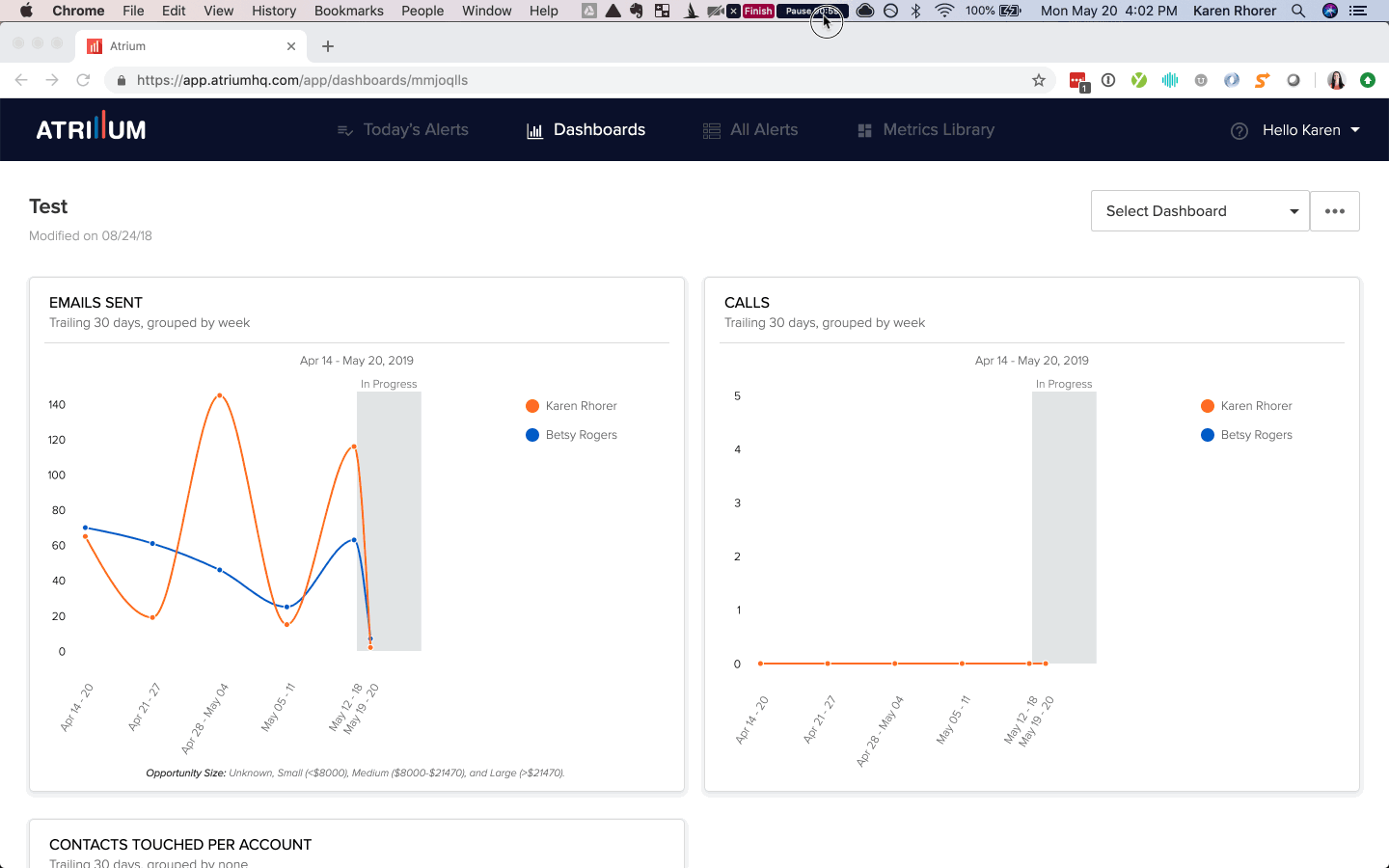 You can also change the timeframe and grouping on every card on a dashboard at once, or edit all of the people on a dashboard. 
To bulk edit the timeframe for all cards on a dashboard, select "Edit Dashboard Timeframe & Groupings" from the three dot menu. You can then select any combination of timeframes and time intervals groupings to apply to every card on the dashboard. You may want to use this to create a dashboard that exclusively covers activities last week or to create a ramping dashboard that matches the ramping timeframe that makes the most sense for your team.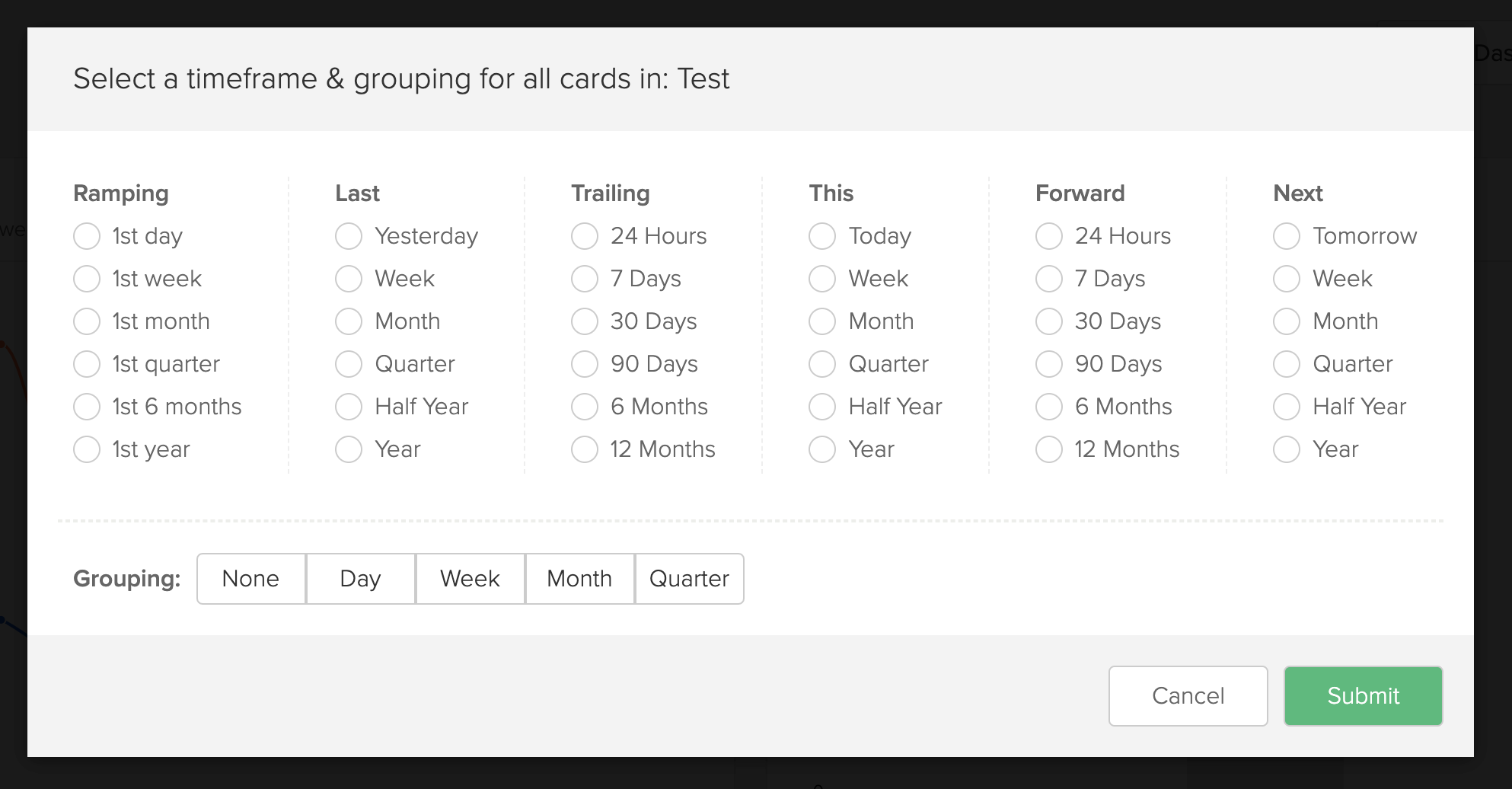 To bulk edit the individuals shown on a dashboard, select "Edit People" from the three dot menu. That will launch the "People Picker" where you can select any individuals from the org chart that you want to show on the dashboard cards. This is especially useful if you want to clone an existing dashboard and use it for a new team.
Schedule a Dashboard to Email
If you want to have a dashboard delivered directly to your inbox or sent to your team's distribution list, you can schedule that email in Atrium! Select "Edit Dashboard Alert Preferences" from the three dot menu, and then decide how often you want the dashboard to be emailed out, at what time of day, and to which email addresses and hit Submit.