All Atrium Metrics Catalog by Role, Goals, and Use Case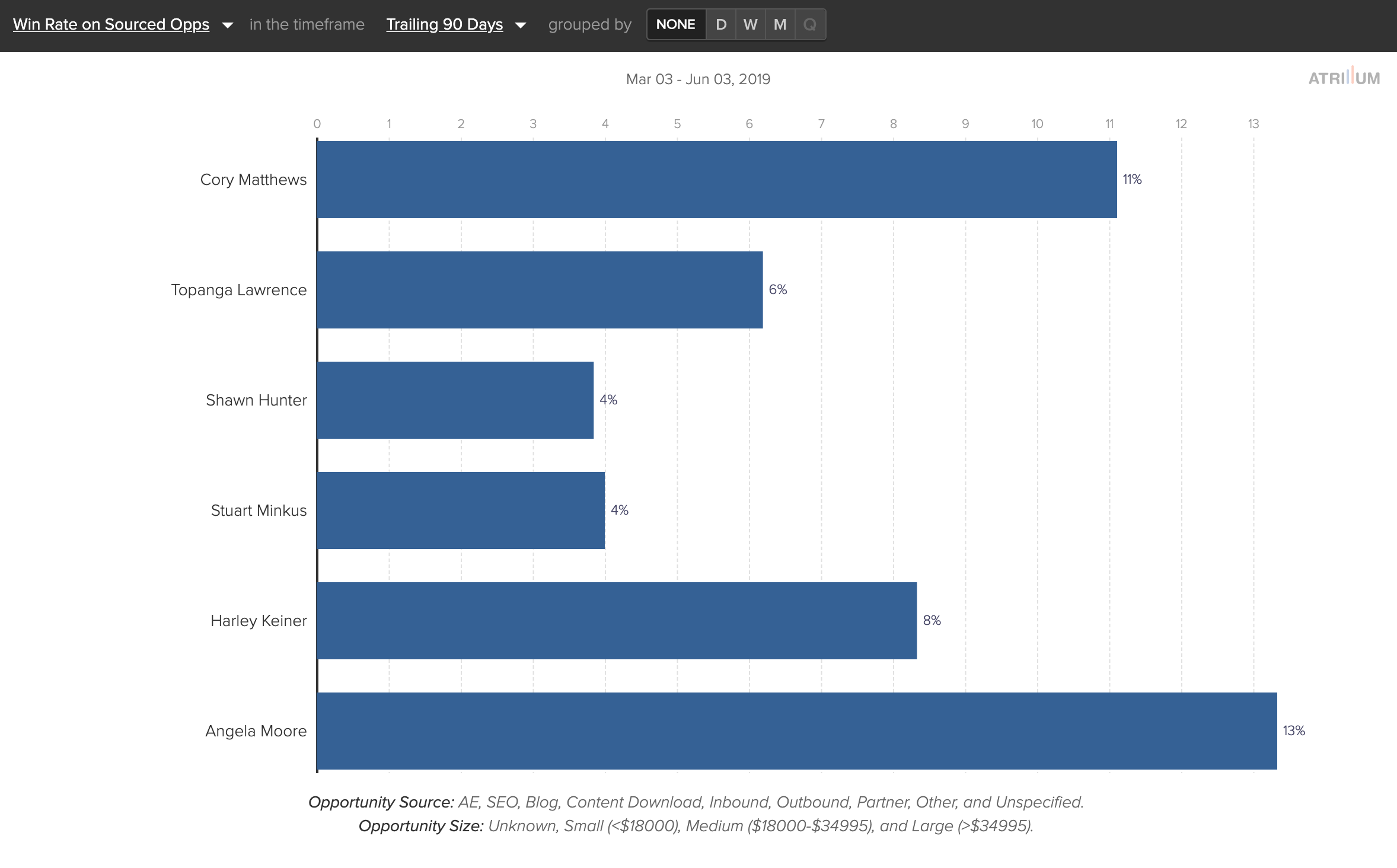 Card in Atrium: Win Rate on Opps Sourced card
Overview
Percentage of closed new business opportunities that were closed won, where the individual shown in Atrium created/sourced the opportunity. (Learn more about how Atrium Actions & Objects work to calculate metrics.)
Why It's Important
Similar to "Win Rate - New Business", Win Rate on Opps Sourced is a metric that can be used both as a "look-back", to ensure that opportunities sourced are being won at a reasonable rate and to identify individuals who are outliers, and as an informative forward-looking metric for sales ops when thinking about resource planning.
Who It's Useful For
All reps responsible for opportunity creation, including SDRs and AEs.
Definition
For individuals, the sum of all new business Opportunities that have been marked "Closed Won" with a Close Date in a given time interval where that individual created/sourced the opportunity divided by the sum of all Opportunities that were closed during the same time interval, excluding free trials and finance adjustments. At a team level, the average or total, per rep on that team, of the above.
Note that this metric is slightly different from our AE Win Rate card, because it includes all opportunities created/sourced not only those that reached a sales-accepted stage.
What Data Is Used
Salesforce Opportunity data from the Stage field, to determine which opportunities were closed, the Type field, to determine whether the opportunity was new business, and the Close Date field to associate to the appropriate timeframe. The standard Created By field in Salesforce is used to indicate opportunity creation, but that can be edited by an Atrium admin user in the Salesforce Data Mapping section of the Admin overview or by the Atrium Customer Success team.
Alerting
Alerting on this card is based on the trailing 90 days. Personal alerts will compare win rate on opportunities that were created/sourced by the rep against the average win rate in the prior four 90-day periods. For peer alerts, Atrium will compare win rate over the trailing 90 day period to win rate of peers over the same timeframe. Goal alerts are similarly based on the trailing 90 day period.
Back of Card
The data on the back of this card shows, for each Opportunity included in the calculation, the Opportunity Name of the associated Opportunity, the Opportunity Source, the Opportunity Amount, the Stage, and the date on which the Opportunity was created/sourced.
How to Use It
The Win Rate on Opps Sourced card can be used to identify any SDRs who have been especially successful in creating high-quality deals, in order to best understand what may be leading to that success, and to show the output metric driven by precursor metrics in other cards.
The Win Rate on Opps Sourced card also provides filters to show where bookings are coming from, by opportunity source so that you can see where SDRs and AEs are finding those contacts to reach out to in the first place.
Worth Noting
All opportunities that are Closed Won for an amount that is zero dollars or negative will not reflect on this card. In this way, we are excluding free trials and finance adjustments from the calculation entirely.