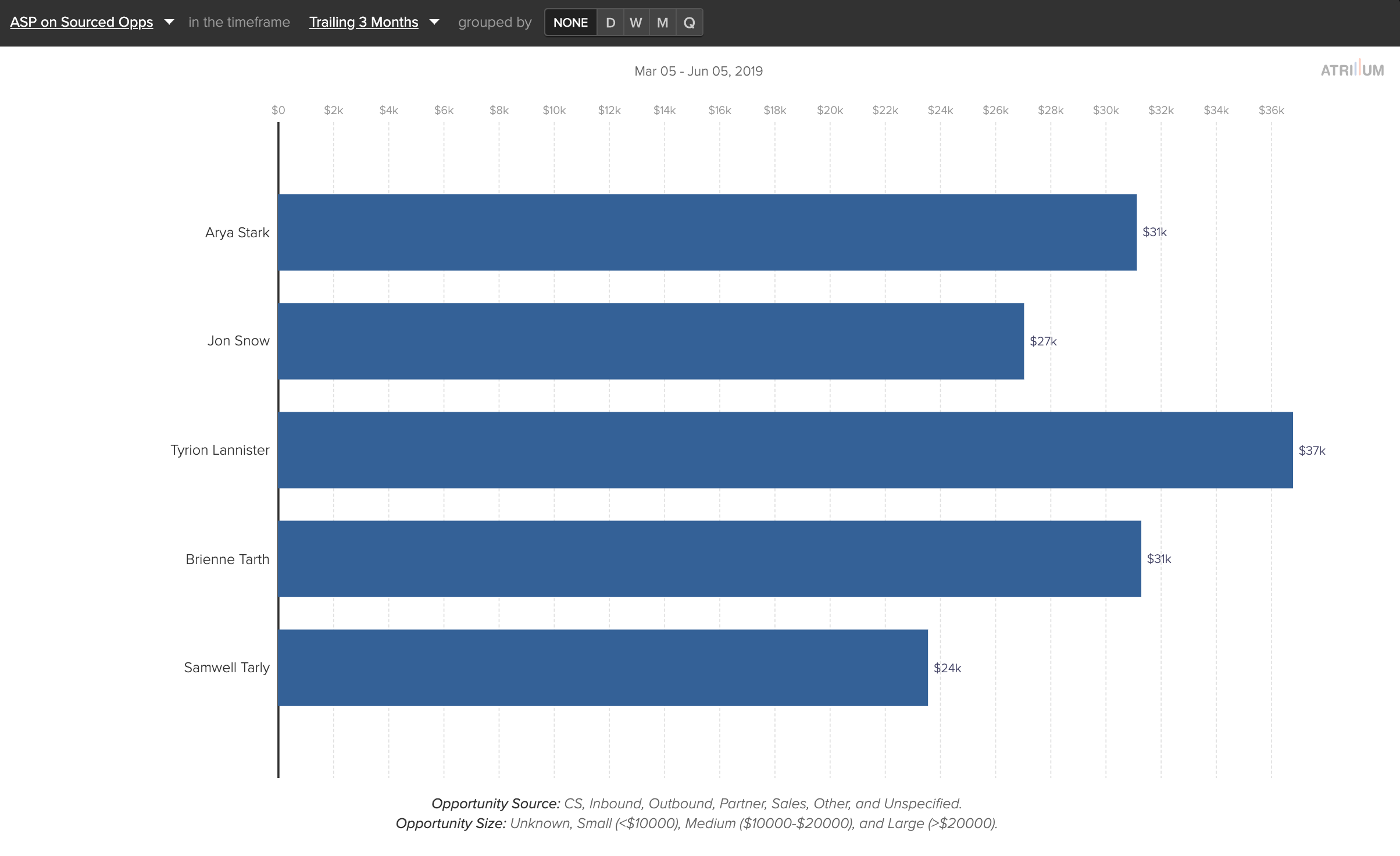 Link: Average Selling Price on Opps Sourced card 

Overview: Average bookings value of each new business opportunity closed won during the period, where the individual shown in Atrium created the opportunity.

Why it's important: Similar to "Average Selling Price - New Business", ASP on Opps Sourced is a metric that can give some indication as to the quality and value of the opportunity that was created.

Who it's useful for: All reps responsible for opportunity creation, including SDRs and AEs.

Definition: For individuals, the sum of bookings for all new business opportunities closed won for at least one dollar during the period, where that individual created the opportunity, divided by the count of opportunities closed won for at least one dollar during the period where the individual was the opportunity creator. At a team level, the average or total, per rep on that team, of the above.

What data is used?: Salesforce Opportunity data from the Amount (or custom) field, and the Close Date field to associate to the appropriate timeframe. The Opportunity Type field is also used to identify which opportunities should be classified as "new business". The standard Amount and Created By fields in Salesforce are used to indicate bookings value and opportunity creation, but they can be edited by an Atrium admin user in the Salesforce Data Mapping section of the Admin overview or by the Atrium Customer Success team.

Alerting: Alerting for this card is based on a trailing 90 day timeframe, in order to capture all deals in a trailing quarter - in that larger deals sizes can cluster towards quarter ends for some sales motions.
If at any point the average selling price attained over the trailing 90 day period on deals sourced by the rep is significantly above or below the average of the prior four 90-day periods, an alert will trigger. Alerts will also be generated if the individual's average is significantly above or below their peers for the trailing 90 days. Goal alerts are similarly based on the trailing 90 day period.

Back of Card: The data on the back of this card shows, for each Opportunity included in the calculation, the Opportunity Name of the associated Opportunity, the Opportunity Source, the Opportunity Amount, and the date on which the Opportunity was created.

How to use it: The ASP on Opps Sourced card can be used to identify any SDRs who have been especially successful in creating high-quality deals, in order to best understand what may be leading to that success, and to show the output metric driven by precursor metrics in other cards.
The ASP on Opps Sourced card also provides filters to show where bookings are coming from, by opportunity source so that you can see where SDRs and AEs are finding those contacts to reach out to in the first place and how inbound vs. outbound deals are differing in the deal sizes they are allowing reps to create.