All Atrium Metrics Catalog by Role, Goals, and Use Case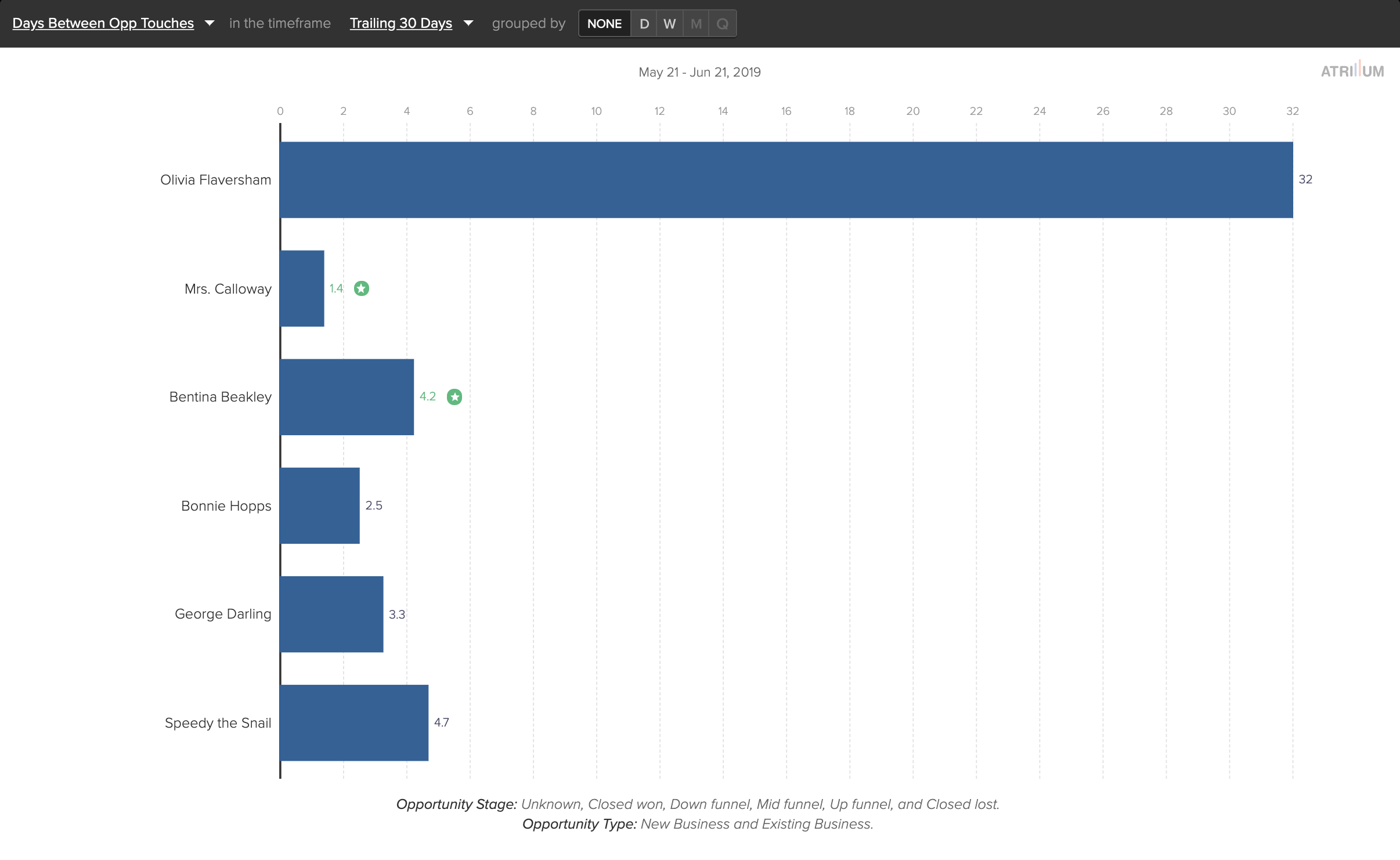 Card in Atrium: Days Between Opp Touches card
Overview
Average number of days that pass between interactions with a rep's open opportunities. (Learn more about how Atrium Actions & Objects work to calculate metrics.)
Why It's Important
Frequent engagement with Opportunities is a hallmark of a good sales motion. Conversely, a long time between touches can suggest a number of bad things. It can indicate that an opportunity has gone stale or a prospect may not be engaged in the sales process and therefore may be unlikely to buy. It can also be an indication of a rep that has lost track of a given opp or set of opps.

Who It's Useful For
AEs and SDRs who own opportunities, to show stale deals and degradation in pipeline management, and AMs and CSMs who own opportunities, to show average number of days between customer contacts.
Definition
For individuals, a calculation for each Opportunity owned by that individual and open during the timeframe indicated, of the average number of days that pass between account touches for that Opportunity. An account touch may be an outbound email, a call logged in Salesforce, or a customer meeting. These per-opp averages are then averaged again to give a total "Average Days Between Opportunity Touches" across a rep's entire pipe.
What Data Is Used
All open Opportunities in an individual's pipeline in Salesforce, and all meetings from the individual's calendar and emails from their email client that our logic associates with those Opportunities. Calendar events and emails associated to an Opportunity will include emails to the corporate domain (e.g., user@acmecorp.com) that matches that of the Opportunity, calendared meetings with an individual using that corporate domain, or emails or meetings with an individual whose email address appears on a Contact on that Opportunity's Account in Salesforce.
Alerting
The default alert for this card is based on the average number of days between touches on open, new business opportunities over the trailing 30 days.
This alert will trigger if a rep or a team has has significantly more or fewer days between touches on their open opportunities than they have had on average over the prior six month. This alert will also trigger if a rep or team has significantly more or fewer days between opportunities touches on average than their peers, or significantly more than a stated goal.
Back of Card
The data on the back of this card shows, for each Opportunity included in the calculation, the name of the Account, the average number of days between touches on the Opportunity, the current Stage of the Opportunity, and the Opportunity Type.
How to Use It
The days between touches card can be used as a measure of the quality of pipe engagement by a rep, to identify dead opps, and as a leading indicator of rep attrition or an overfull pipe.
A low number of days between opp touches indicates a rep who is on top of her pipe. If days between opp touches is slowly getting worse over time, that may be indicative of an overful pipe and a rep who is having trouble staying on top of everything.
The back of the card is useful for seeing which opps a rep is most out of touch with - which is likely indicative of a dead opp that should be closed out and sent back to marketing to nurture or SDR to re-engage.
Abrupt changes in days between opportunity touches can be an indicator of potential rep attrition. While this can also show up in raw activity levels (accounts touched, meetings, emails), those can sometimes hold constant, while a rep might all of a sudden stop working early stage opportunities, knowing that he won't be around to close them, and resulting in a step-change increase in the number of days between touches as those unworked opps go stale.