All Atrium Metrics Catalog by Role, Goals, and Use Case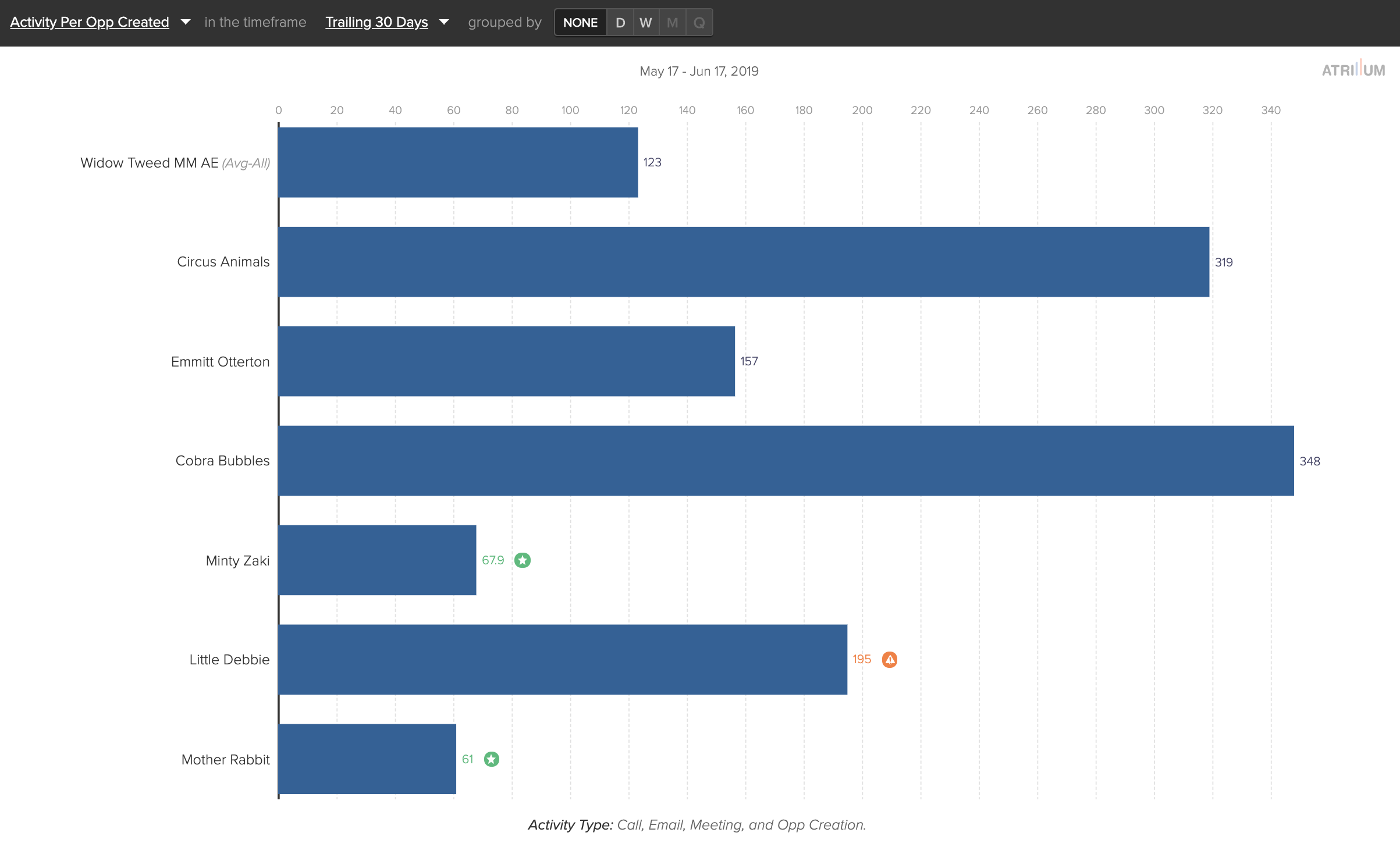 Card in Atrium: Activities per Opp Created card
Overview
Total number of emails, calls, and calendared meetings that an individual completed in a given time period, divided by the number of opportunities created in the same time period. (Learn more about how Atrium Actions & Objects work to calculate metrics.)
Metric Time Vector:The date of the email, calls, and meetings used in the calculation.
Metric Value Vector:The sum of all unique activity by the given target in the given timeframe, divided by the number of opportunities created in the given timeframe.
Why It's Important
It gives a measure of SDR productivity and, by extension, selling quality - what number of opportunities does a given SDR generate per selling activity, as a unit of work.
Who It's Useful For
SDRs and their managers.
Definition
The sum of all emails sent to an external corporate email address, calls made and logged in SFDC, and meetings on the calendar with an external attendee in a given period, divided by the number of opportunities created in SFDC during the period.
What Data Is Used
Opportunities created comes from Salesforce Opportunity data and works the same way as the Opportunities Created card. It uses the standard Created By field by default but can be updated to pull from a custom field in the admin settings - whatever field is listed in the "Opp Sourced By" concept in your Opportunity mappings.
This card uses only three types of activity: emails, calls, and meetings. And this activity data - emails, calls, and meetings - similarly uses the same definitions as those three cards use in Atrium. Emails counts the number of unique emails sent to a corporate email domain or to an email address that is associated with a Contact in Salesforce. Each individual email is only counted once, regardless of the number of recipients. This data comes from an individual's Gmail account.
Calls counts the number of Tasks in SFDC with a task type that is mapped to a "Call" in the Salesforce & Opp Mapping admin page in Atrium. By default, only Tasks of Type "Call" are included, but you can configure incremental activity "types" to be included.
Meetings data includes all meetings on an individual's Google Calendar where (1) the individual is the owner of or an attendee on a calendar invite and (2) at least one attendee on the calendar invite either has a corporate email domain that matches that of the Account associated with the Opportunity or has an e-mail address that is associated with a Contact on that Opportunity's Account in Salesforce.
Alerting
Alerting for this card is based on a trailing 30 day period.
Back of Card
The data on the back of this card shows each activity or opportunity created that is used in the calculation on the front of the card, along with the name of the associated Account, the subject on the email, call, or meeting, the type of activity each line represents, and the day the activity took place.
How to Use It
Activities per Opp Created allows you to see how efficiently your SDRs are converting selling activities into opportunities, if you have any outliers in a given team, and whether that efficiency is improving over time. It also allows you to see whether your team is tightly banded, as you would expect for teams running a more repeatable prospecting process, or more variable between reps, indicating opportunities for improvements among those who are less efficient.
Because the filter on this card allows you to select for only certain types of activities, you can also see more specifically the number of emails per opp created, calls per opp created, and meetings per opp created, so that you can better understand efficiency across different types of selling activities.
This data can be important not only in understanding overall efficiency, but also in setting goals for prospecting activities that will set SDRs up for success.
FAQ: Why Doesn't the Activity per Opp Created Card Include Custom Tasks or Events?
Atrium's Custom Task and Custom Event Cards are designed to be customized to look at any custom task or event within Salesforce, but those items may not be a completely different type of task from what is already counted in calls, emails, and meetings.
Many customers asked for the custom cards to help track more specific types of calls, emails, or meetings; counting custom tasks or events as an additional, separate activity for this card could possibly result in double counting activities. By not including custom tasks and events, Atrium removes the possibility of double counting activities in activities per opp created.