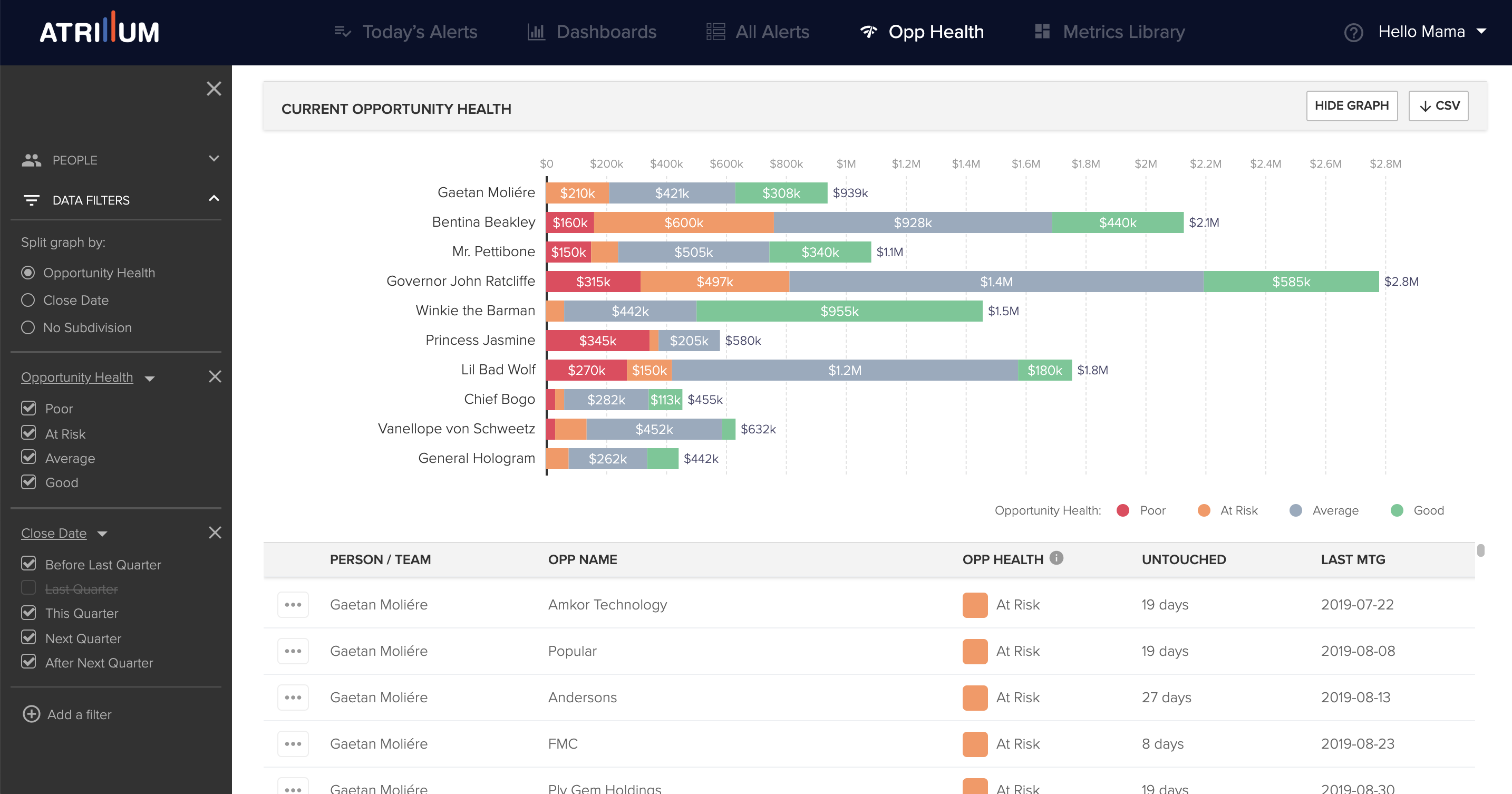 Card in Atrium: Opportunity Health card or Opportunity Health Tab
Overview
Total pipeline owned by the rep, split by the underlying opportunity health of that pipeline. (Learn more about how Atrium Actions & Objects work to calculate metrics.)
Why It's Important
There are many factors that impact whether or not an opportunity is likely to move to Closed Won. Having a clear understanding of those factors is important for accurate forecasting and can highlight potential next steps for sales reps, such as showing which opportunities do not currently have a future meeting scheduled.
Who It's Useful For
AEs and AMs and their managers, and sales operations.
Definition
Opportunity Health is an overall rating of how engaged the individuals at an account are with the sales rep who owns the opportunity. The ratings are based on the frequency of rep outreach to the account, past and future meeting activity, opportunity age, opportunity advancements, and email responsiveness from individuals at the account. For renewals, the expected Close Date is also taken into account when bucketing opportunities.

Good: More likely than average to move to Closed Won, as a result of frequent rep outreach, significant meeting activity, recent opportunity advancements, and email responsiveness.
Average: Average likelihood of moving to Closed Won, or insufficient data to determine (as with newly-created opportunities).
At Risk: Less likely than average to move to Closed Won, because of limited rep outreach and meeting activity, little to no recent email responsiveness from prospects at the account, or extremely high opportunity ages.
Poor: Unlikely to move to Closed Won. These are opportunities that are extremely old, with no recent or future meeting activity and no recent prospect email engagement.
What Data is Used
Opportunity data from Salesforce, including the opportunity owner, close date, opportunity created date and the opportunity stage history. Inbound and outbound email data from Gmail to determine rep outreach and prospect responsiveness. Calendar data from Google Calendar.
Alerting
Alerting on this card is based on the percentage of pipeline that is "At Risk" or "Poor". Personal alerts will compare current opportunity health to the average during the prior six months. Peer alerts will compare against peers "now".

Back of Card
The data on the back of this card - or in the main view while on the Opp Health tab - shows, for each opportunity, the following data points:

Opportunity Owner

Opportunity Name

Opportunity Health Bucket (Good, Average, At Risk, Poor)

Days Untouched (the number of days since the opportunity was last emailed, called, or met with)

Date of Last Meeting

Date of Next Meeting

Days Since Last Inbound Email

Opportunity Stage

Opportunity Age

Forecast Category

Current Close Date

Opp Size (Amount)

Days To Close (used primarily for determining the health of renewal opportunities)

Opportunity Type

Opportunity Source

Inbound Emails in the Last 14 Days

Meetings in the Last 14 Days

Meetings in the Last 30 Days

Meetings in the Next 30 Days

Meetings in the Next 90 Days

Stages Advanced in the Last 30 Days

Typical Sales Cycle (average sales cycle time, for comparison to Opp Age to identify "old" opps)

# Contacts (the number of unique humans that have been interacted with i.e. an email, meeting, or call, while the opp has been open)
How to Use It
The primary use for this card will be in forecasting or pipeline review meetings, to identify the overall health of the rep's pipeline and the underlying reasons for that health. Different health factors also imply specific next steps. For example, an opportunity may be "At Risk" in part because there are no future meetings scheduled, so the rep could take the action item to schedule the next meeting with that prospect.
FAQ:
Does Atrium create different opp health scores for different segments/disciplines or does it calculate over the entire company's pipeline?
The sales cycle variable is dependent on Opp Type and the segment/discipline assigned to the owner. So if the rep is a Mid Market AE and the Opp Type is New Business,

its

the average sales cycle for all Closed Won New business opportunities closed by Mid Market Inside Sales representatives.
Do Custom Tasks show up as "touches" for Opp Health?
Unfortunately, at this time, Custom Tasks do not show up as "touches" for Opp Health.
Does Atrium's Opp Health scoring take into account multiple reps or teams working opportunities?
Opp Health and its engagement calculations are based upon interactivity between the single opportunity owner and the opp. For any "touches" (calls, emails, or meetings) to be factored into opp health, they must be completed by the opportunity owner.
📢 Tell Me More!
Be sure to check out the Atrium U Quick Start Guide to Opportunity Health for a short tutorial!