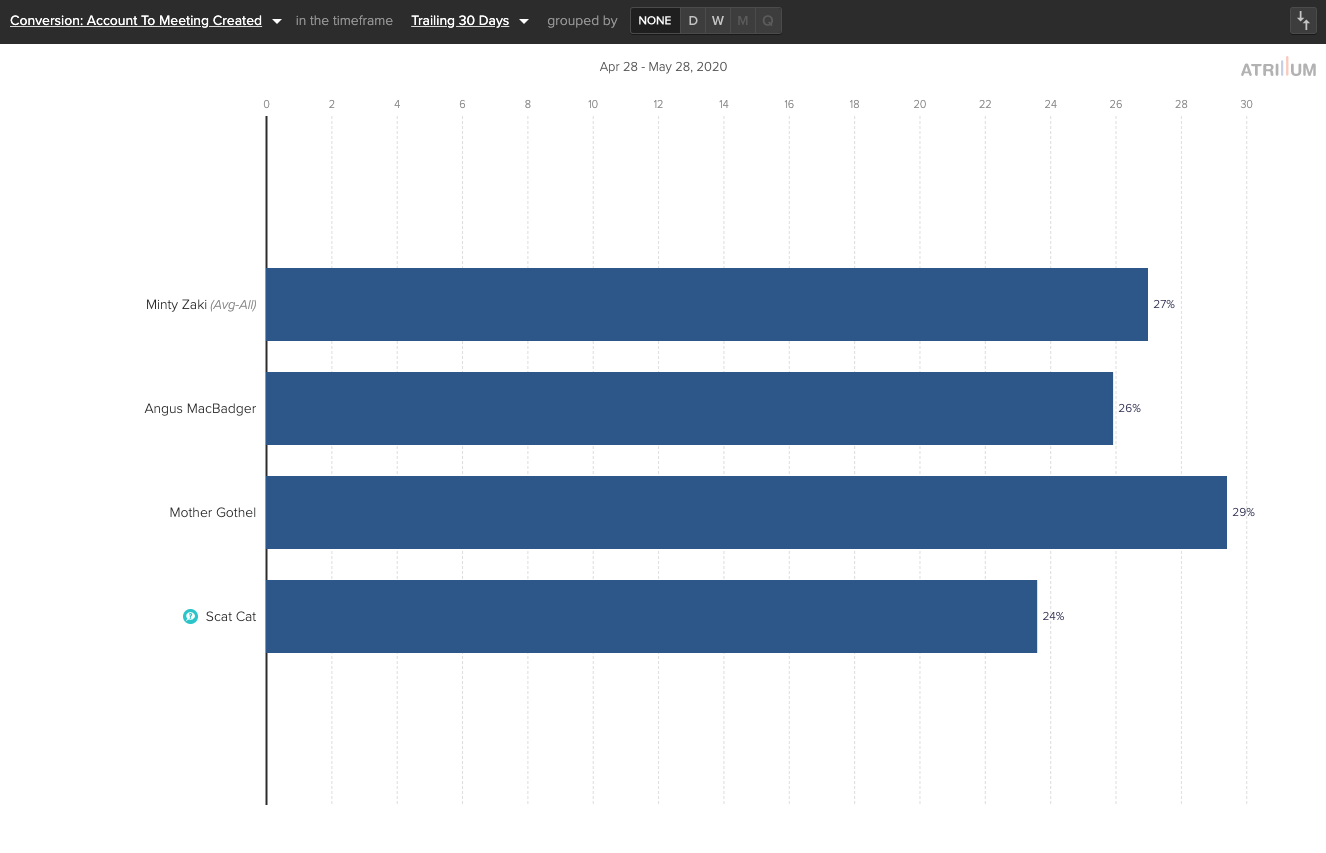 Card in Atrium: Conversion: Account Touched to Meeting Created card
Overview
Number of meetings created by the rep during the given time period, divided by the number of unique companies called, emailed, or met with. (Learn more about how Atrium Actions & Objects work to calculate metrics.)
Why It's Important
The metric is a measurement of how efficiently SDRs are converting initial outreach to a company into meeting creation. This metric can also help in overall planning, to help construct the full funnel to understand what sales and marketing contribute to AE pipeline.
Who It's Useful For
SDRs and their managers, and sales operations.
Definition
For a given time period, the total number of meetings created by a given rep during a given time period (either based on Google Calendar data or based on Salesforce meeting activities, depending on your organization's settings), divided by the total number of unique companies, as indicated by email domain matching, that were send an email in Gmail, had a call task logged in Salesforce, or had a meeting on the Google Calendar with in the same time period.

What Data Is Used
Meeting data is, by default, pulled from Google Calendar and includes all meetings where the individual in question created the meeting invite and where at least one attendee on the meeting invite has an external corporate email address, or an email address that appears on a Lead or Contact in Salesforce. This setting can be changed to pull Meetings Created based on Salesforce activity records. Please contact your Success Manager if you need to make this change. Account Touched data is pulled from Gmail email data, call Tasks logged in Salesforce, and meetings on the Google Calendar. For all cases, the same logic applies where at least one attendee on the meeting invite or email address in the To: line of the email has an external corporate email address, or an email address that appears on a Lead or Contact in Salesforce.
Alerting
Alerting on this card is based on the the trailing 30 days. Personal alerts will compare conversion rate for the trailing 30 days to the average over the prior six 30-day periods. Peer alerts will compare against peers during the trailing 30 days. Weekly, monthly, and quarterly goals can also be set on this card, although we recommend a minimum of a month in order to ensure a large enough sample of data.

Back of Card
The data on the back of this card shows, for each meeting created and account touched, the rep who created the opportunity, the date range, the Account name, whether the row denotes a meeting created or an account touched, the tier and type of the account, the subject line from the most last contact with that account that occurred during the timeframe, and for accounts touched, the number of emails, calls, and meetings with the account and the date of the last touch.

How to Use It
An SDR manager may want to use this card to understand how outreach to accounts is translating into meetings (and then opportunities) being created. For organizations where the SDR creates the initial meeting with a prospect, this will be a good measurement of how effective their outreach is at generating interest in taking that first meeting. This may also be one of the areas where an SDR overachieving on their overall account touched to accepted opp conversion rate is outperforming their peers. If so, digging into their specific process for converting prospecting into meetings may uncover learnings that can benefit the full team.
A sales ops leader may use this card during planning to construct the overall sales and marketing funnel and plan for how many opportunities need to be generated for the AEs.