All Atrium Metrics Catalog by Role, Goals, and Use Case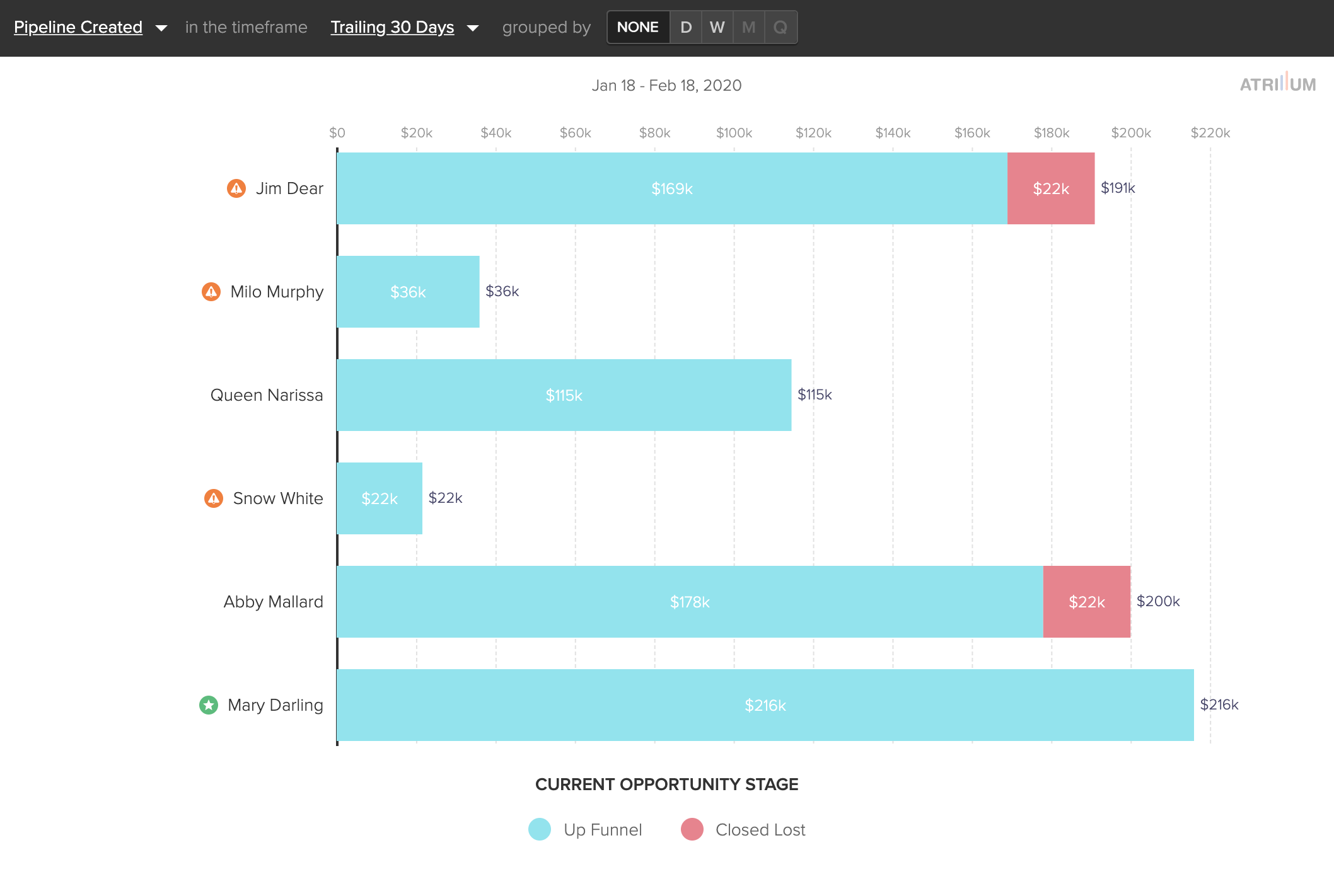 Link: Pipeline Created card
Overview
Sum of pipeline associated to opportunities that were created during a given time period.
Why It's Important
This card shows the total pipeline value associated to opportunities created by each rep in Salesforce, and the current Stage of each of those opportunities, regardless of their current owner. It also shows, for organizations with a defined "sales accepted" or "sales qualified" stage, whether that pipeline ever reached a sales accepted stage. As a result, this card help you to understand not only the amount of pipeline generated by each rep, but also the conversion of that pipleine to down funnel and Closed Won deals. For SDRs, this will show how effective they are being in their roles, while for AEs, this can help managers better understand the level of AE self-prospecting that is taking place.
Who It's Useful For
SDRs and AEs and their managers
Definition
For individuals, the value of all Opportunities that were created during a given time period. By default, this card uses the standard Created By field in Salesforce to determine who created the opportunity, and the standard Amount field in Salesforce to determine the value of the opportunity, but you can customize these to use different fields specific to your organization. A custom mapping can be done by your admin user(s) or your Success Manager.
What Data Is Used
All information comes from the Opportunity object in Salesforce, including Created By, Created Date, Amount, and Stage.
Alerting
Alerting on this card looks at the sum of the value of all included opportunities. Atrium will compare the value of pipeline created over the trailing 30 days to the same value over the prior six 30-day periods. The alerts let you know if a rep has created significantly more or less pipeline than usual, or significantly more or less than his peers.
Back of Card
The data on the back of this card shows, for each Opportunity created, the name of the Opportunity, the current stage of the Opportunity, the Type of the Opportunity, and the opportunity amount, whether the opportunity ever reached a sales-accepted stage, and the opportunity source.
How to Use It
The manager of an SDR team might use this card to identify:
Which SDRs are creating pipeline that is quickly being moved to Closed Lost

Which team members are creating high-quality opportunities, as indicated by a high opportunity value, and a high proportion of opportunities reaching a sales accepted stage

Which SDRs have created the most pipeline that was eventually Closed Won