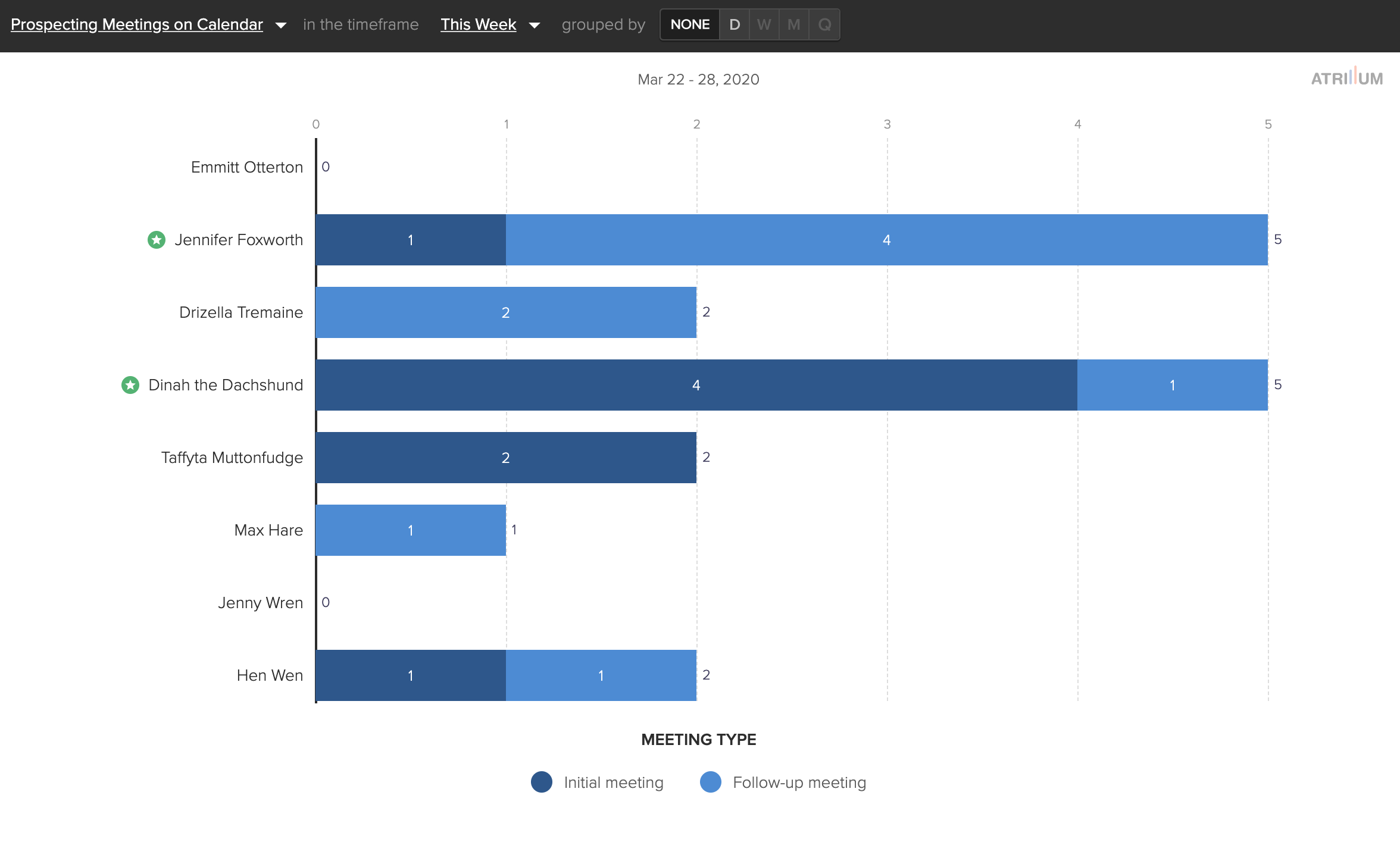 Card in Atrium: Prospecting Meetings on Calendar card
Overview
Total number of meetings on the calendar where at least one attendee has an external corporate email address or an email address that appears in Salesforce, and where the rep did not own an open opportunity with the company at the time of the meeting (Learn more about how Atrium Actions & Objects work to calculate metrics.)
Why It's Important
For organizations where the AE takes a discovery or qualification before creating an opportunity in Salesforce, this metric can be a leading indicator of AE opportunity creation and pipeline generation.
Who It's Useful For
AEs and their managers.
Definition
For individuals, the total number of external meetings completed in a backward-looking time interval or scheduled for a forward-looking time interval. An "external" meeting is one with at least one attendee who has an external, corporate email address or an email address that appears exactly on a Lead or Contact in Salesforce. To determine what is a "prospecting" meeting, we then remove any meetings where the rep in question owns an open opportunity with the associated account.
Because we pull this information from the Google Calendar, we assume that any meeting invite that remains on the calendar is for a meeting that actually took place, while any meeting invite that was deleted or moved represents a meeting that was cancelled or rescheduled. Similarly, if all external participants decline a meeting invite, we treat that meeting as having been canceled.
What Data Is Used
This card uses data from Google Calendar and Salesforce and counts all meetings on an individual's Google Calendar where (1) the individual is the owner of or an attendee on a calendar invite, (2) at least one attendee on the calendar invite either has a corporate email domain or has an email address that is associated with a Contact in Salesforce, and (3) the individual does not own an Opportunity in Salesforce with the associated account.
Note: Meetings are associated to opportunities according to whether contacts on the meeting invite have an email domain that matches the email domain of the Account or of any Contacts associated with the Account.
Alerting
This alert is based on meetings scheduled on the individual's Google calendar during the current calendar week, including those that have already taken place and those that are yet to take place. Alerts will trigger for an individual beginning on Tuesday if that individual is at least 25% above or below their historical 13-week trend, or at least 25% above or below the average number of meetings scheduled for all of her peer reps.
An escalated version of this alert monitors on a monthly basis.
Back of Card
The data on the back of this card shows, for each prospecting meeting on the calendar, the Company Name of the associated Account or corporate domain of the email address if Atrium could not find an associated Account, the name of the meeting as it appears on the calendar, whether the meeting was an initial meeting with an account or a follow-up meeting, and the Type and Tier of the associated account.
How to Use It
For AEs, this card can be used to understand the volume of top-of-funnel prospect and customer interactions that those reps are having with their accounts. This can serve as a leading indicator of AE opportunity creation and AE-sourced pipeline.