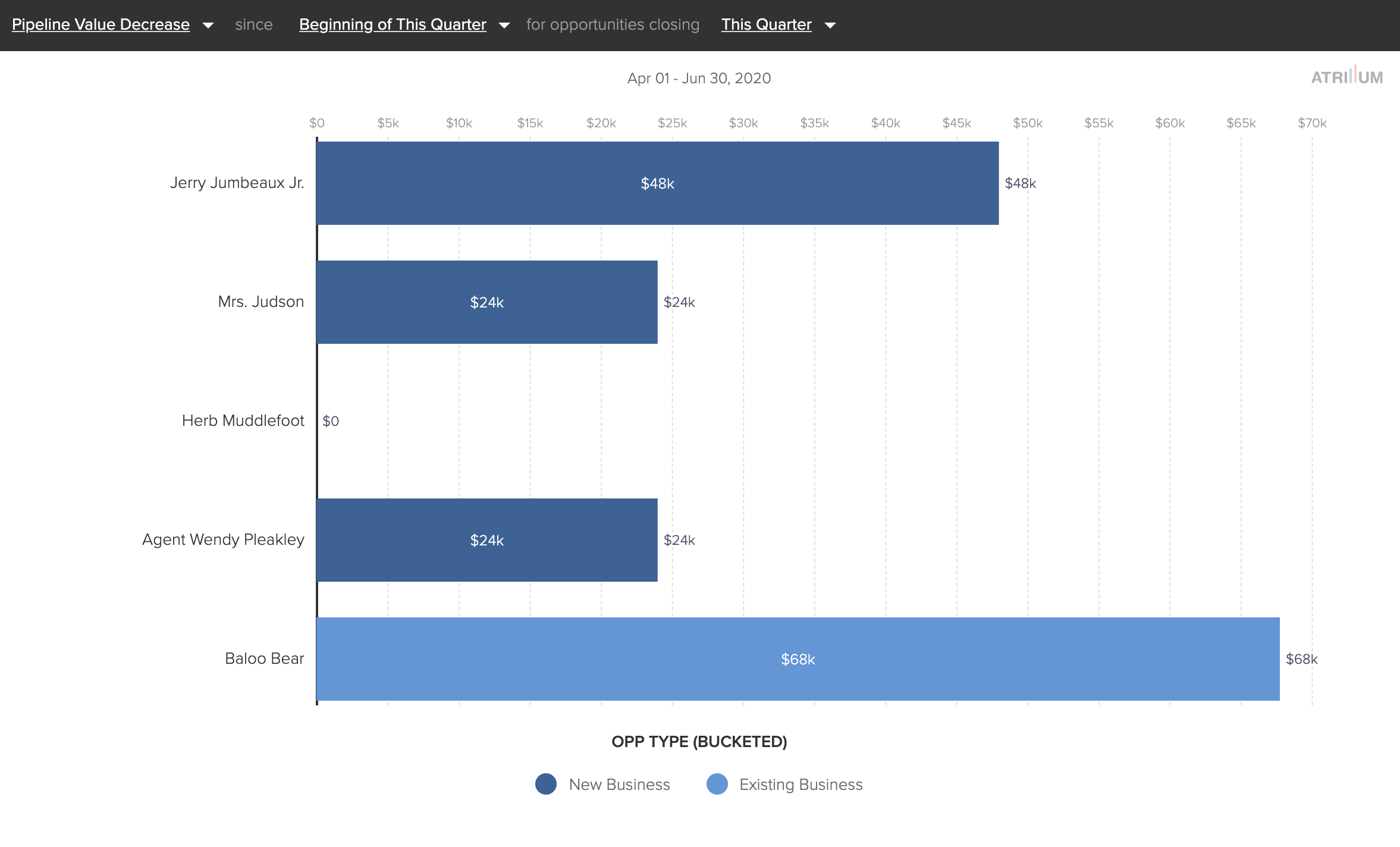 Card in Atrium: Pipeline Value Decreased card
Overview
Amount by which pipeline value changed for opportunities that were open at the beginning of the selected time period (on the "since" date) and decreased in value during the period. (Learn more about how Atrium Actions & Objects work to calculate metrics.)
Why

It's

Important
Understanding how much pipeline is likely to close in the time period where it's currently forecast, and what amount it's likely to close at, is helpful for understanding at what level the overall forecast should be projected and whether individual reps have sufficient pipeline coverage to meet their goals.
Who It's Useful For
AEs and their managers, and AMs and their managers.
Definition
Total change in the value of all opportunities that were already open at the beginning of a given time period and decreased in value during the selected time period (e.g., if an opportunity decreased in value from $20k to $15k, the $5k value of the decrease will be shown on this card). By default, this will be based on the value in the standard Amount field in Salesforce, but you can customize this to show a different value specific to your organization.
What Data is Used
All information comes from the Opportunity object in Salesforce. The Opportunity Owner tells us which reps owns the opportunity. The Close Date tells us in which time period the opportunity closed. The pipeline value shown pulls the standard Amount field by default but can be updated to pull from a custom field in the Salesforce Data Settings or by notifying Atrium customer success.
Alerting
Alerting on this card looks at the total amount by which already open pipeline decreased in value during the current quarter (or current month for SMB teams). Atrium will compare that value to the amount that pipeline decreased for each rep's peers. The alerts let you know if the value of a rep's open opps has decreased by significantly more or less than usual, or significantly more or less than his peers.
Back of Card
The data on the back of this card shows, for each Opportunity included in the calculation, the individual who owns the Opportunity, the Opp Name of the associated Opportunity, the Opp Size shown as the amount in dollars, the Opp Source, the Forecast Category, the Opp Type, the Stage, the "Initial Opp Ownership" indicating whether the AE owned the opportunity at the initial date selected, and the close date.
How to Use It
This card is helpful in forecasting to understand whether there are individuals who are changing the value of opportunities within their pipeline. More importantly, this is one component of understanding total pipeline change since a certain date.