All Atrium Metrics Catalog by Role, Goals, and Use Case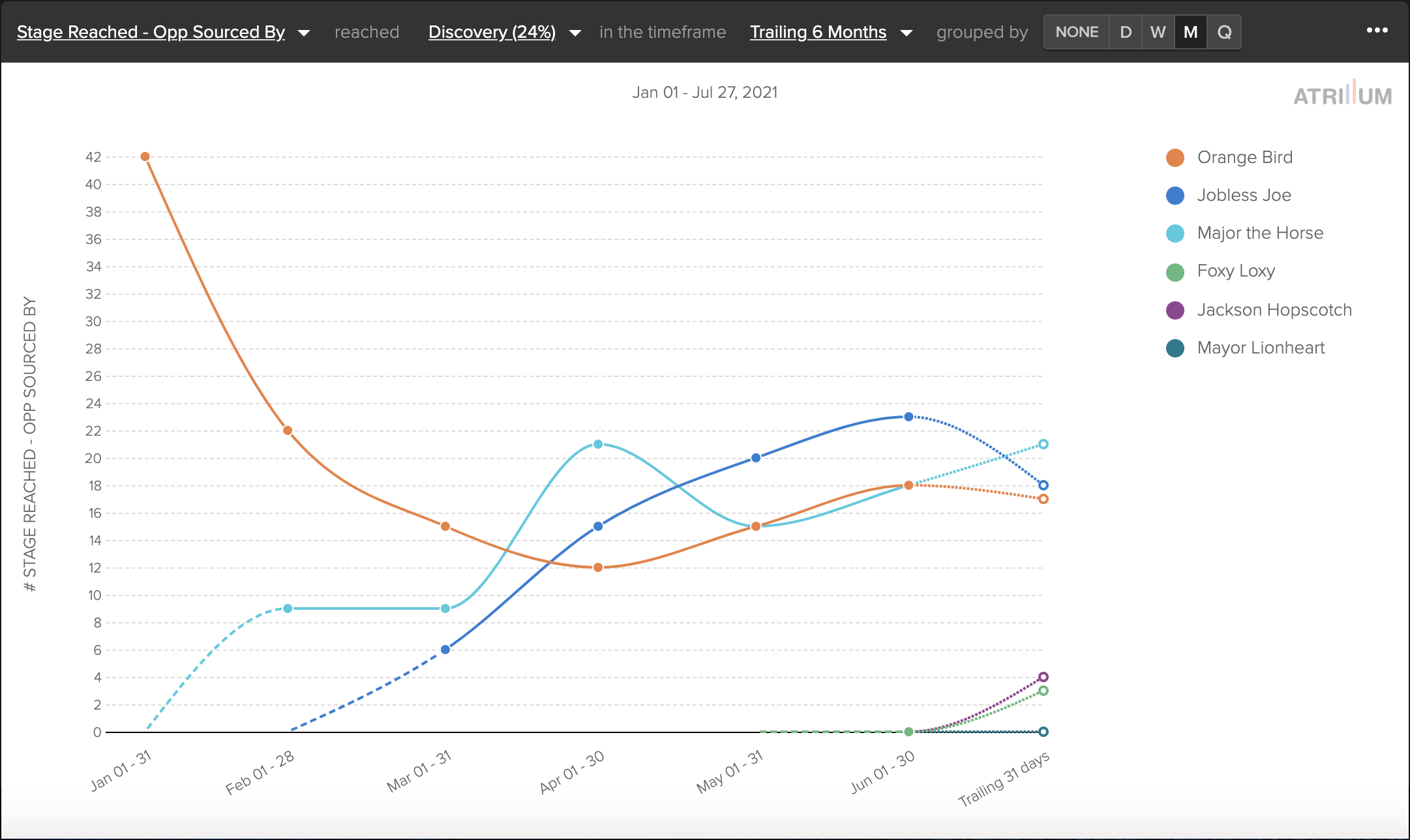 Card in Atrium: Stage Reached (Opportunities Sourced)
Overview
Total number of opportunities sourced by the rep that reached the selected stage during the given timeframe. (Learn more about how Atrium Actions & Objects work to calculate metrics.)
Metric Time Vector:The point in time at which the opportunities reached the specified stage.
Metric Value Vector:The count of all opportunities that reached the specified stage.
Why It's Important
This card helps you to understand not only the volume of opportunities created by each rep based on the source, but also the conversion of those opps to SAOs/SQOs and to down funnel and Closed Won deals. For SDRs, this will show the quality of the opportunities they are creating, while for AEs, this can help managers better understand the quality of AE self-prospecting that is taking place.
Who It's Useful For
SDRs and their managers, as well as AEs that source some portion of their opportunities
Definition
For a given sales rep, the count of Opportunities that they sourced that were moved to or moved through the selected stage during the selected timeframe. This will include both Opportunities that "landed" in the selected stage as well as those that skipped over that stage. Atrium is determining who sourced the Opportunity according to the Opp Sourced By field mapping in the "Salesforce Opportunity Mapping" section of the admin panel (this field is mapped to the Created By field on the Opportunity by default). If "Any Stage" is selected, this card will show the total number of advancements that took place during the given timeframe across all Opportunities sourced.
What Data Is Used
Salesforce Opportunity data, including the Created By or another custom field, and the Stage.
How to Use It
The manager of an SDR team might use this card to identify the number of Opportunities an SDR created that became Sales Accepted or Sales Qualified during a given timeframe, and how that compares to goals. This can help to understand which team members are creating high-quality opportunities, as indicated by a high proportion of opportunities reached a sales accepted stage in a timeframe, regardless of creation date.
FAQs & Additional Details
Why are opportunities not showing as advanced to a particular stage?
If your organization has multiple stages with the same Stage Probability in SFDC (E.G., Your first 2 sales stages have 0% stage probability), Atrium will only show them as advanced to one of those stages. When opp stages have the same probability, Atrium doesn't know which stage is "advanced" from the other because the probability is the same. The opp has already "reached" this probability, so Atrium will only count it once.

If you would like Atrium to be able to differentiate between these stages, we recommend updating the probability of the stages (even by 1%) so that Atrium can accurately depict that opps are moving down-funnel.

For example, you could set Stage 1 to 0% and Stage 2 to 1% stage probability to enable Atrium to show opps advanced to both stages.
Why is an Opportunity showing "Unspecified" for Opp Size when it clearly has an Amount assigned to it in SFDC?
The card is looking at the value of the Opportunity when it reached the specified stage. E.g. if the Opportunity has no value assigned to it when it reaches the stage in question, but is later assigned an Amount value of $10k, it will show Unspecified for Opp Size even if you might expect it to display $10k.