All Atrium Metrics Catalog by Role, Goals, and Use Case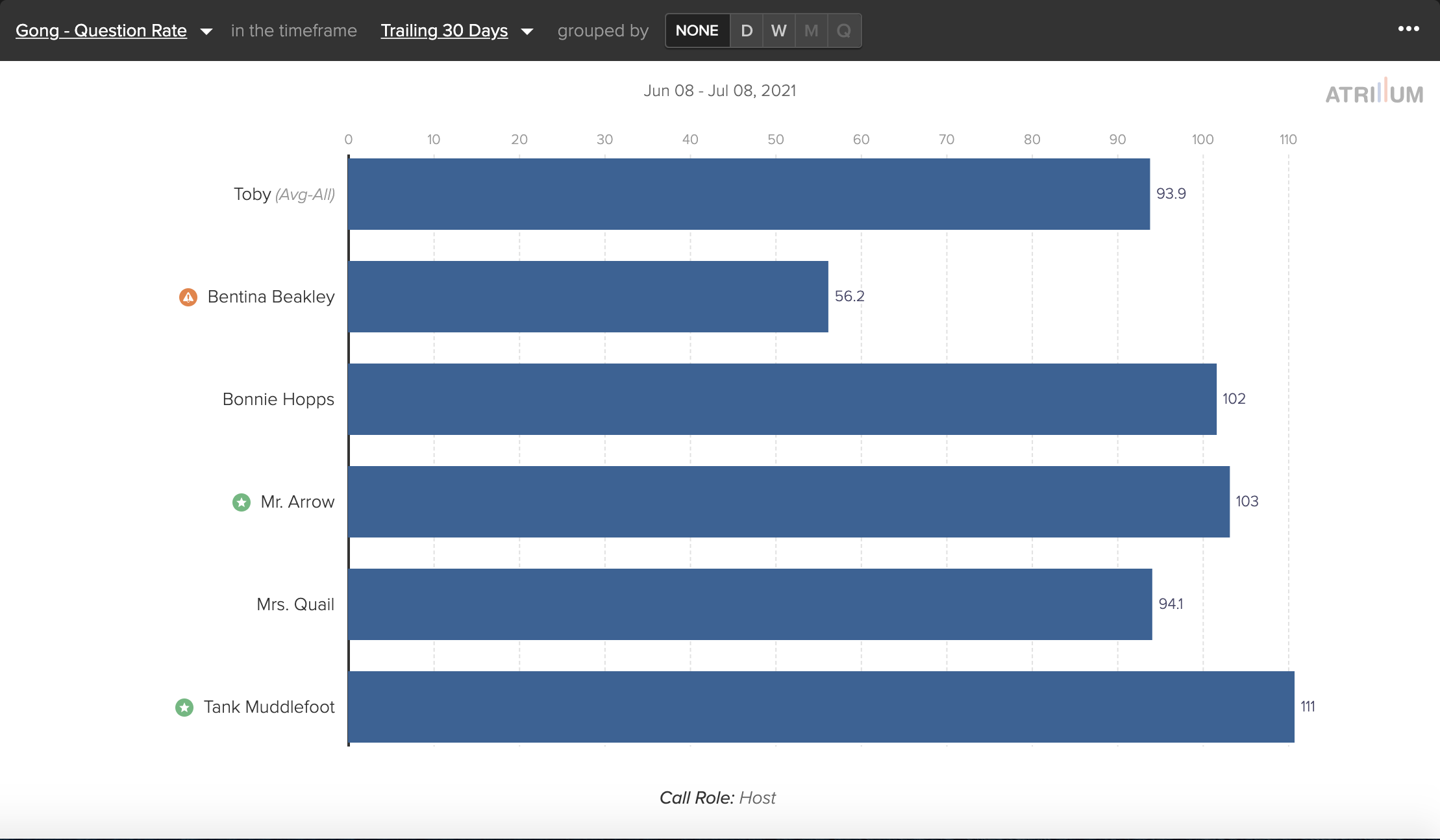 Card in Atrium: Gong Question Rate card
Overview
Average of number of questions asked by the rep per hour of Gong talk time. (Learn more about how Atrium Actions & Objects work to calculate metrics.)
Why It's Important
This metric provides a measurement of rep effectiveness by analyzing the average number of questions asked by the rep in an hour of recorded Gong talk time, which provides insight into how well that rep was able to keep the prospect engaged throughout the call.
Who It's Useful For
AEs and AMs and their managers.
Definition
For an individual, the number of questions asked by the rep per hour of recorded Gong talk time, where Gong recommends 18 or more questions asked.
What Data Is Used
Call data from Gong.
Alerting
Alerting for this card is based on a trailing 30 day timeframe. If at any point a rep's average question rate over the trailing 30 day period is significantly above or below the prior average, an alert will appear. Alerts will also show up if a rep's trailing 30 day average question rate is significantly above or below his or her peers.
Back of Card
The data on the back of this card shows, for each call logged through Gong, the call title as listed on the meeting, the call date, the rep's talk time, the total talk time of the call, the call question rate, the call question count, and the call host.
How to Use It
AE managers should use this to ensure reps are eliciting information from their prospects. Best practices show that successful reps ask 18 or more questions per hour of talk time, however, keep in mind this metric is more of a "Goldilocks" metric where too many questions asked within an hour can negatively impact sales effectiveness as well.