Dashboards are a key way to use Atrium's 100+ KPIs to better measure and improve rep, team, and company performance.
Here are some ways to be amazing at Dashboards
Table of Contents:
Core Dashboard Concepts
Want help creating or perfecting a dashboard? Contact your CSM here.
Firstly, what is a dashboard? A dashboard is a collection of Atrium Metrics, configured in varying ways, to be consumed at a specific point in time or set of times, by a specific audience, to help make judgements about rep, team, or organizational performance, and if necessary, to make changes to improve it.
These are some key tenets and concepts to consider in your dashboards. (If you're just looking for help on how to actually make a dashboard - check out this support doc).
Targeted Content: A dashboard shouldn't have every metric under the sun. It shouldn't be a "kitchen sink." Instead, it should be focused on a specific use-case, and to be consumed at a specific time, by a specific audience. E.g.,
An "SDR Ramping Dashboard" intended to be consumed by sales leaders at the beginning of each week.

Or a "Sales Team Performance Dashboard" intended to be consumed by the whole organization a few days after the month closes.

Or a "Hustle Metrics" dashboard, featuring activity metrics for the previous day and to date for a week, to be consumed by a given AE or SDR team, every morning.

When thinking about the kinds of metrics you might want to have in a dashboard, a great place to start is the Atrium Metrics by Use Case Guide.
In Workflow: The most effective dashboards are used in-worfklow, in-context. They're broadcast via email to a team list serve on a certain day. They're linked from a team meeting agenda document that's used each week. They're used every month to populate metrics readout deck to the organization. They're broadcast via Slack to a relevant channel at the end of the week.
The least effective dashboards live off in some app, hoping that someone comes to look at them.
Bundled with other views: Even better, the best dashboards are bundled together with other dashboards for a similar use case and with Atrium Alert Feeds or Opportunity Views in a Saved View Folder.
For example, a powerful bundle of views might be a set of AE activity metrics, like Meeting volume, account engagement, new opportunity inflow and so on, in a set of dashboards and alert feeds, like:
A Sunday-distributed "Last Week Outcomes, Month In Progress" dashboard.

A Wednesday-distributed "Week In Progress, Month in Progress" dashboard.

A Wednesday-distributed "AE Activity Metrics" Alert Feed that focuses on the same metrics, but surfaces the active alerts for each rep on each metric.
Or a bundle of views focused on SDR Ramping, like:

An "SDR Ramping Dashboard" that broadcasts on Monday and features a core set of key SDR metrics to monitor in ramp.

An "SDR Ramping Alert Feed" that focuses on the same metrics, but surfaces the active alerts for each rep on each metric.
The combinations and use cases are pretty much endless, but the idea is the same: A dashboard is a targeted collection of configured metrics, each of which answers a specific question or small set of questions, which collection is intended to.
Dashboard Construction Best Practices
You can learn more on the nuts and bolts of creating a dashboard here - but here we're going to cover more the concepts of a well constructed dashboard.
Titling Cards: When you set up a dashboard, you know what questions you're seeking to answer. But when you come back to that dashboard...you may not necessarily remember. This is why having helpful card titles can be useful - as a reminder to what is being displayed in the card, and what question you're seeing to answer.
Some examples here:


Total with a Trend: Pairing together a "total" with a "trend" view of the same metric can be a powerful way of seeing what the current state of that metric might be but also if there are important trends to be perceived via the trend view.
For example, here are some key AE metrics of Customer Meetings and Unique Accounts Touched, totaled for the week, and trended on a week by week basis.
In this configuration, I can see that while Bonnie Hopps is low on Meetings this week, it's not a chronic issue, and their meeting volume has been inline with the other AEs over time.
I can also see that while Shen Yu is low with respect to Accounts Touched this week, because they're a ramping rep, I can see a strong positive growth in the number of accounts engaged.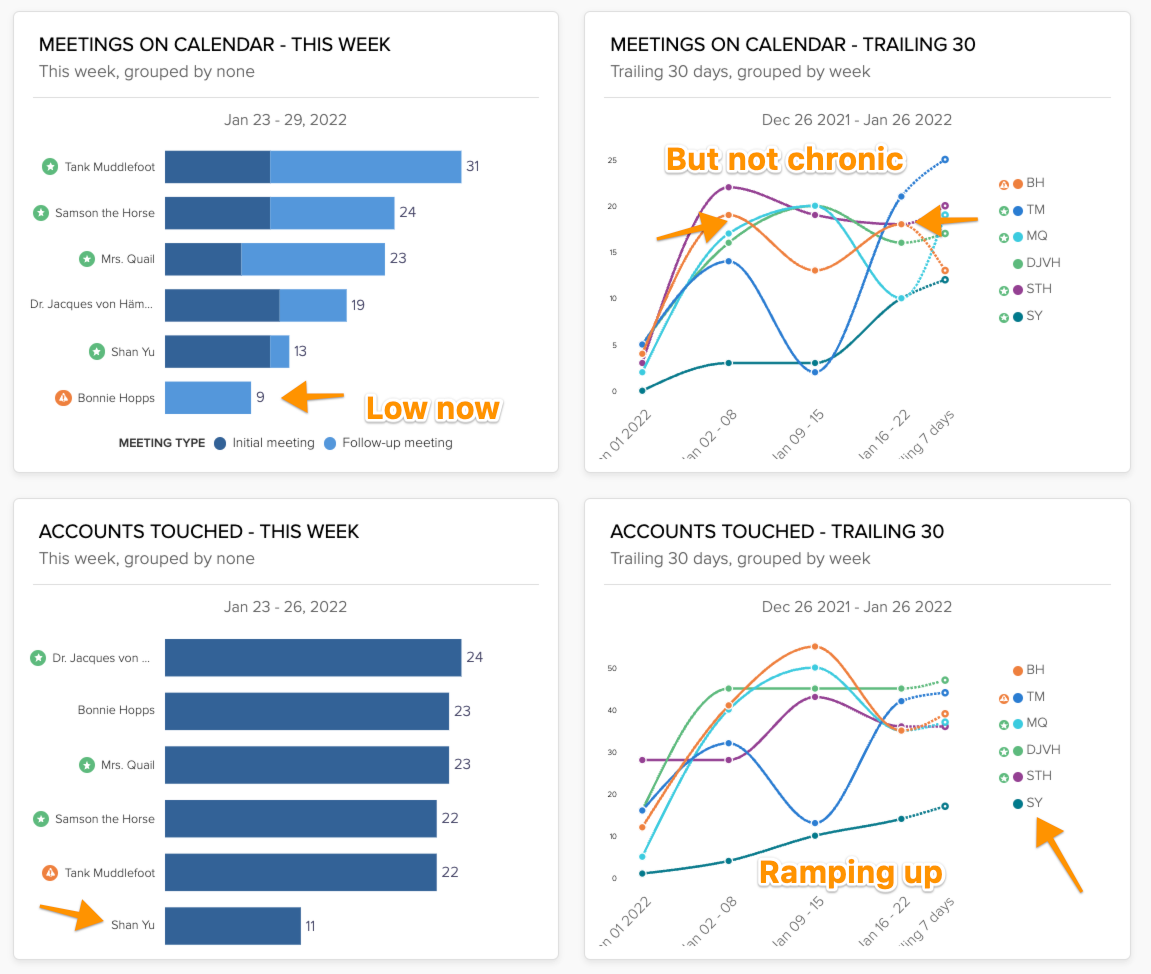 We can apply the same concept to some pipeline hygiene metrics of Untouched Opps and Stuck Opps. We can see that "Bonnie Hopps" has gotten far more on top of their pipeline than they had been historically - showing that our coaching is working.

Team Totals with Individuals Breakouts:
Another powerful configuration can be representing team or organizational totals for a given metric, with the breakout of individuals next to them.
This is important, as a team total is simply the summation of the totals of each individual - so if you see underperformance or outperformance on a team basis - it's important to figure out if this is the result of a broad issue across the whole team, or if it's the result of issues for one rep.
For example, these are two tiles for the same metric, New Opportunity Inflow, but the one on the left is a team total, and the one on the right is the individuals who make up that team broken out individually.
We can see that the opp inflow decline was shared across the team - not a single rep needing help.

Shorter Interval with a Longer Interval:
Another approach is to view the same metric over contrasting time periods, one shorter, with tighter sampling to catch issues in the short term, and one longer, with longer samping, to catch longer term trends.As an example, below is an New Opp Inflow metric for a team total, viewed over the trailing 12 months, by month, and then the same metric, by week.
This pairing perfectly shows how while we might have been concerned about new opp inflow in December, broadly, it was actually just two weeks where opp creation was down - and it bounced back with a vengeance. Without this pairing, we might be unwarrantedly concerned.

This can be done with an individual as well, where we can see that Tank Muddlefoot had a substantial meeting deficit in a given week, but in general is one of the highest volume of meeting staff.
Lastly, a short interval along with a longer interval that contains the short interval can help show progress towards a goal.
As an example, these tiles have the powerful SDR (which also works with AEs or CSMs) metric "New Contacts Touched" - the number of contacts that a rep has touched that they never interacted with before. And because this is part of a "Rise and Shine" activity metrics dashboard, they'll be able to see their progress every morning.
In this case, we can see that while Flunkey the Baboon didn't have the best day yesterday, they're doing quite well this week, having already past the goal set for the team.

And you can do the same thing on a longer time interval. In this case, we're looking at the total number of Stage Advancements by each AE on a team, with one tile showing how many happened last week, and the other showing how many have happened so far this month (the interval we're tracking towards).
Here we can see that not only did Bonnie Hopps have a light week last week - they're pretty light for the entire month. Not super promising.

Dashboard Size: Once you realize how easy it is to create a dashboard in Atrium in a matter of minutes, you realize that there's no need to make massive, monolithic dashboards that you might be used to. "Kitchen Sink" dashboards are the enemy of effective data-driven sales management.
As an example, this is a very simple "SDR Rise and Shine" Hustle Metrics dashboard that broadcasts at the beginning of each work day to show the team what reps did the day before, and where they're at for the week, across a set of core activity metrics.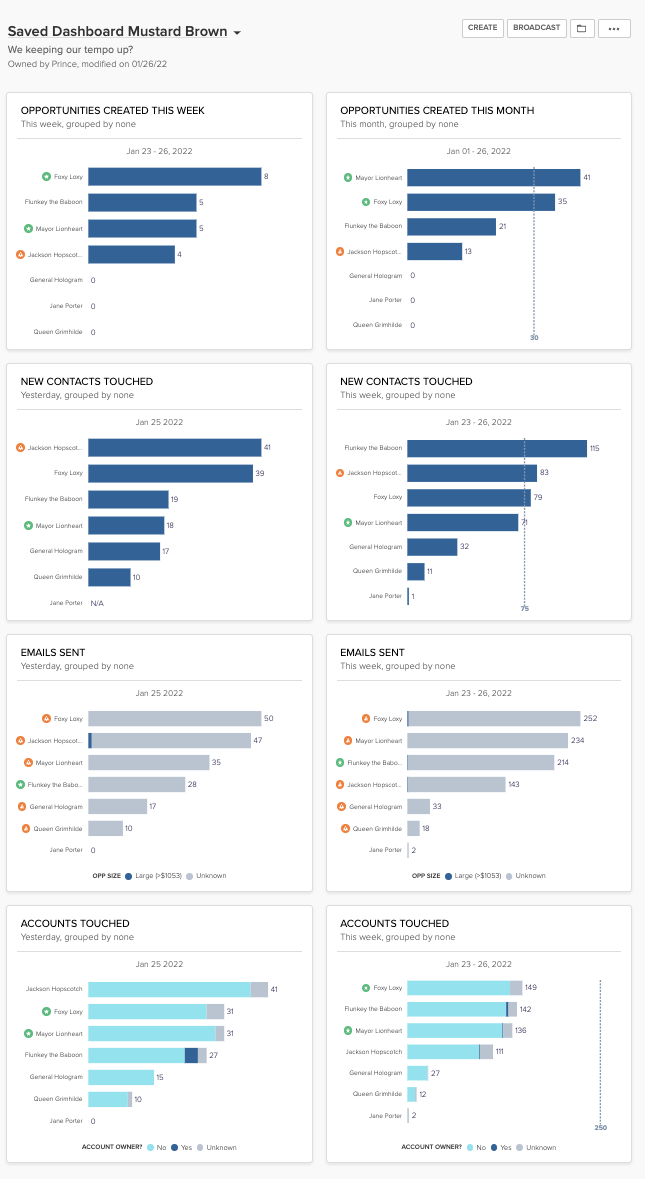 And this is a bit longer, but still fairly compressed AE Ramping Dashboard focused in on key leading and lagging indicators of a successful ramp - pairing the ramping view of those metrics with the trailing 12 month view of them. A more concise one might only have the ramping tiles without the trailing 12 month paired views.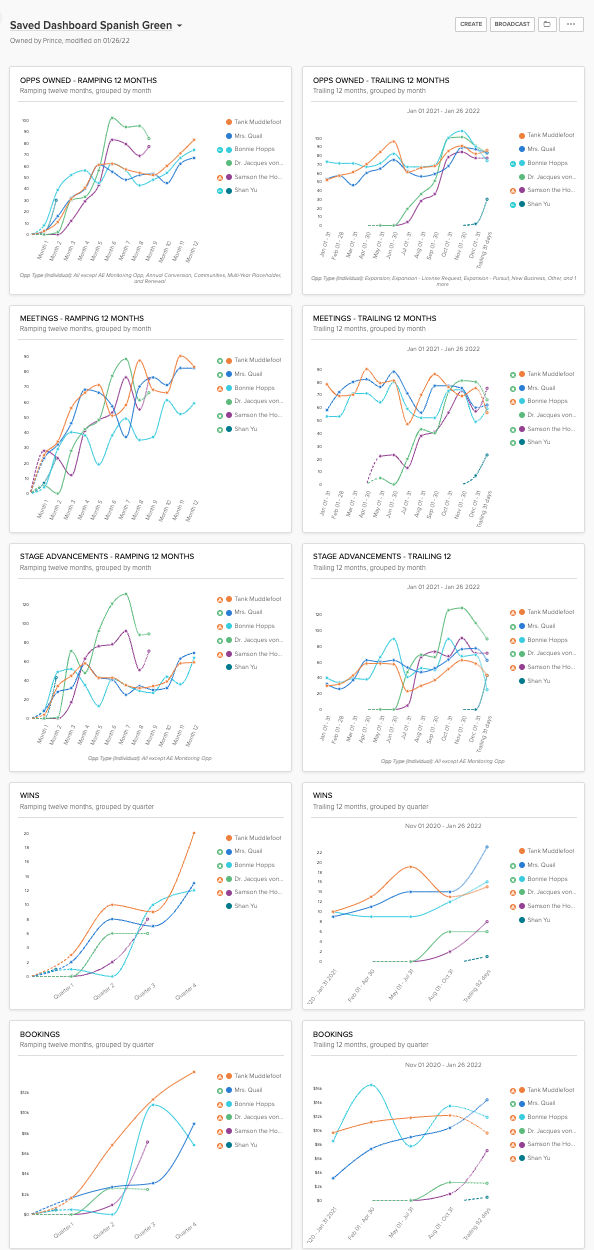 Dashboard Consumption - Broadcasts
Once you have a well constructed dashboard, the next thing is to ensure it's consumed - which means embedding it into your operating rhythm via broadcasts and hyperlinking.
Email and Slack broadcasts are critical for ensuring that a dashboard "comes to you."
Broadcast Timing
The timing and frequency with which a dashboard is broadcast is tied to the purpose of that dashboard.
Is it a "Rise and Shine" Hustle Metrics dashboard for SDRs, that reports on yesterday's activities and progress to this week? Then that should probably show up at the beginning of the work day, every day (but not Monday! No hustle on Sunday to report on Monday morning!)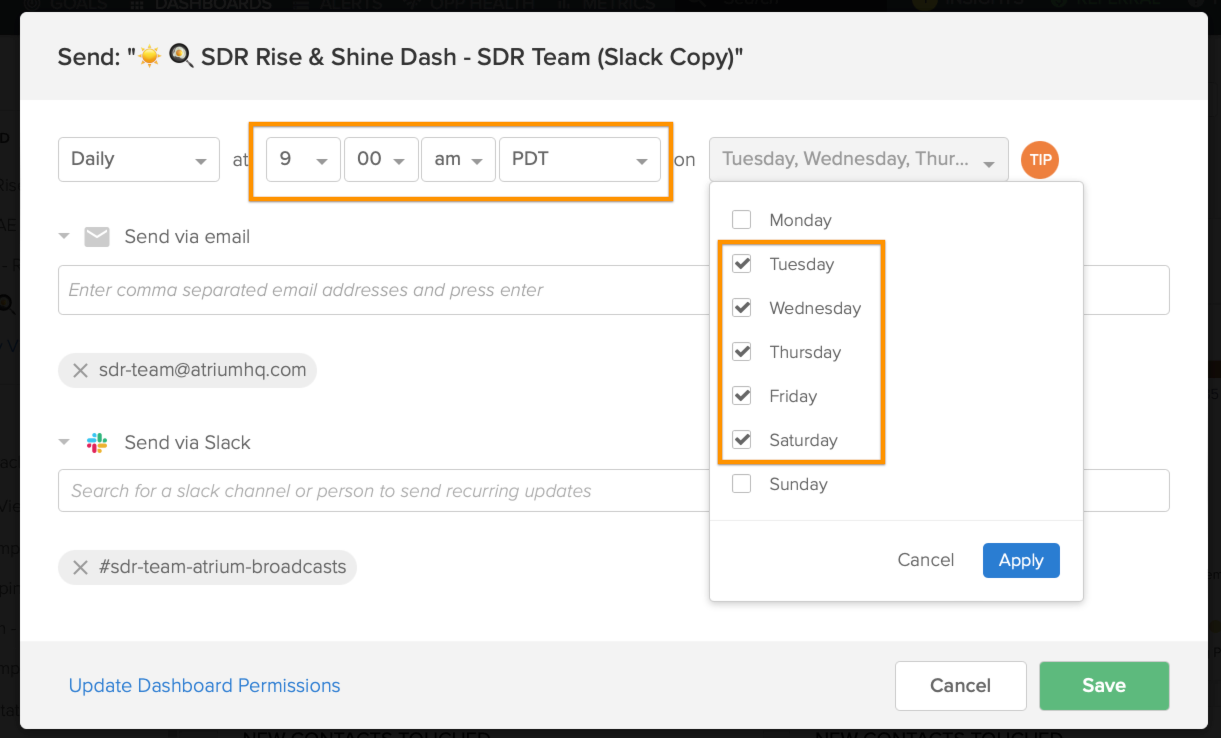 Is it a Pipeline Hygiene dashboard that calls out Untouched Opps that AEs need to fix? That probably should be sent at the beginning of the week so there's plenty of time for AEs to get on top of those opps.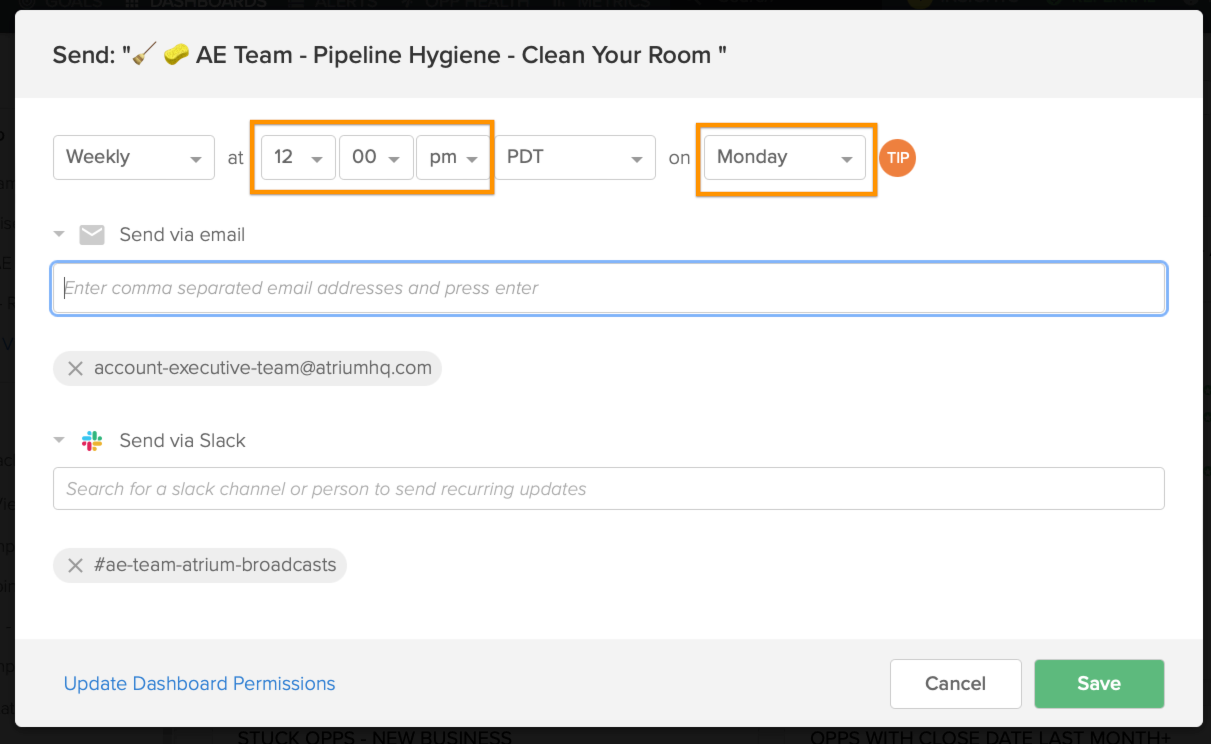 Is it a "Report Out" dashboard that's focused on the outcomes for a time period - like "End of Month Sales Team Readout"? Then it should probably broadcast a few days after the period ends.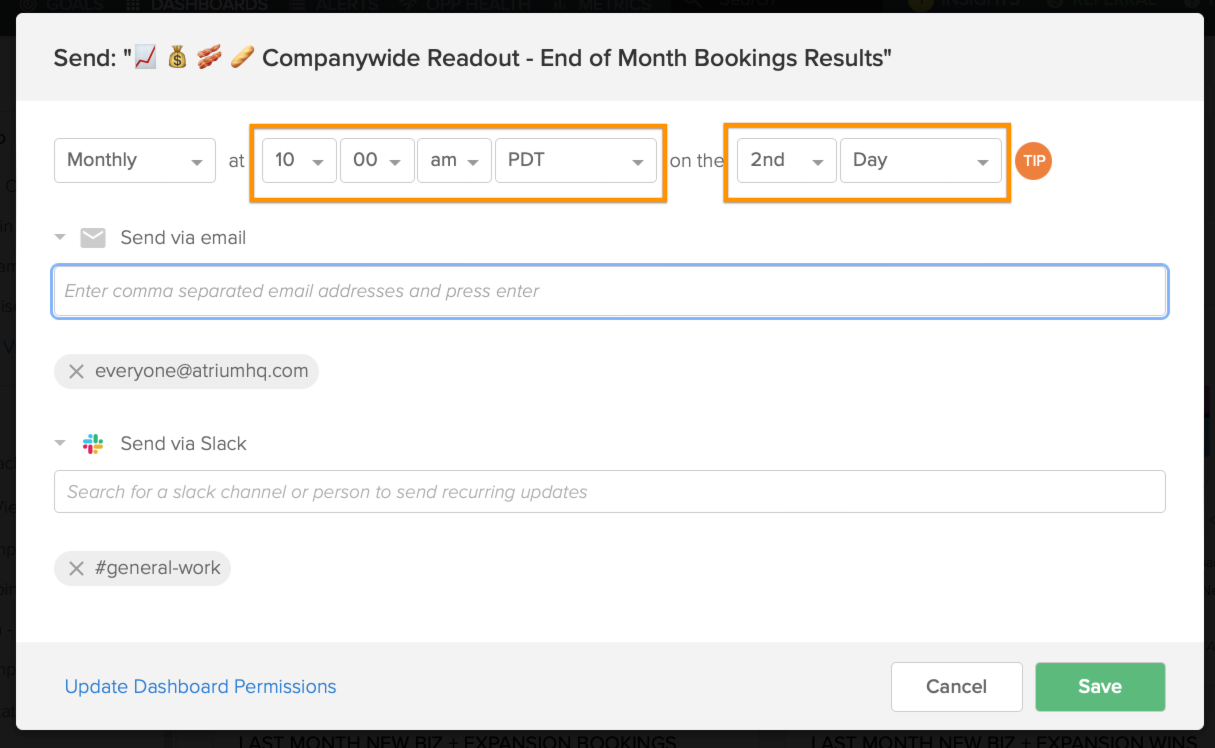 Or the same for a "Week Outcomes" dashboard - probably best to send on Friday night, or Saturday or Sunday day.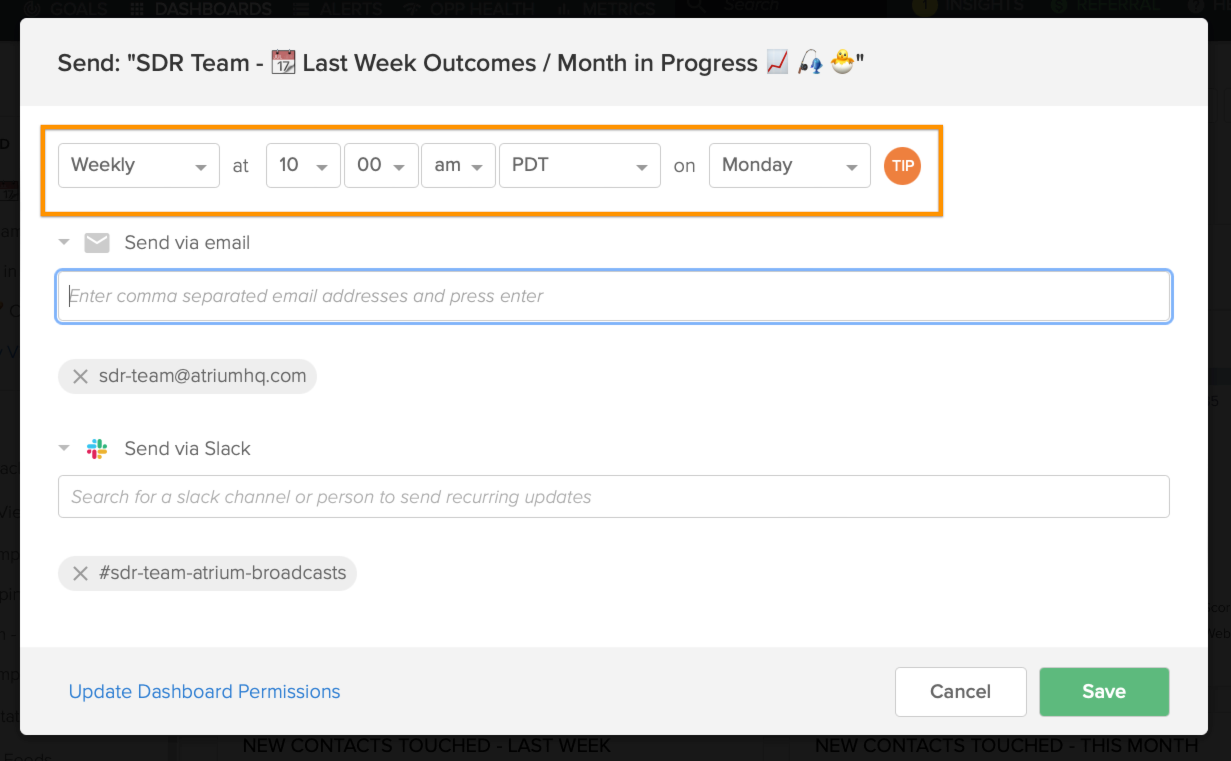 Or is it maybe a dashboard of secondary importance - like a call quality dashboard, or a more strategy dashboard that isn't core to the operating rhythm? Those can be deployed in the "between times" when there may be breaks in the schedule to consume them: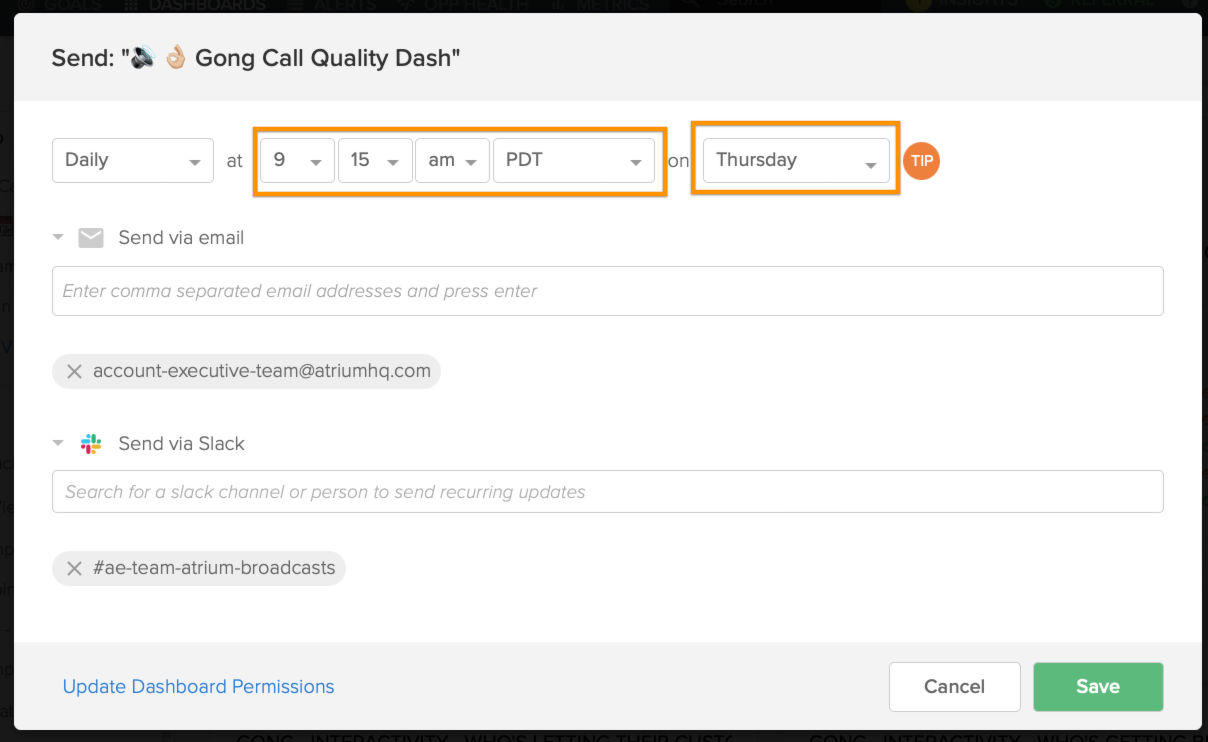 Broadcast Audience
Another thing to consider with respect to broadcasts are audiences. Some views are relevant to teams. Some views are relevant to individuals. Some views are relevant just to managers. Considering which audience to send a view broadcast to will impact its effectiveness.
Team: For views that concern a whole team, consider sending to a whole team - using a list serve and team slack channel.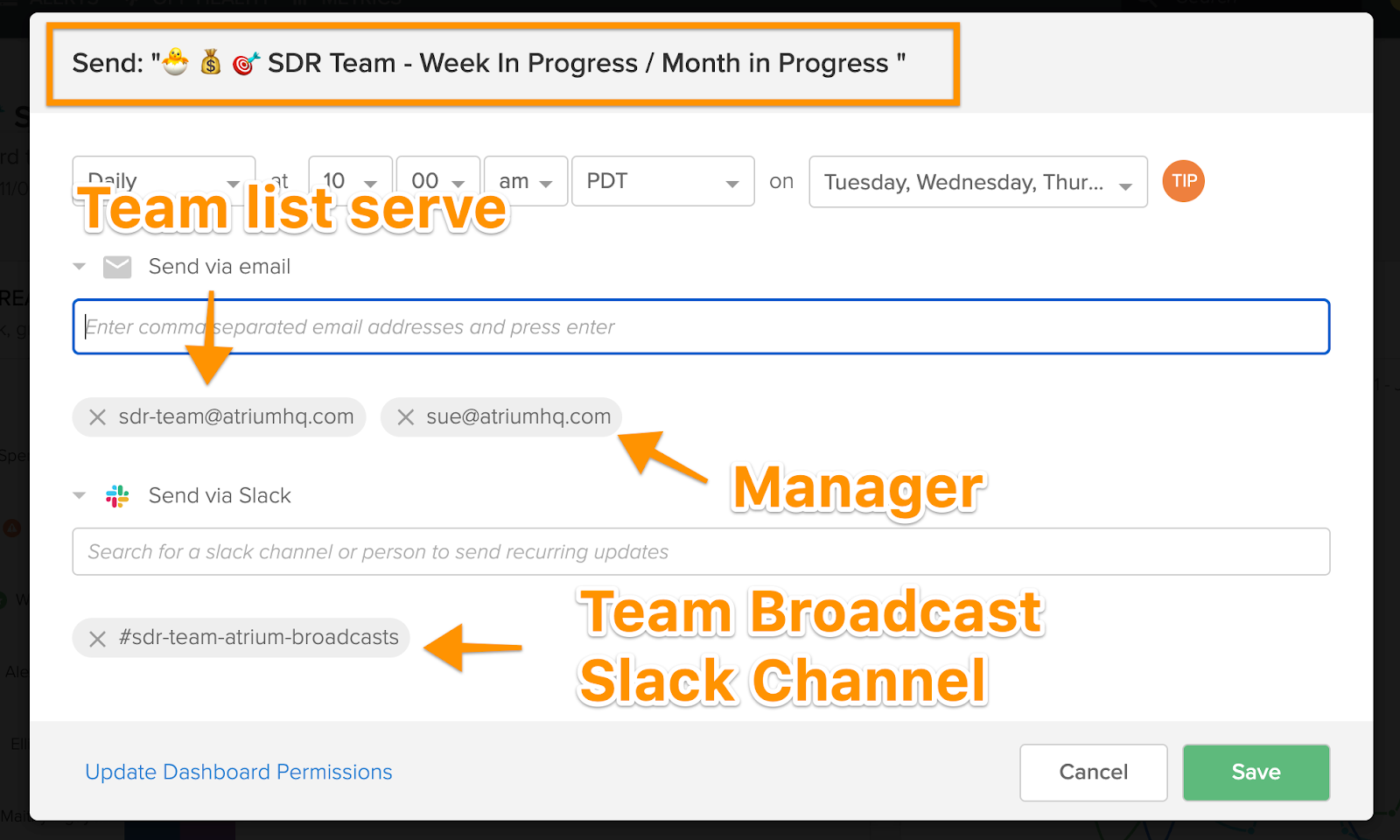 Managers Only: For more sensitive views, it can be effective to only broadcast them to management. For example, an alert feed focused on warning alerts - an important thing to monitor - can negatively impact morale for the team members featured on the report.
By broadcasting it solely to to management, managers can be aware of potential issues to be able to coach to them, but without negatively impacting morale of the team.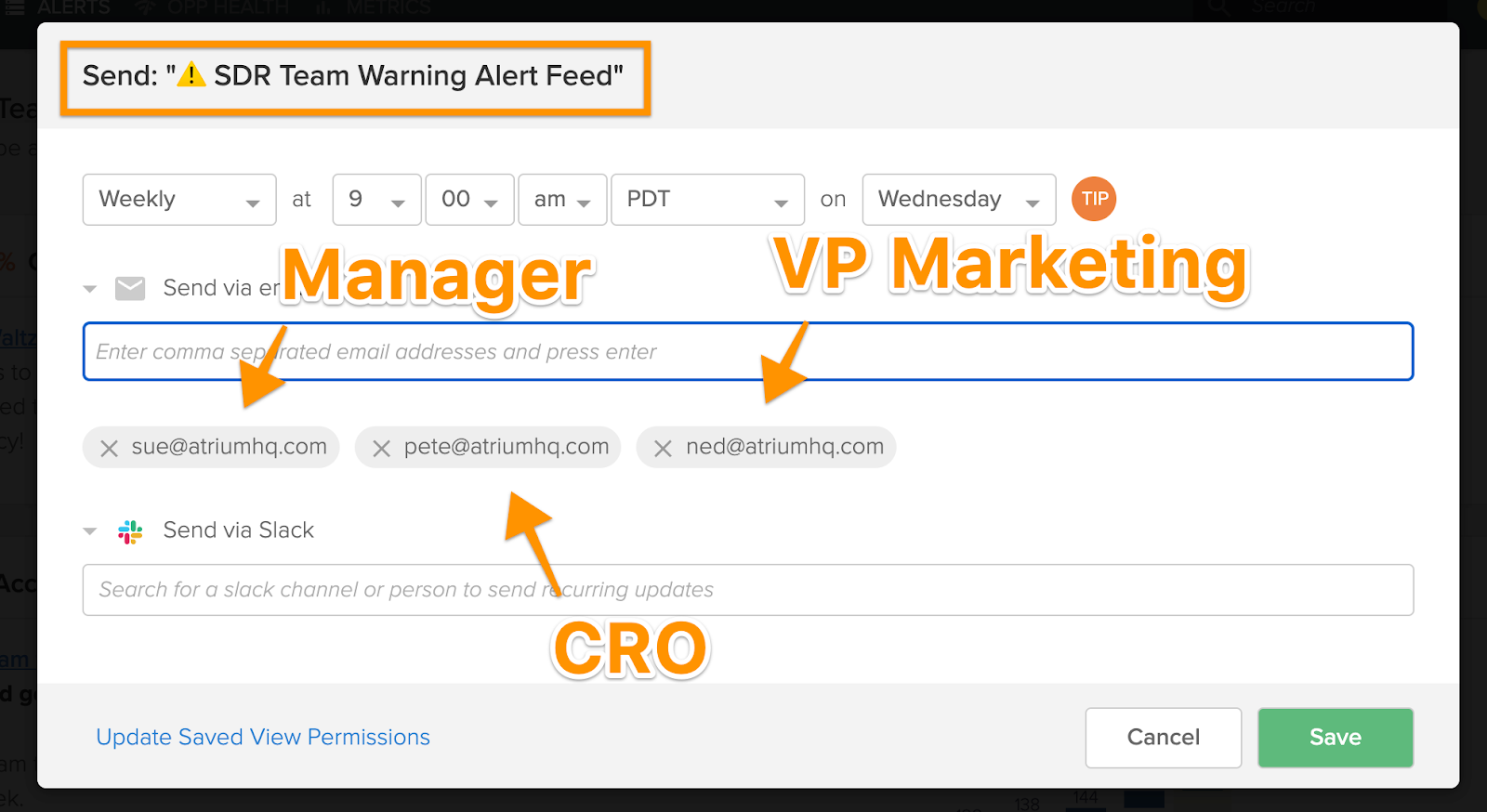 Individuals: Some views that have individually focused content should similarly have individual focused broadcasts. For example, a coaching dashboard with metrics that a manager and a rep are working on together.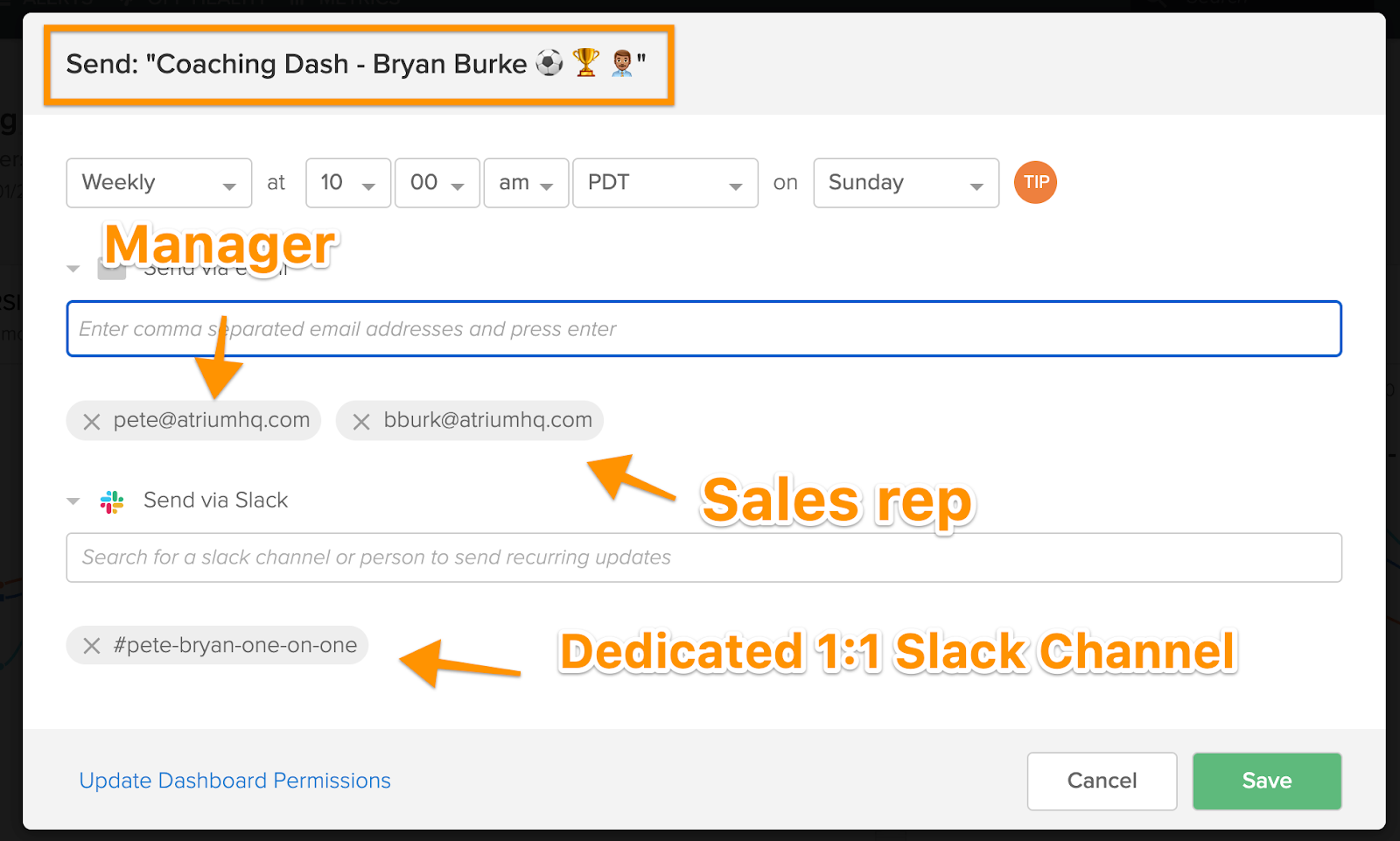 Leadership & Board: Some views, like key financial outputs and even key leading indicators - like pipeline generation, forward forecast, and others, are good for broadcasting to leadership and even external stakeholders like a board of directors.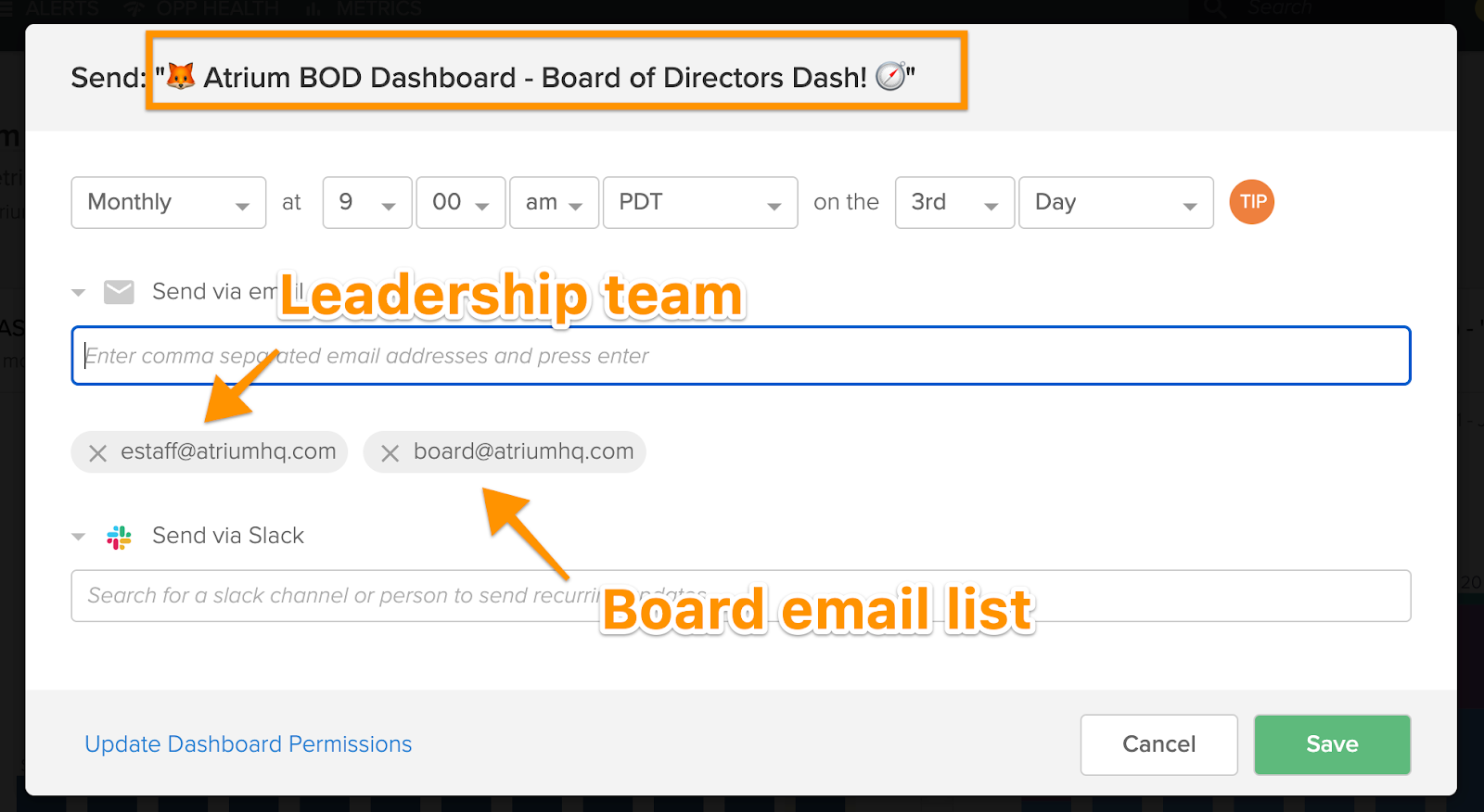 Whole Company: Views that are appropriate for the whole organization - like monthly or quarterly financial results - can be broadcast to the whole organization.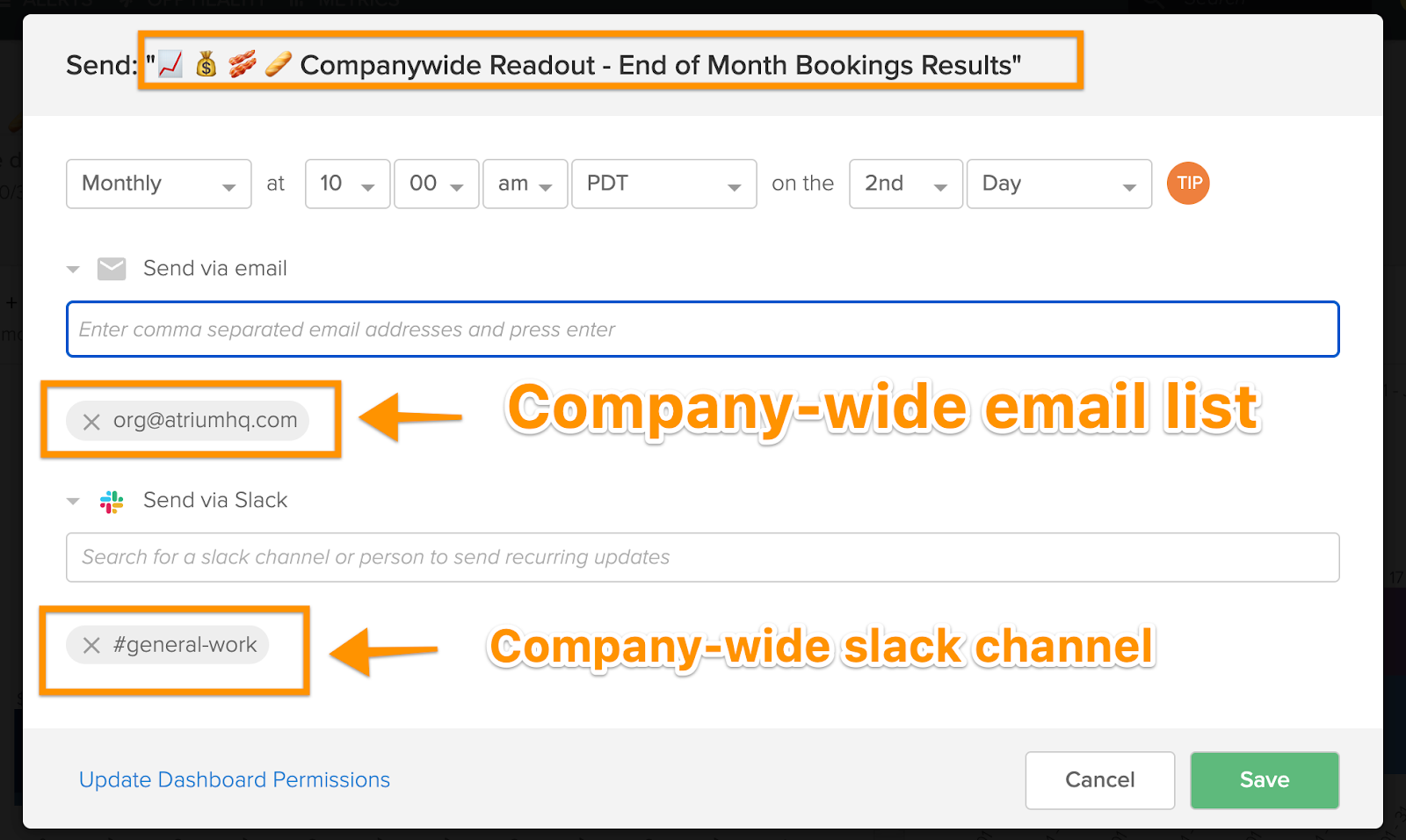 Slack Broadcasts
Slack can be an effective way to broadcast Atrium views (more on how to do so). Pairing Slack distributions alongside email distributions of the same view can be effective to ensure that people consume the information where they mainly "live".
Individually: You can use Atrium to send Atrium views just to you, which will show up from the "Atrium" Slack app.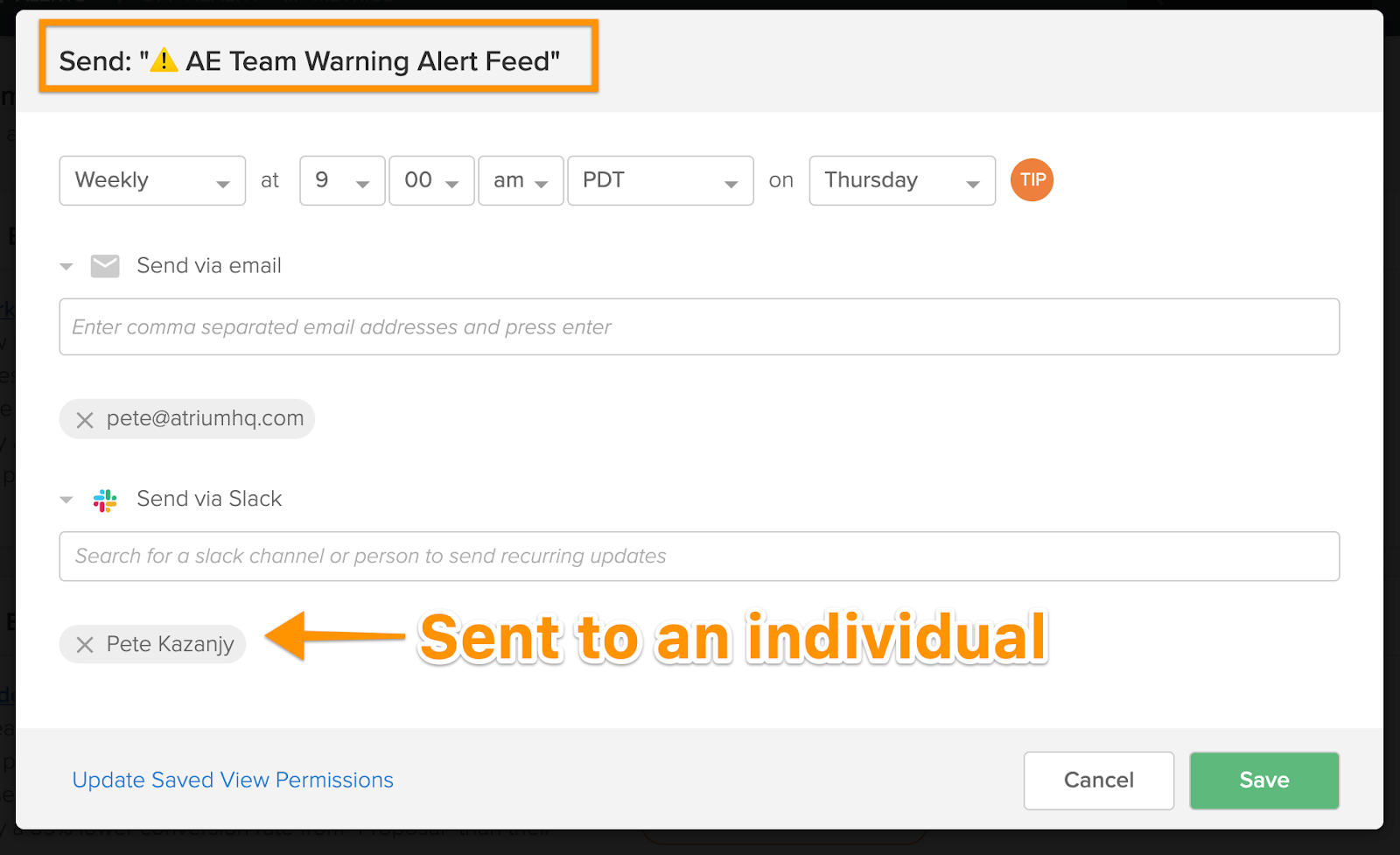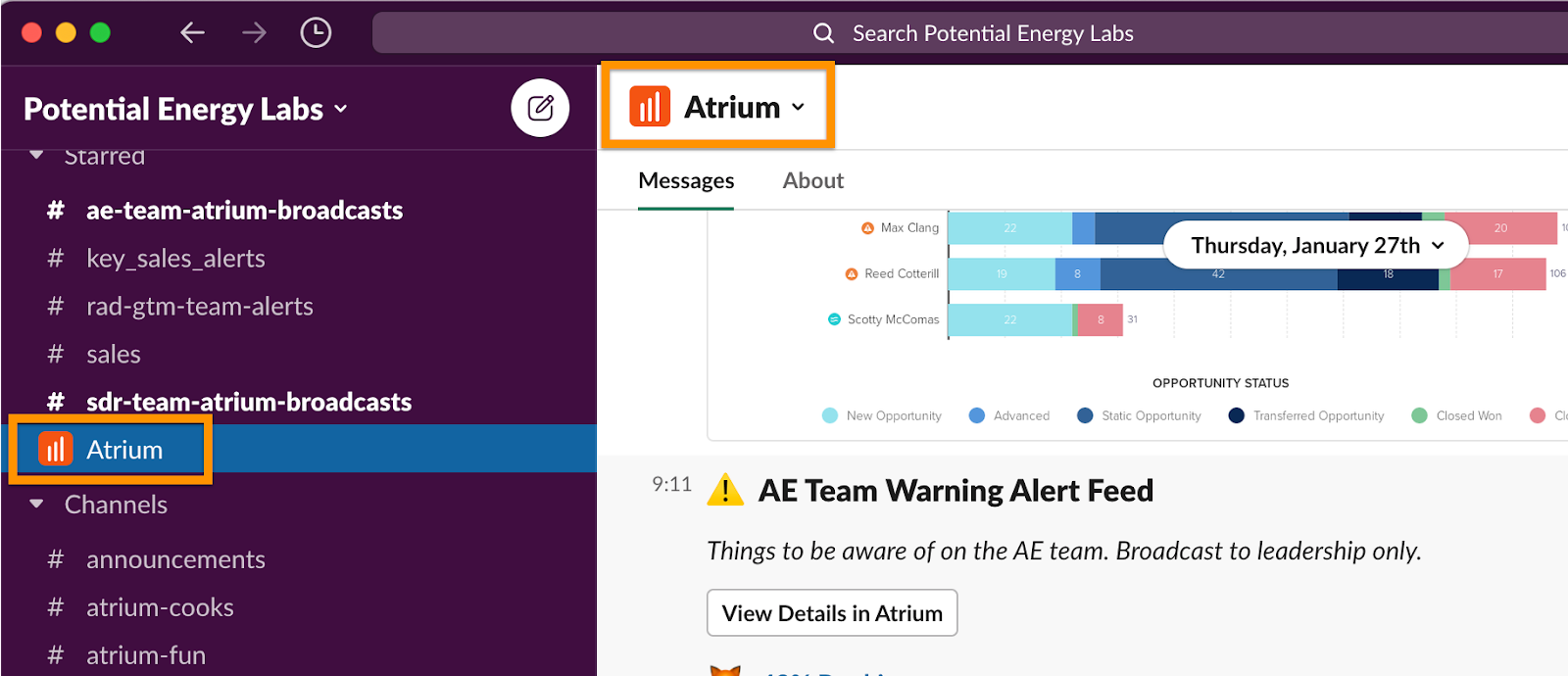 Group DM: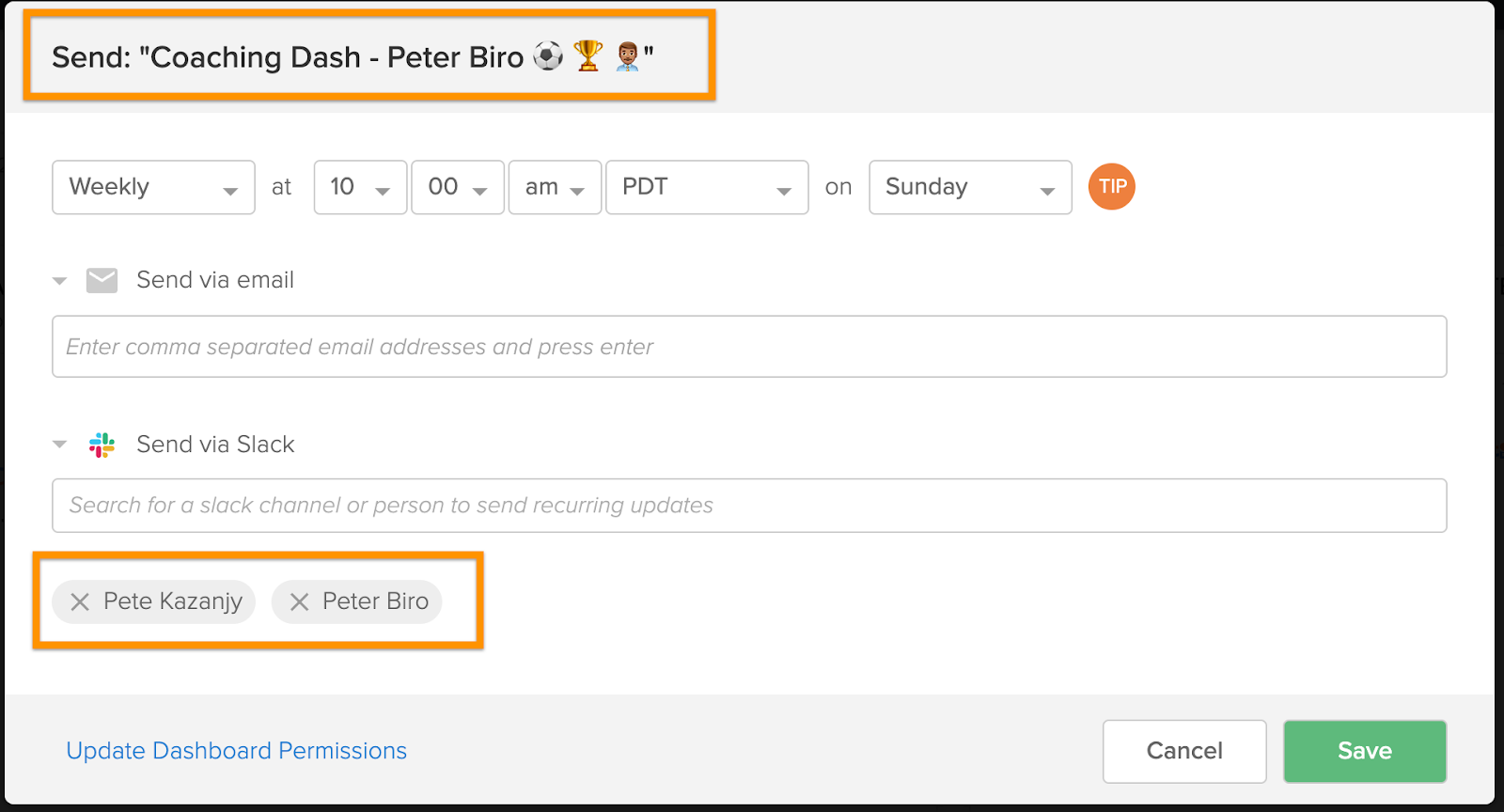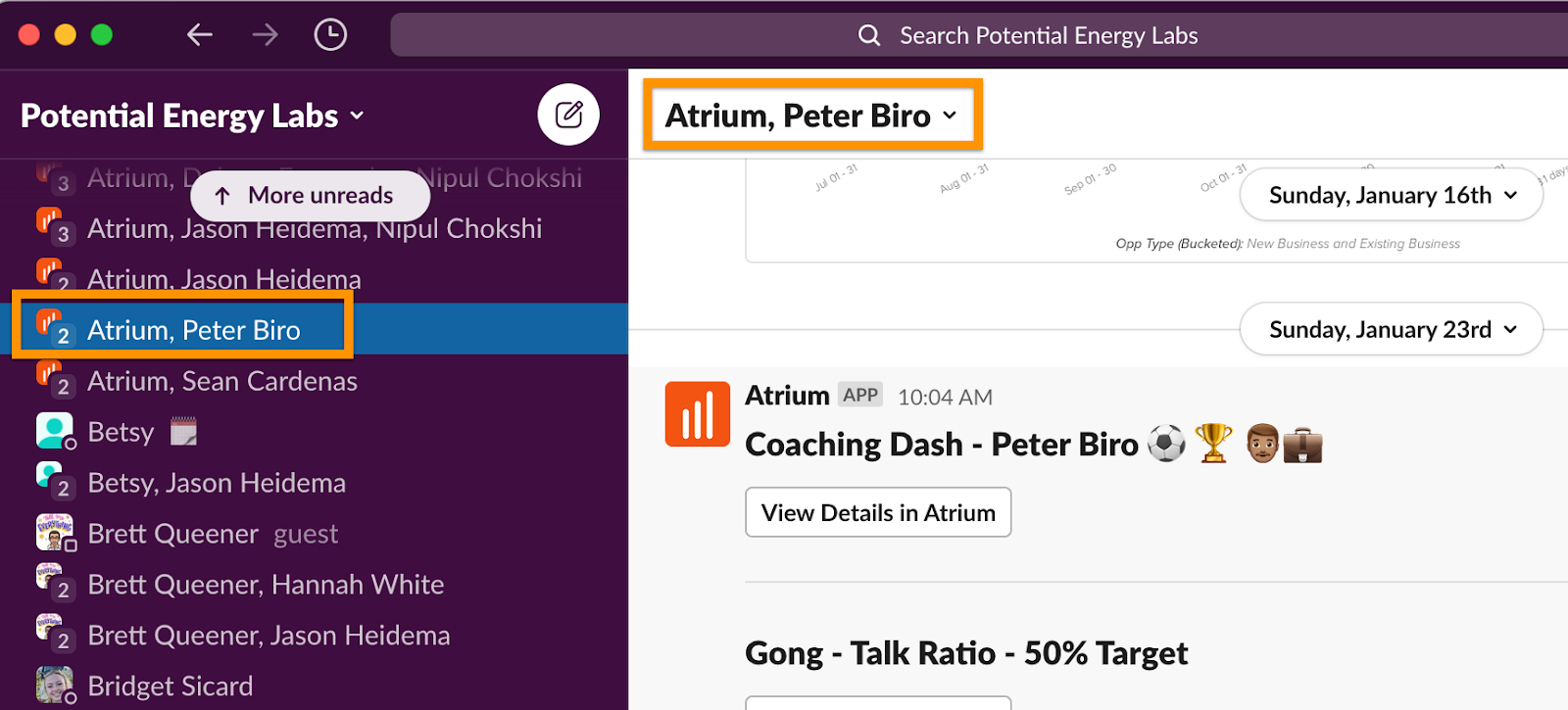 Team: You can send broadcasts directly into team Slack channels. This can be powerful because they're high attention venues. Just be mindful to not dominate the channel with view broadcasts. "Kudos" broadcasts to fire up the team can be a great thing here.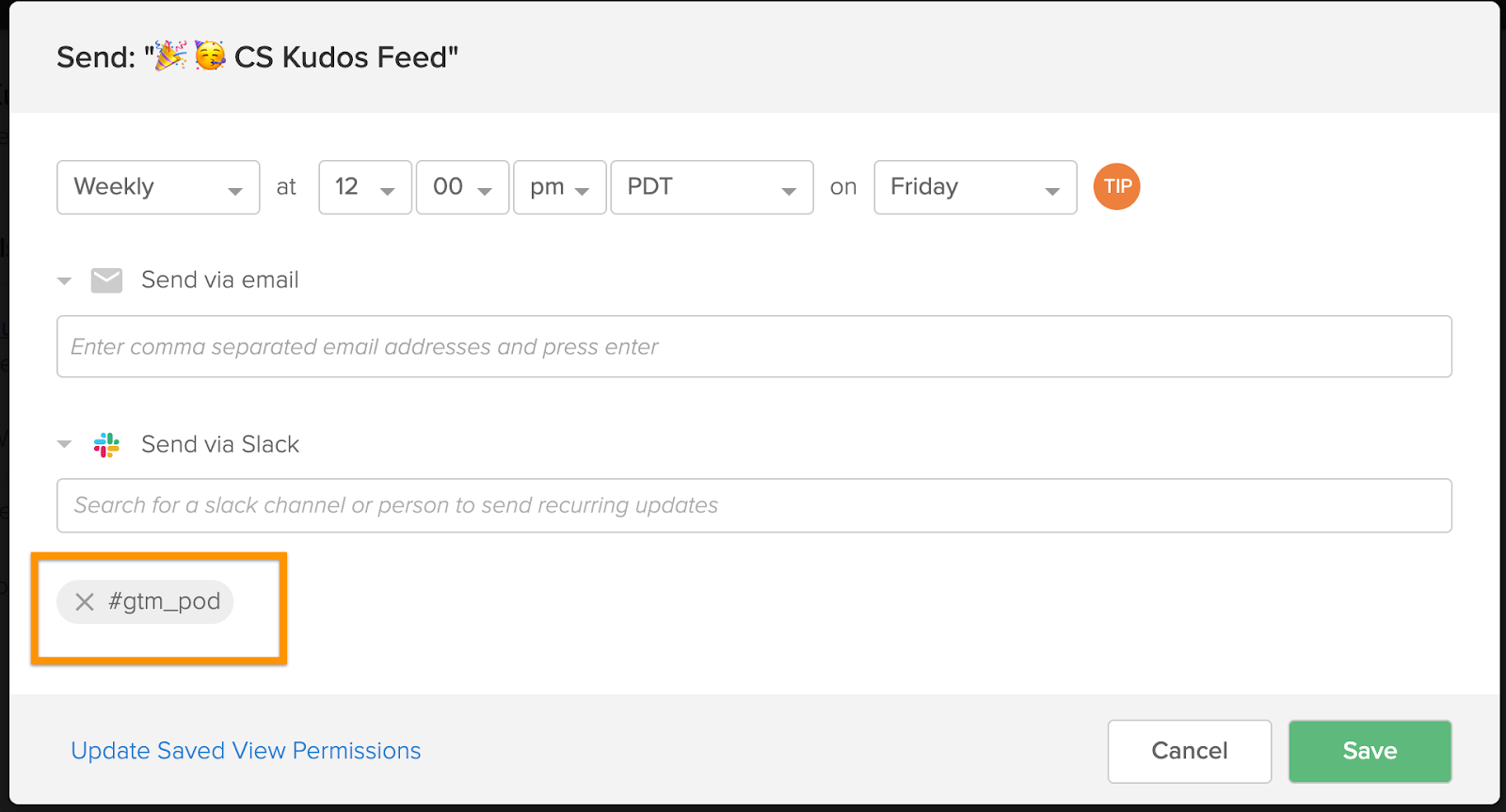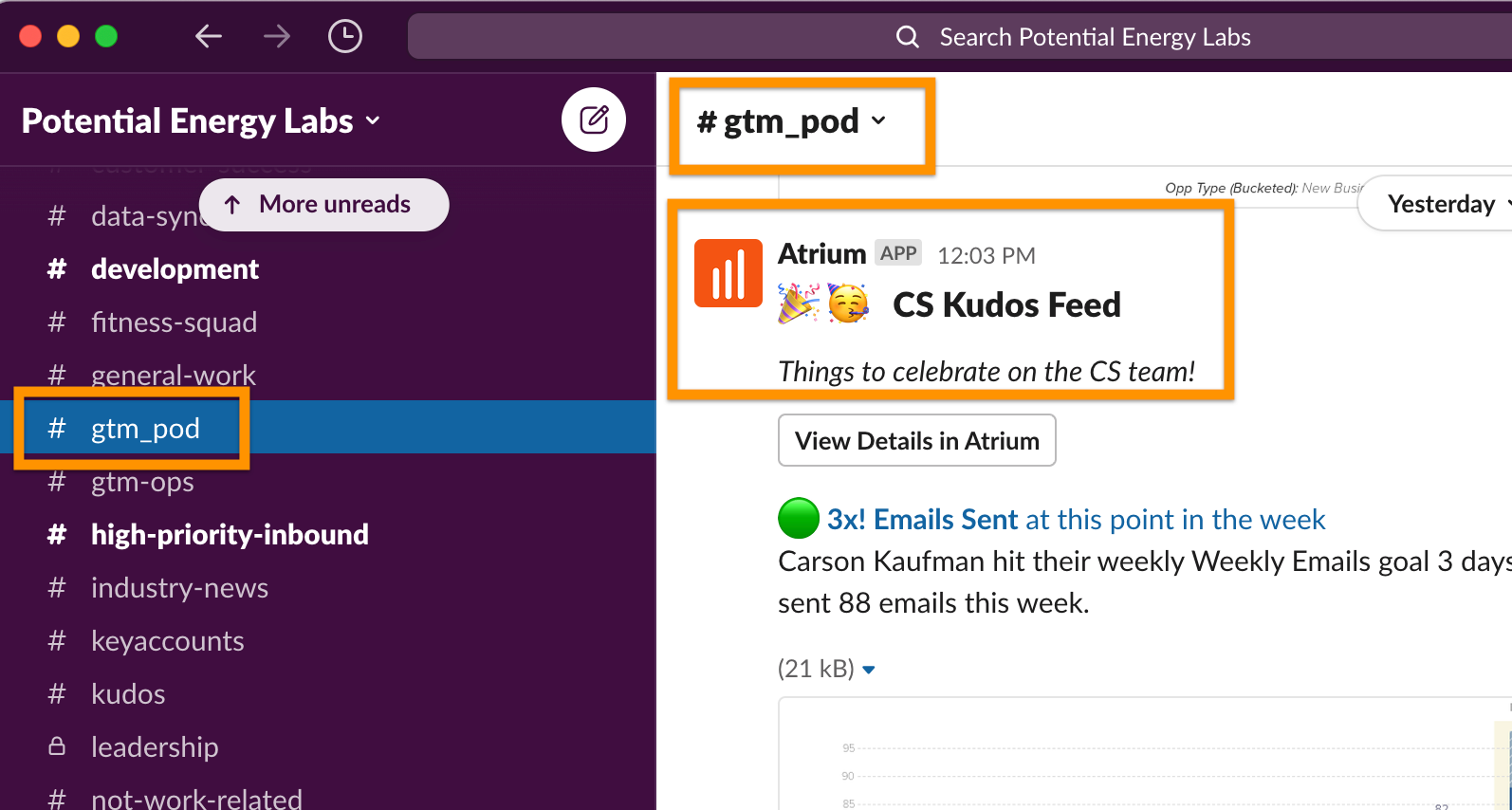 Dedicated Broadcast Channel: If you want to send more views into Slack, but not dominate a team Slack channel, a dedicated Slack broadcast channel for a given team can be an effective way to provide distribution and awareness, but not crowd out other Slack communication.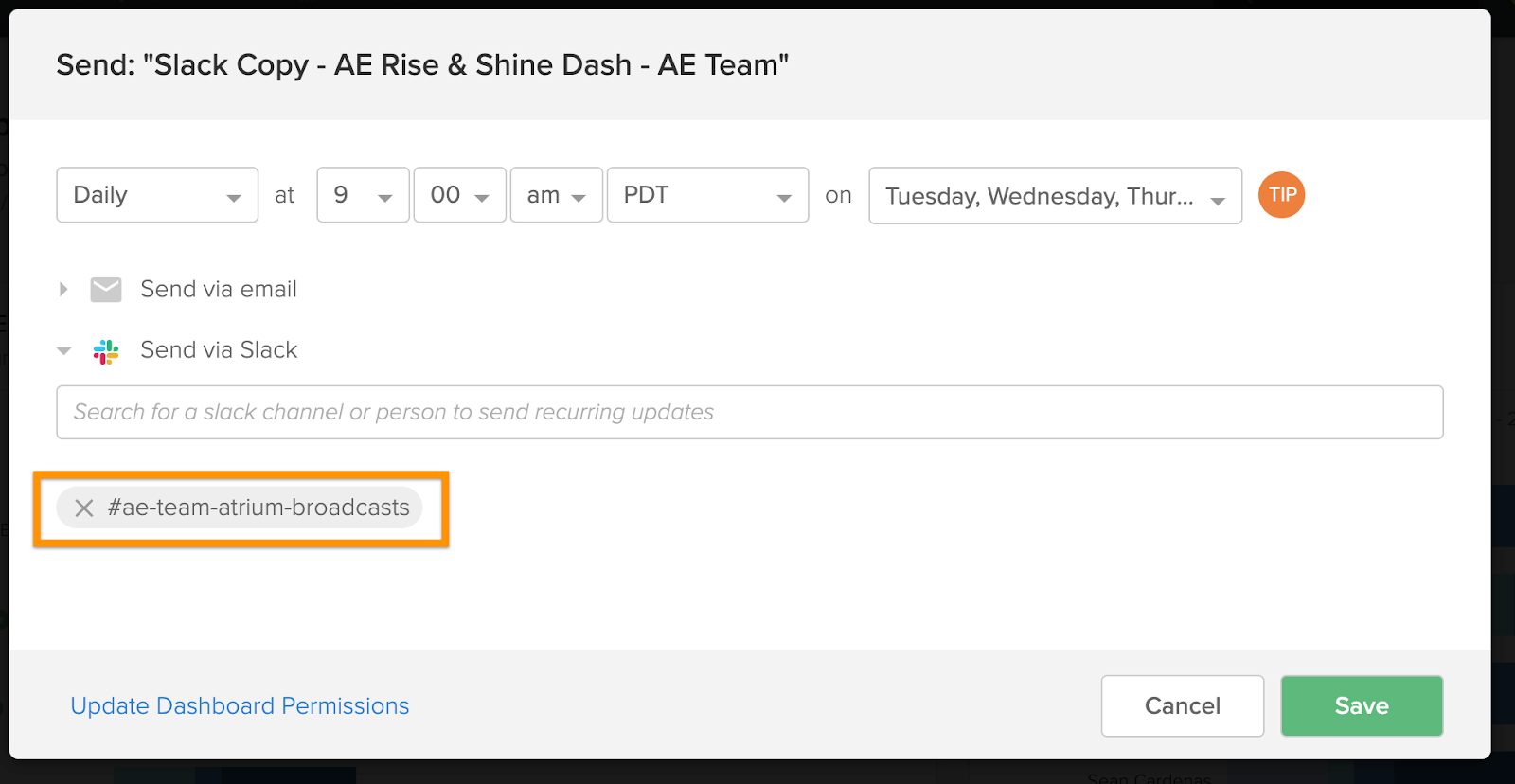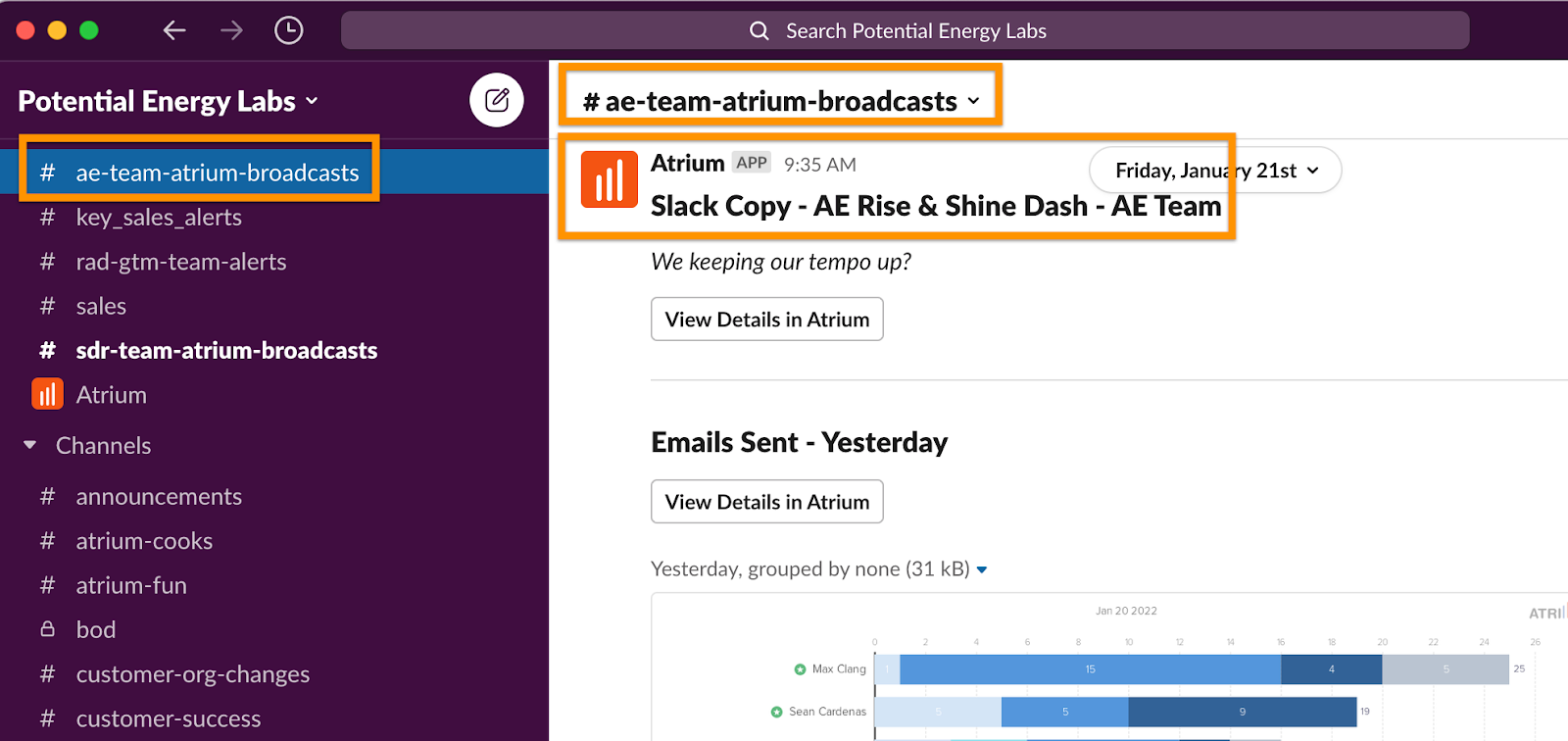 Dedicated 1:1 Channel: If you have a dedicated 1:1 Slack channels (or, if you'd like to create ones), sending relevant 1:1 views into that channel can be helpful.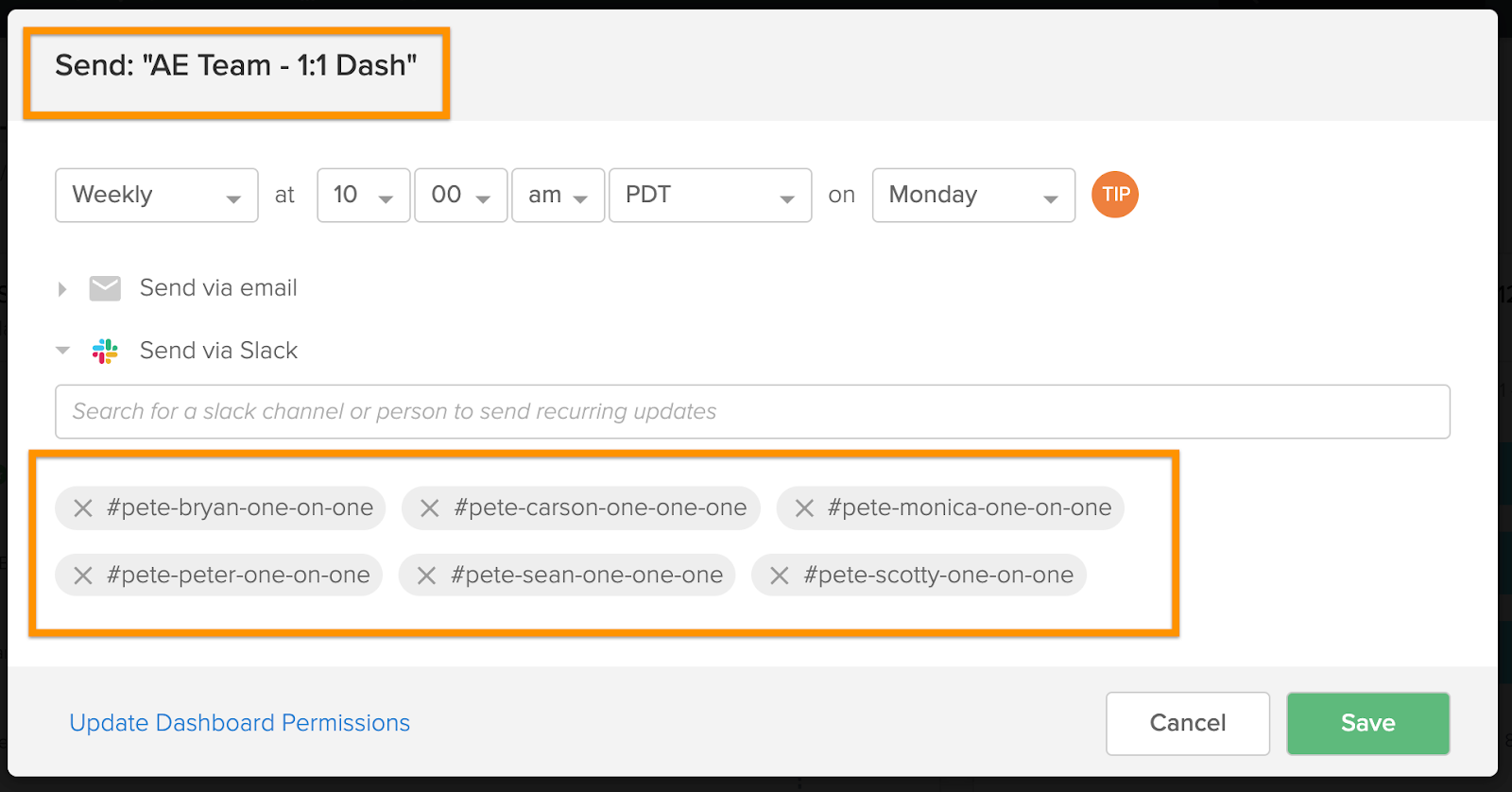 Dashboard Consumption - Links
Lastly, dashboards can and should be heavily linked to. Each Atrium dashboard has a unique URL (in fact, you can link to any Atrium metric card configuration as well). So linking to them from documents, meeting invites, and bookmarks can be very effective.
Documents
Links from Google Docs, slide decks, Notion pages, Guru cards, etc. can all help people more easily access the Atrium views they need, in context.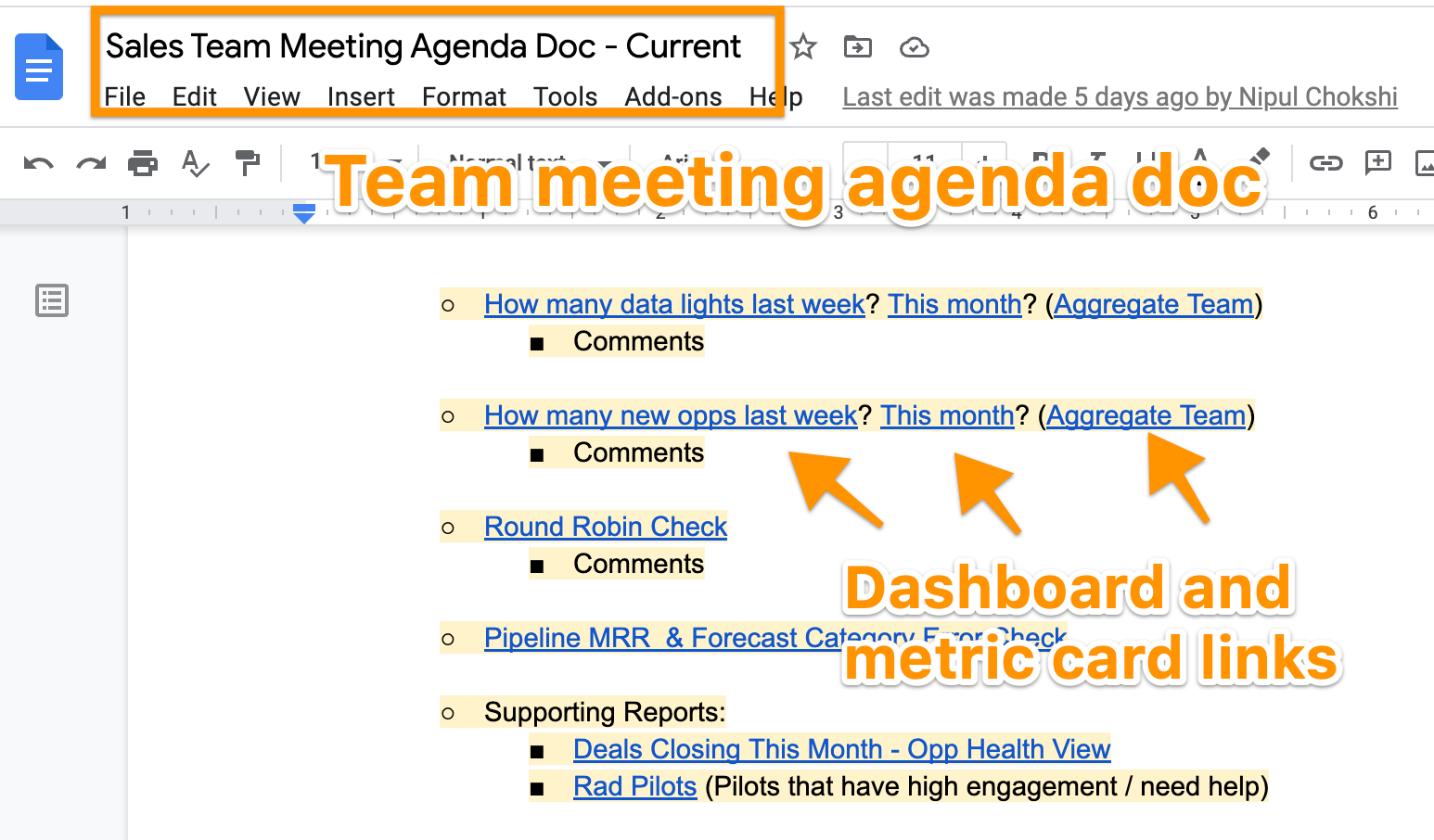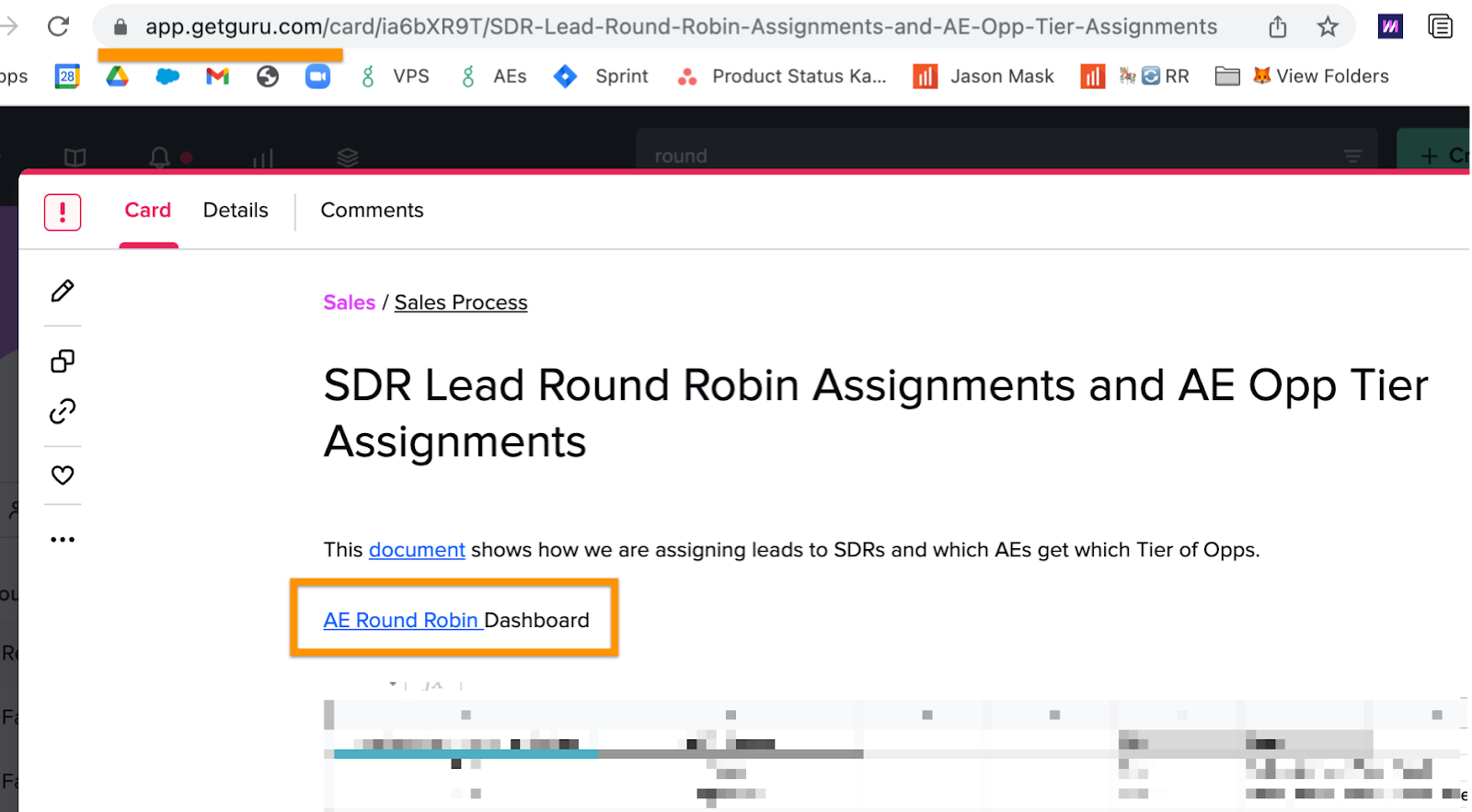 Meeting Invites
The same linking can be done from meeting invites.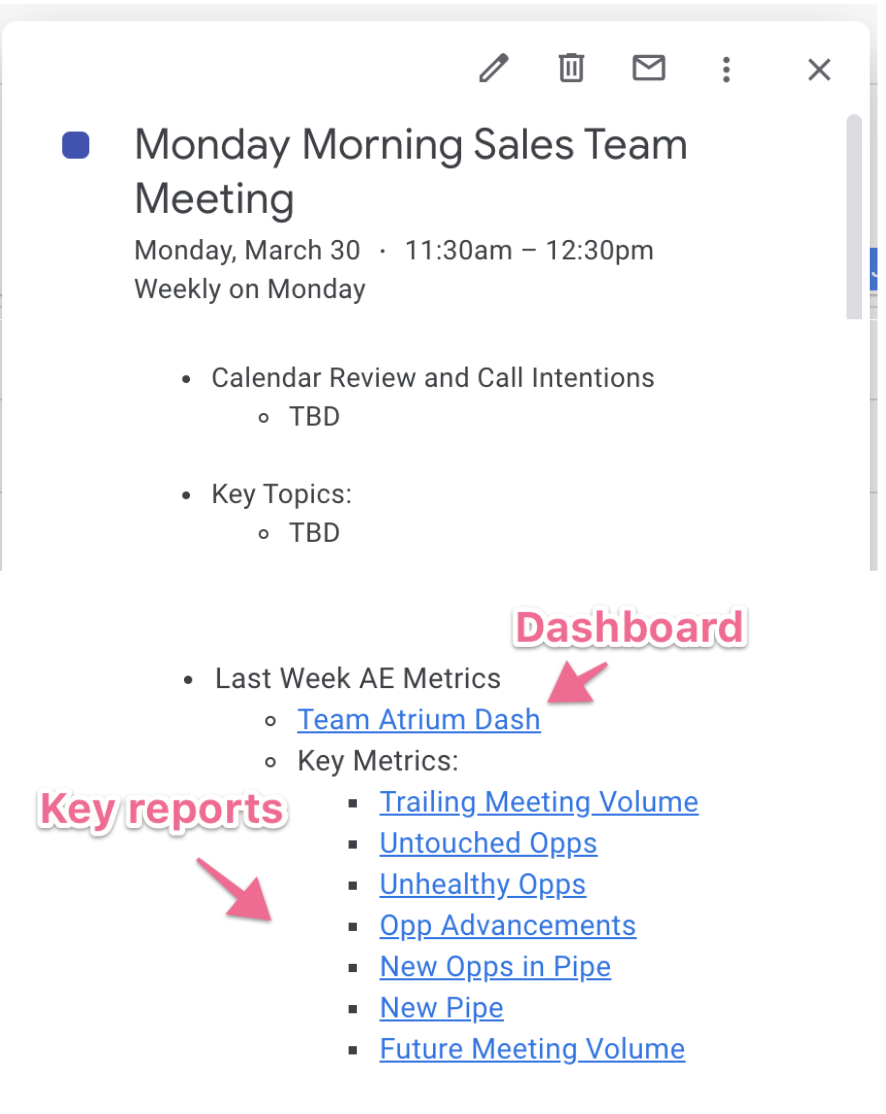 Bookmarks
And of course, dashboards (and alert feeds, configured metrics cards, and other views) can be bookmarked for easy access.