Sharing Saved Views in Atrium allows you to give team members Edit or Viewer access to your Saved Views (Dashboards, Folders, Alert Feeds, etc) so your team can use and collaborate on valuable data in Atrium.
How to Share
To Share a Saved View, navigate to the "..." menu in the right hand corner of the Saved View. Select the first option "Share View"

To Share a Folder, either click the "..." menu next to the folder name in the left hand panel and select "Share." You can also click "Share" from the top of the folder page.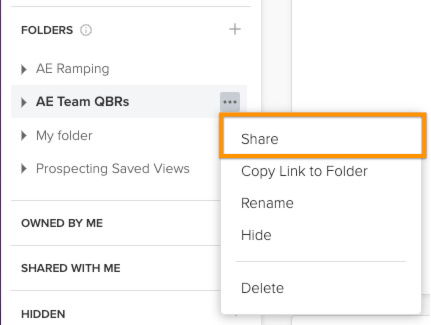 Who to Share With
Share with Individuals
You can share with individual users in your organization and give them Viewer or Editor access or make them the owner of the view.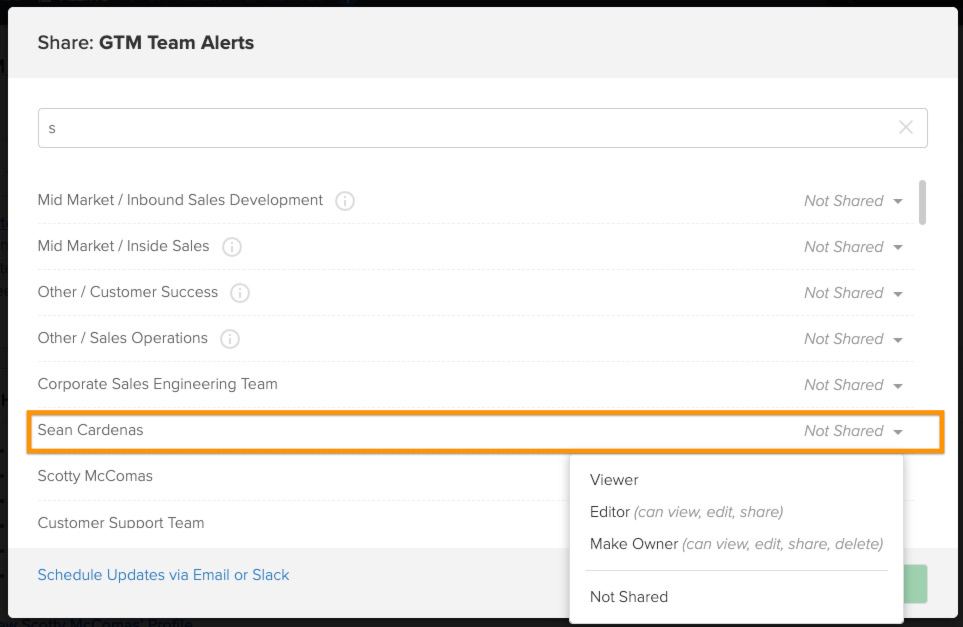 Share with Teams
If you have a Saved View that you would like your team to have access to, you can share with a manager's team. There are two ways to share a Saved View with a manager's team.
Manager's Entire Team includes any user that falls below that manager in the Org Chart

If a manager is a 2nd level manager, this would include any managers that report to them AND all users under those managers

Manager's Direct Reports includes only users who report directly to this manager
Note: Sharing a view will give all users the same level of access, including the manager. You can "upgrade" the level of access to individual users on that team, so if you wanted the manager of that team or a team lead to have Edit Access while the rest of the team has View Access, you can do so.
Share with Roles
If you have a Saved View that you would like to share with all team members in a specific role (IE, you want to share with ALL Mid Market AEs), you can do this by sharing by role.
Search for the discipline or segment to select the users you would like to have access to this Saved View.
When selecting who to share with, you can:
Select a specific discipline and segment (eg Mid Market / Inside Sales)
Select one discipline and ANY segment (Eg Any Segment / Inside Sales) to include any users whose role includes that one discipline.
Select one segment and ANY discipline (eg Mid Market / Any Discipline) to include any users whose role includes that segment.