Continue to kill it as a data-driven sales management superstar! Our product team added some exciting capabilities to Atrium in H1 to help you better manage your teams with data.
Table of Contents
Manage the Distribution of All of Your Saved Views in a Single Place
Subscription Center lets you view and edit the Saved Views (Dashboards, Alert Feeds, and Opp Health Views) currently being distributed to your team via email or Slack. As a manager, Subscription Center allows you to ensure distributions are well paced and delivered at times your team will use them. You can now see what saved views are being distributed, through which channels, and on what cadence—all in one place.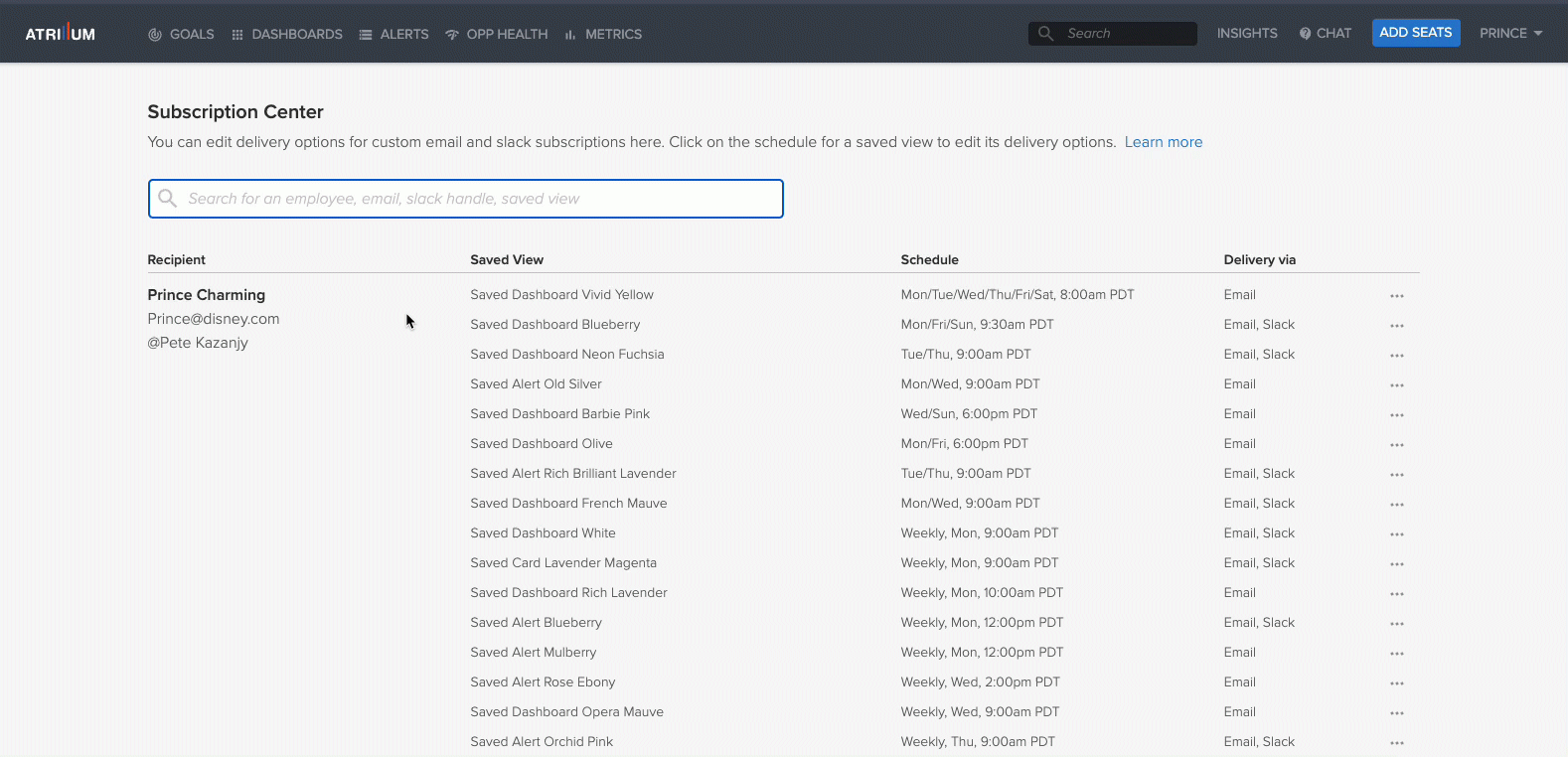 New Strategy Insights for Bookings
Atrium's strategy insights are a sales manager's best friend – they tell you exactly where you need to focus your coaching efforts to help your reps succeed. Newly released strategy insights will let you know how the Time in Stage and Average Opportunity Size metrics are impacting a rep's overall bookings result. Managers can use these insights to provide more individualized coaching to struggling reps, or replicate the behaviors of high-performing reps with the rest of their team.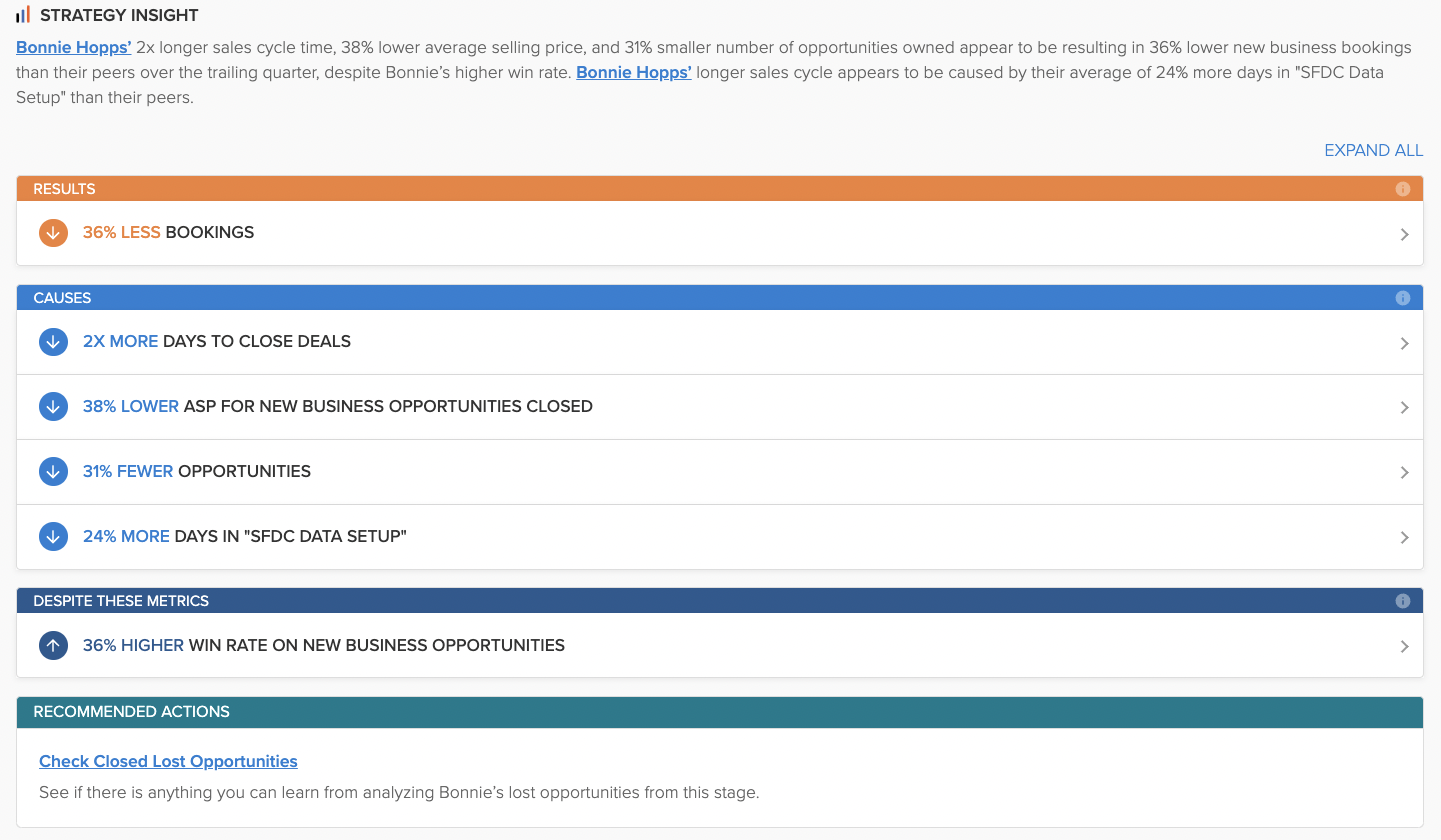 New Metric Cards
We've added multiple new leading indicator metric cards in the past couple of months that will give you more insight into the performance of your teams.
Activity Points lets you measure the total level of effort a rep is putting into their sales process by attributing "points" to sales activities and tallying the total number of points across the given time period. Certain activities, such as meetings, are worth more points than others because they take more time, energy, or effort.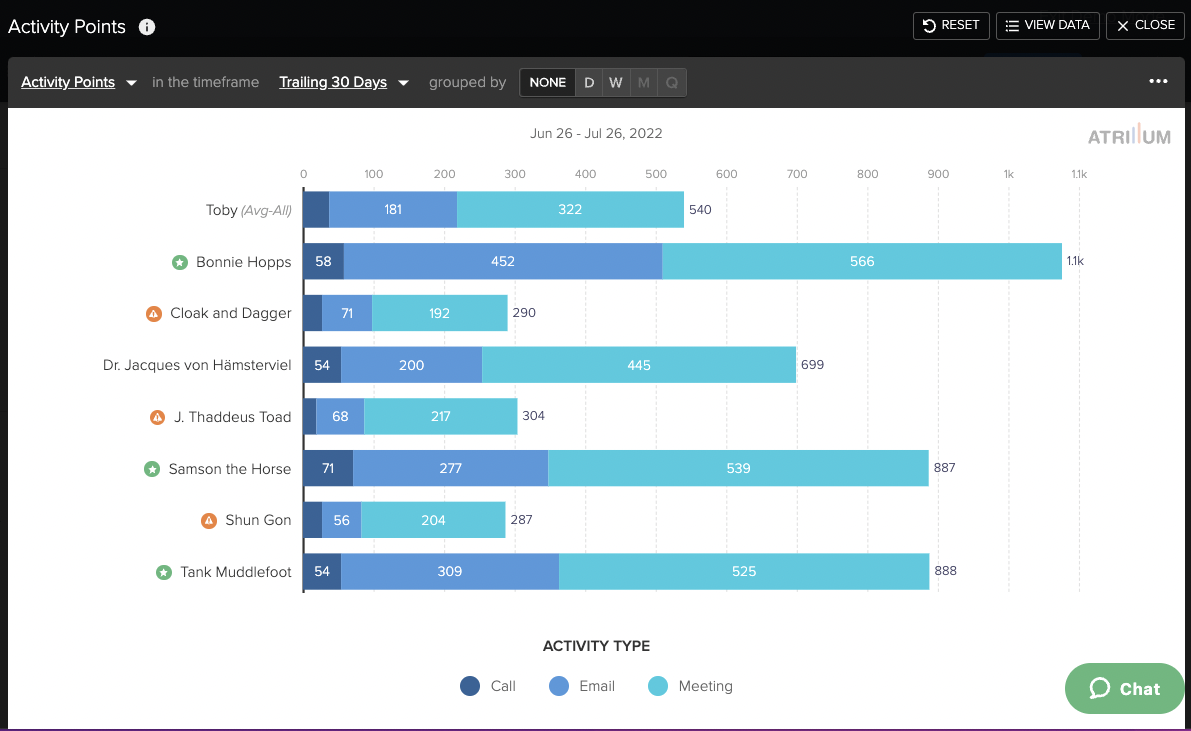 You will now find 3 Win Rate cards in the product - the win rate of new business only, the win rate of existing business only, and the combined win rate across both types of business. If you've been using the existing win rate cards, but your team closes both new and existing business deals, check out the new combined win rate card! You'll be able to see the combined performance of your team across both types of business.
If you want to measure the sales cycle from a particular stage, use the Time from Stage to Won card to measure the sales cycle in a more granular way. You can choose any stage of the cycle (discovery, proposal, etc) to see how long it generally takes to close a deal after the prospect reaches that specific stage. This card will allow you to coach your team in helping their prospects move steadily down pipe.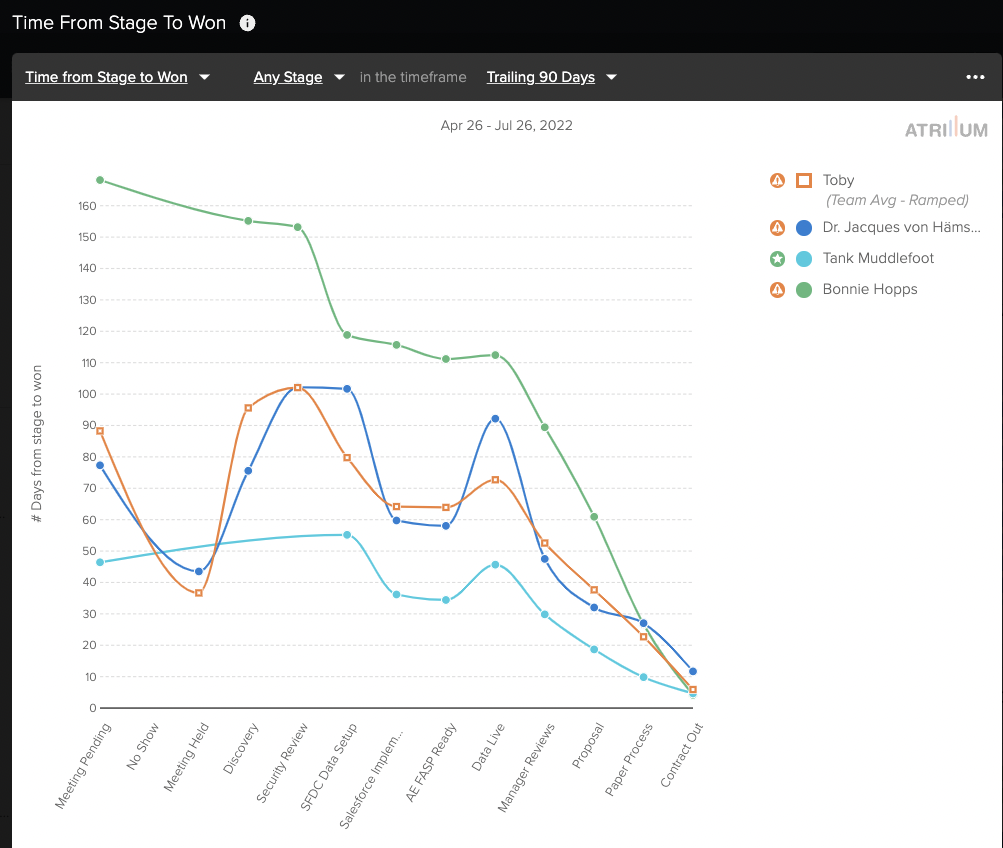 You can also see the average number of days it takes for your team and reps to move an opp from Created to Closed Won with the Average Sales Cycle card. Average Sales Cycle is a key input in the Revenue Formula, as it measures how long it takes a team or reps to win a deal. When assessing team and rep performance, average sales cycle is an important metric to investigate either sales velocity issues or outperformance.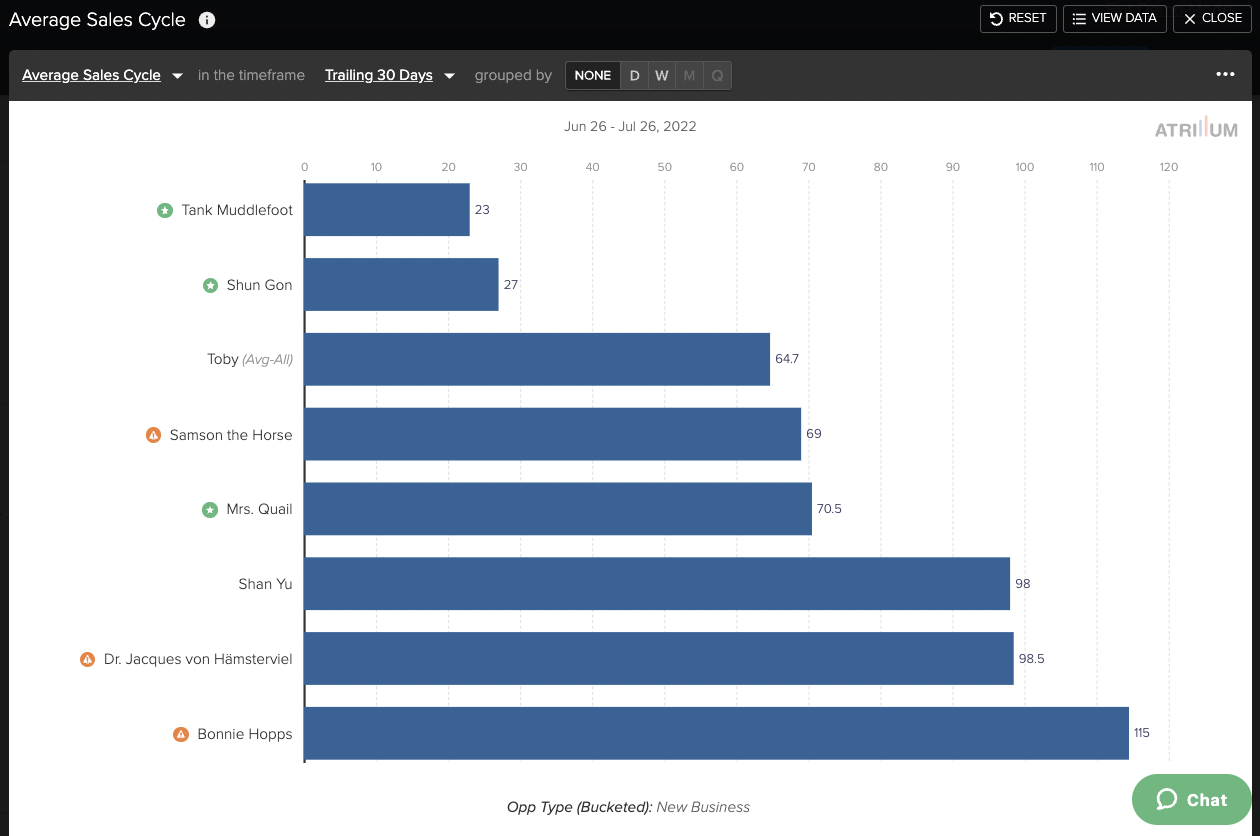 Custom Filters Added to the Pipeline Change Card
The ability to add customer filters on the Pipeline Change Card will let managers apply the filters most relevant to their team so they can better understand how deals are moving in their pipeline. For example, a manager can filter by organizational tier to see how different tiers of pipeline are moving through the quarter, and understand whether their sales development teams should be feeding their AE team more or less opportunities of those types.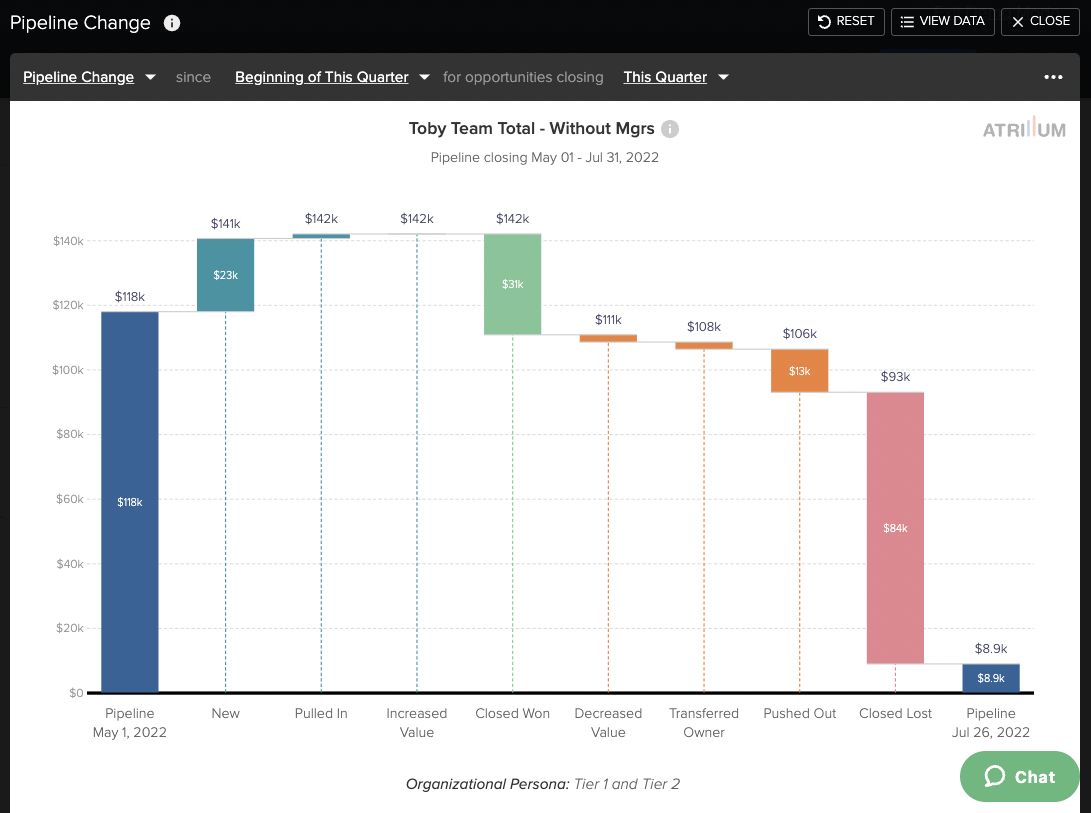 Add More Custom Opportunity Filters to Your Wins and Bookings Cards
You can now add more custom filters to the Wins and Bookings cards so that you can filter by opportunity data that is relevant to your team and your business.
Improved Role History Support in Atrium's Employee Org Chart
The Employee Org Chart now allows you to store each team member's role history with your organization. This allows Atrium to accurately track where users were in the org chart at any given point. Add new role history records any time a user's role or org chart placement changes to keep track of your team! Learn more
New Shortcut Button
A new shortcut button at the top of the navigation bar in Atrium will help you to quickly create new Metrics Cards, Opp Health Views, Goals, Dashboards, Alert Feeds, or Distributions. The shortcut button will always be accessible at the top of your screen.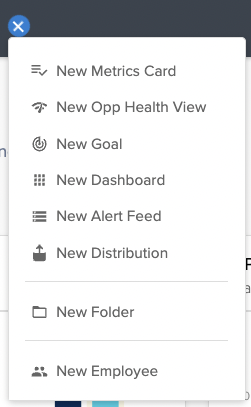 Compare Metric Cards Across Even More Time Periods
We have added a bunch of new card view timeframes that allow you to quickly view data over a wider variety of time periods, including more options to compare the current time period with previous periods. This will help you to see if your team is trending up or down, and make adjustments if needed.
We added:
Trailing 60 days

Trailing 24 Months

This Month and Next Month

This Month and Last Month

This Quarter and Next Quarter

This Quarter and Last Quarter

This Year and Next Year

This Year and Last Year

Last 2 Weeks

Last 2 Months

Last 2 Quarters

Last Month and This Month

Last Quarter and This Quarter

Last Year and This Year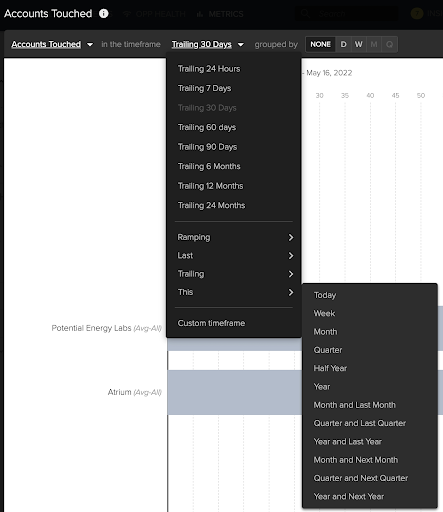 Create Custom Filters in the Left Side Panel
It's easier for admin users to create custom data filters by clicking the Create Custom Filter link at the bottom of the data filters list (click the Add a Filter link to see it).

Please reach out to your CSA with any feedback or questions around these new features. We are excited to continue refining our product to empower you to provide amazing data-driven coaching to your teams!