Table of Contents
Overview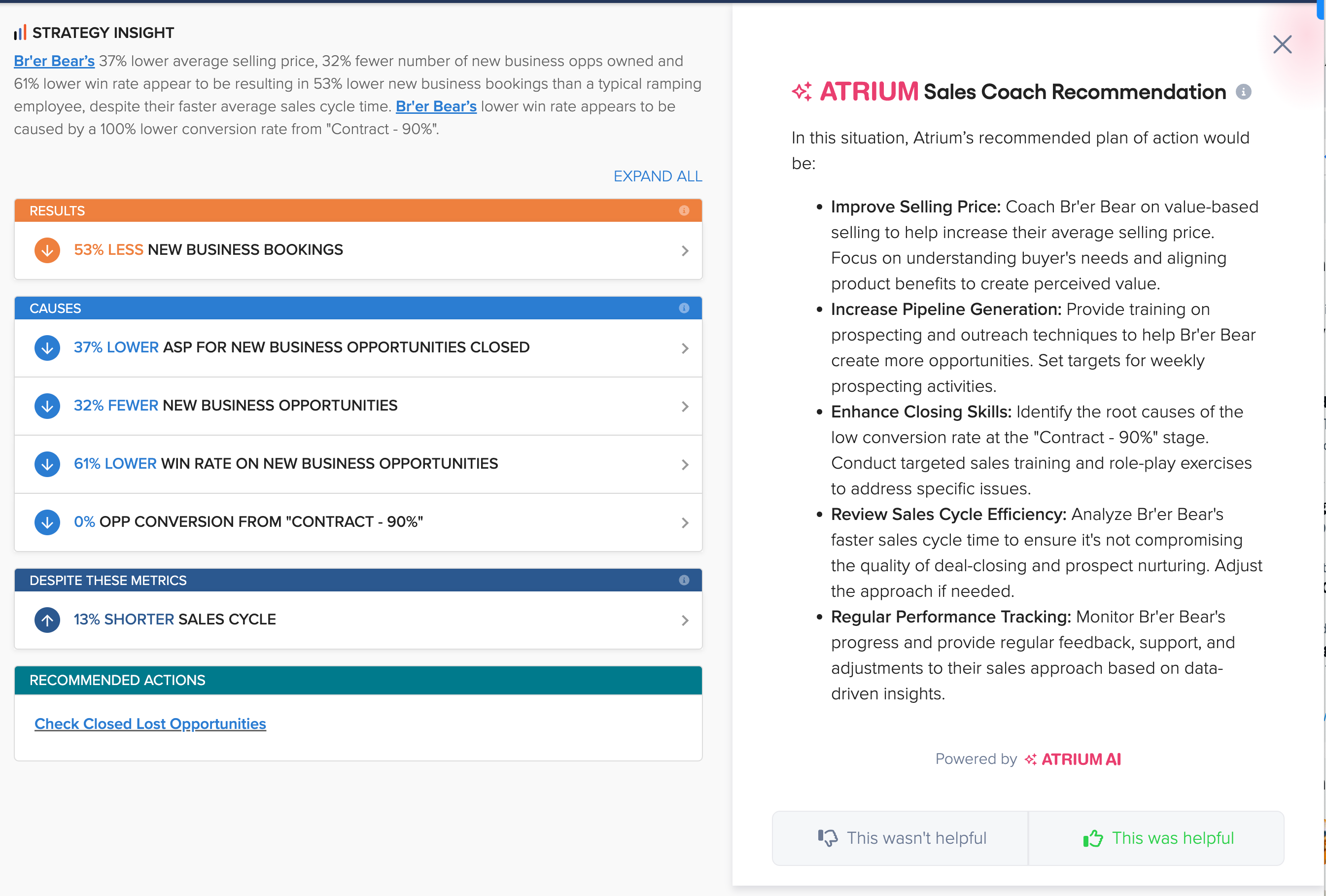 Atrium's Strategy Insights start by showing you where a rep's outcomes are significantly higher or lower than their peers. Then, Atrium identifies what about their up-funnel behaviors are likely causing that result to help identify the root cause of the result metric. This allows managers to understand what helps to drive strong performers and where struggling reps need improvement so managers can spend more time coaching and less time digging through reports. See examples below.
A rep can hit their number through a balance of effort (how much work are they doing) and efficiency (how well are they doing it) and understanding how they balance those two is important to understand their strengths and weaknesses. Strategy Insights do the analysis for you to show you the exact metrics reps need support with to drive better overall outcomes.
More About Strategy Insights
For Closers
Strategy Insights for closers focus on the metrics that drive bookings and "down-funnel" indicators like Opportunities Advanced. One of the most valuable insights for closers are the insights that evaluate the metric variables in the "Revenue Formula."
A closer's Bookings are determined by the variables in the "Revenue Formula":
You will also find Strategy Insights that go a level deeper than the standard Revenue Formula metrics to help identify the next layer of precursor metrics that are driving the result. For example, if you have a rep struggling with Win Rate, the Strategy Insight may show you which stage the rep is struggling with conversions from to help better explain why their win rate is low.
You may have reps that consistently hit their number by carrying a higher opp count, so they can afford to have an average or lower win rate because they have more at-bats. Other reps may be closing larger deals, so they don't need as many wins compared with their peers.
Strategy Insights will identify which revenue formula metrics are driving bookings, so you can assess the up-funnel metrics that contribute to those bookings drivers to identify what is contributing to a rep's success OR where your struggling reps need help.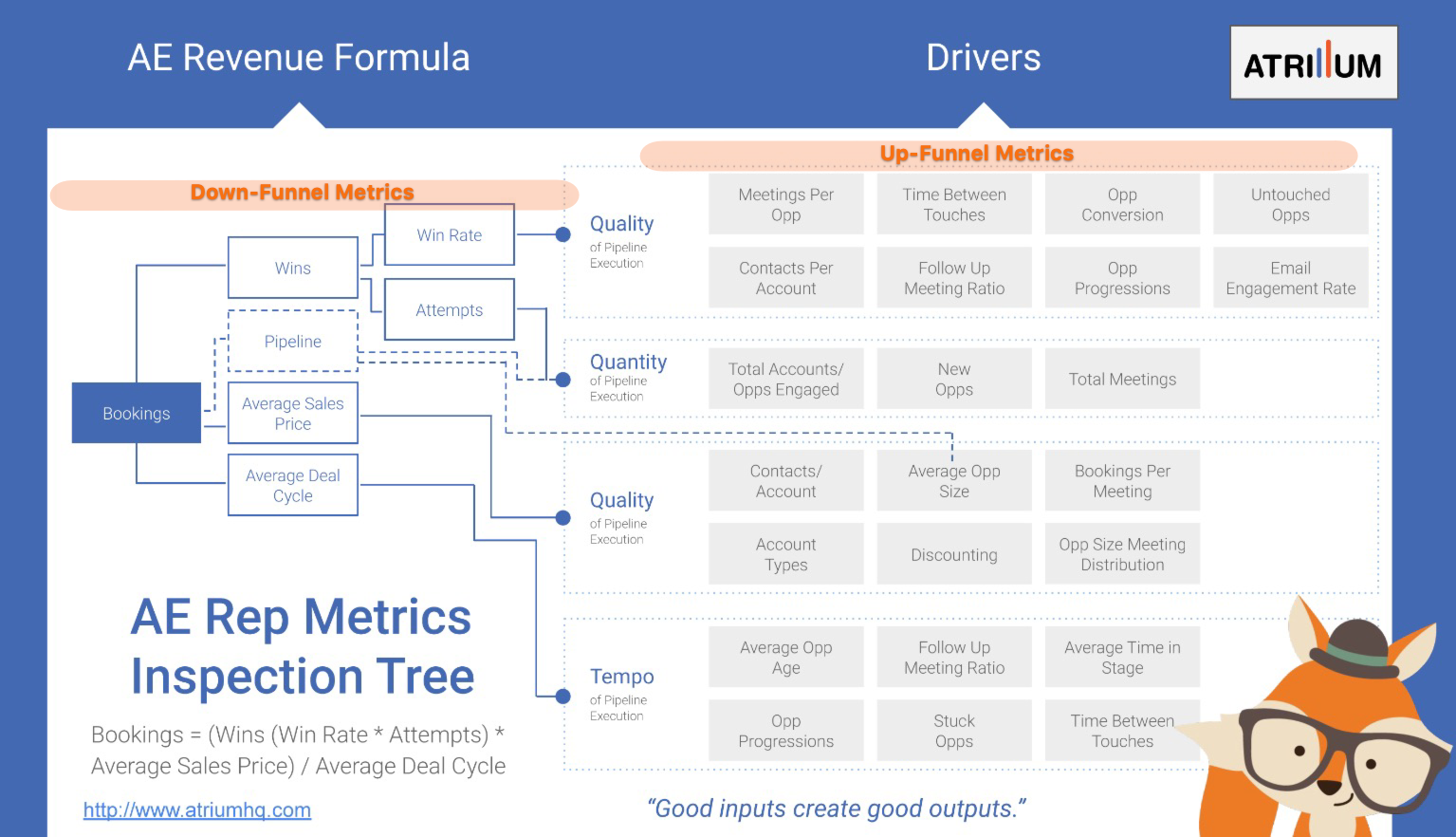 Closer Strategy Insight in Practice: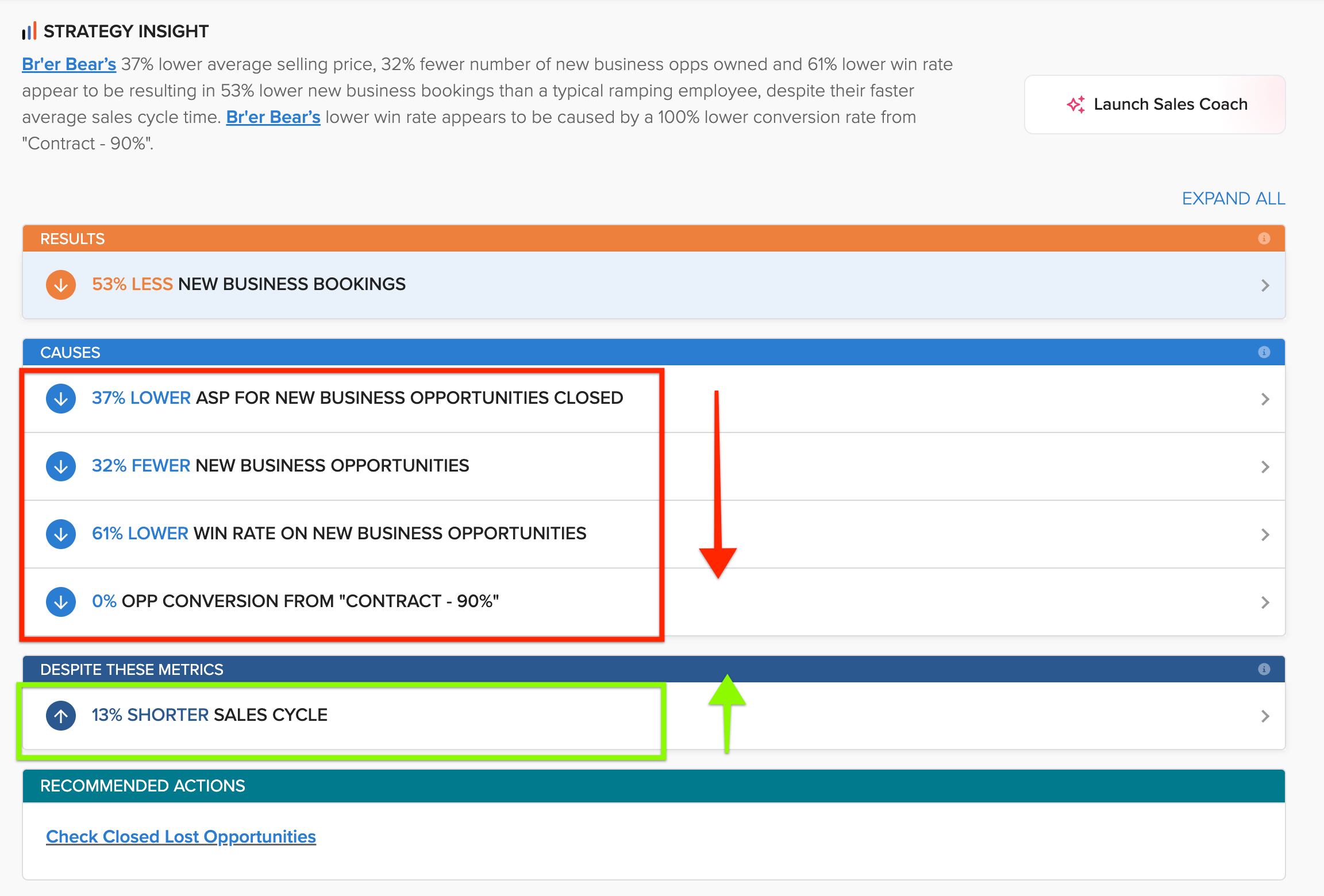 This rep has lower bookings compared with their peers because their win rate, average selling price, and number of opportunities owned is lower than their peers. This is despite this rep closing deals faster as indicated by their faster sales cycle. So in this case, the win rate and average selling price is the primary cause of lower bookings because it is causing the rep to get fewer deals across the line, even though they are closing deals more quickly than their peers.
This insight is also highlighting that this rep has a lower opp conversion rate from the Contract stage compared with their peers. Conversion rate is an important precursor to win rate because it indicates that this rep is losing more deals from Contract than their peers, which is the cause of their lower win rate.
Atrium is showing you that this rep needs coaching in their win rate metrics, especially their conversions from Proposal, so that is where you should focus coaching sessions with this rep.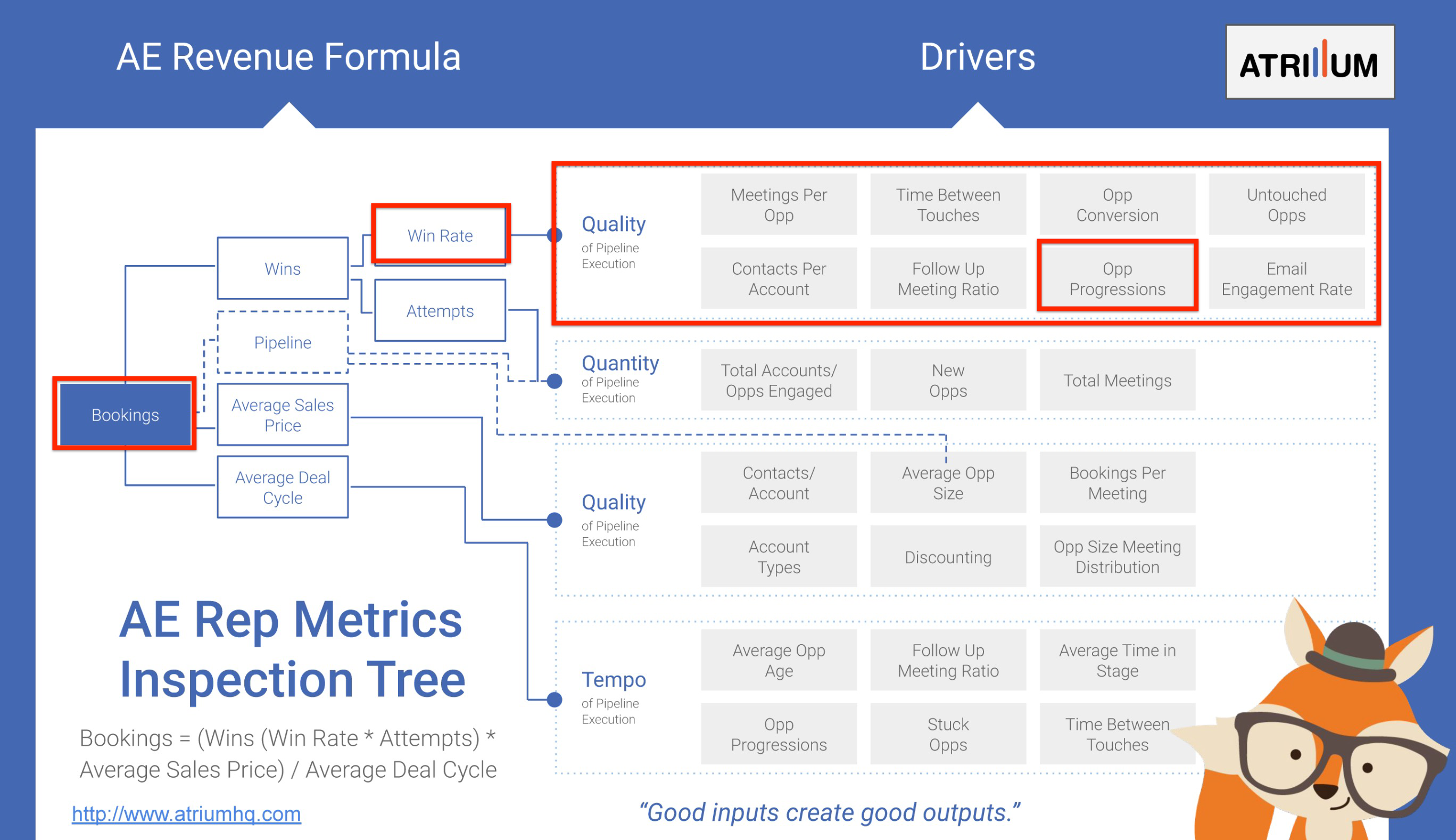 A few recommendations to help improve win rate:
Listen to calls during and before this stage to ensure they are asking the right questions and selling to the prospect's pain points

Discuss how they are following up at this stage to ensure they are creating urgency

Inspect the contacts they are involving to ensure the right stakeholders are involved at the right times.



For Sales Development
In Sales Development, you may be measuring your reps on the number of opps created, sales accepted opps created, or meetings created. Their success is based on the balance of quantity and quality of their outreach - ensuring that they are touching enough leads or contacts but also tailoring their touches in a compelling way to drive interest.
You may have reps that are hitting their goals by touching way more contacts within each account OR by customizing templates to a more targeted list of prospects. Strategy Insights will help to show how this combination of their efforts are driving results.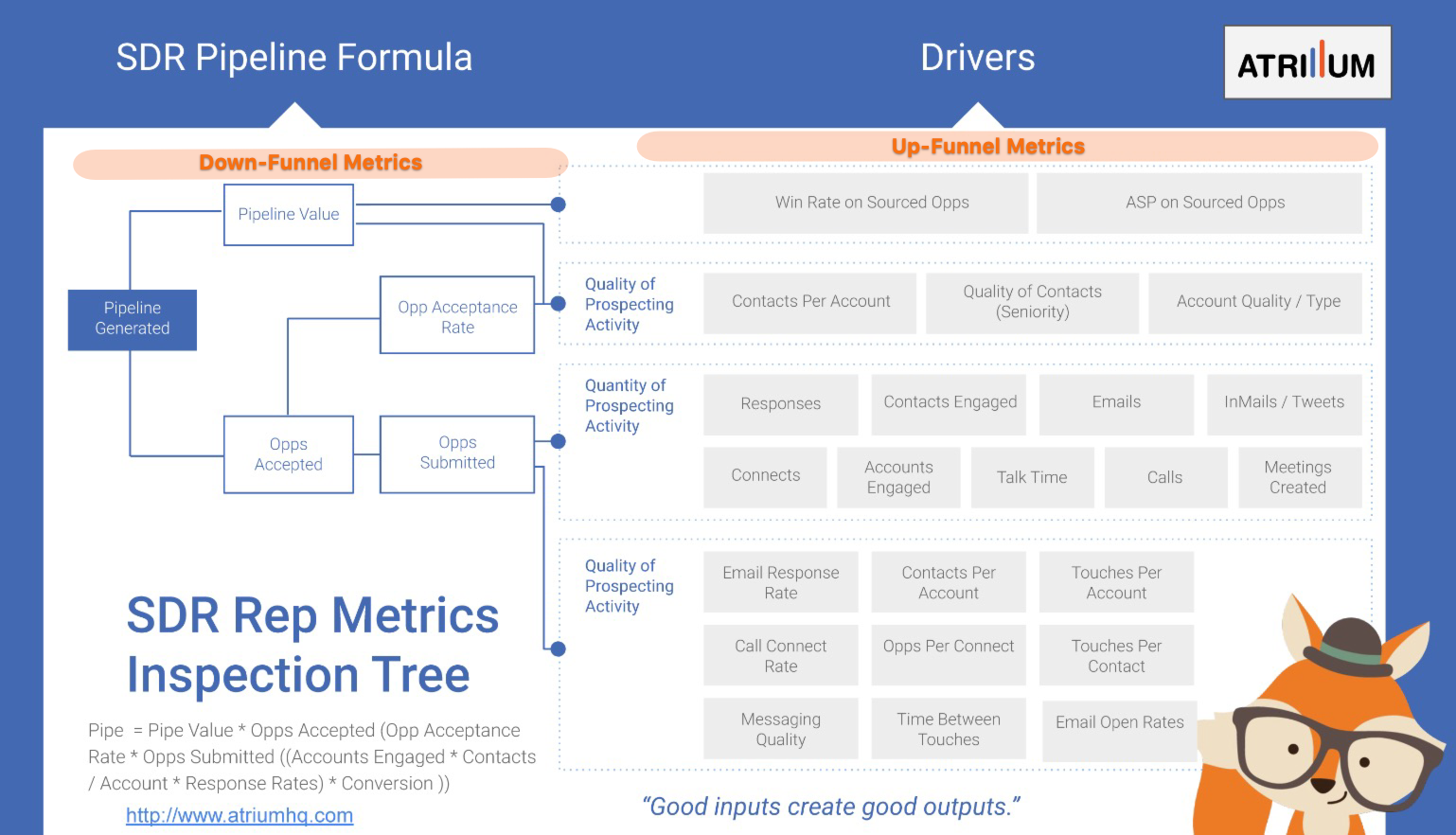 Sales Development Strategy Insight in Practice: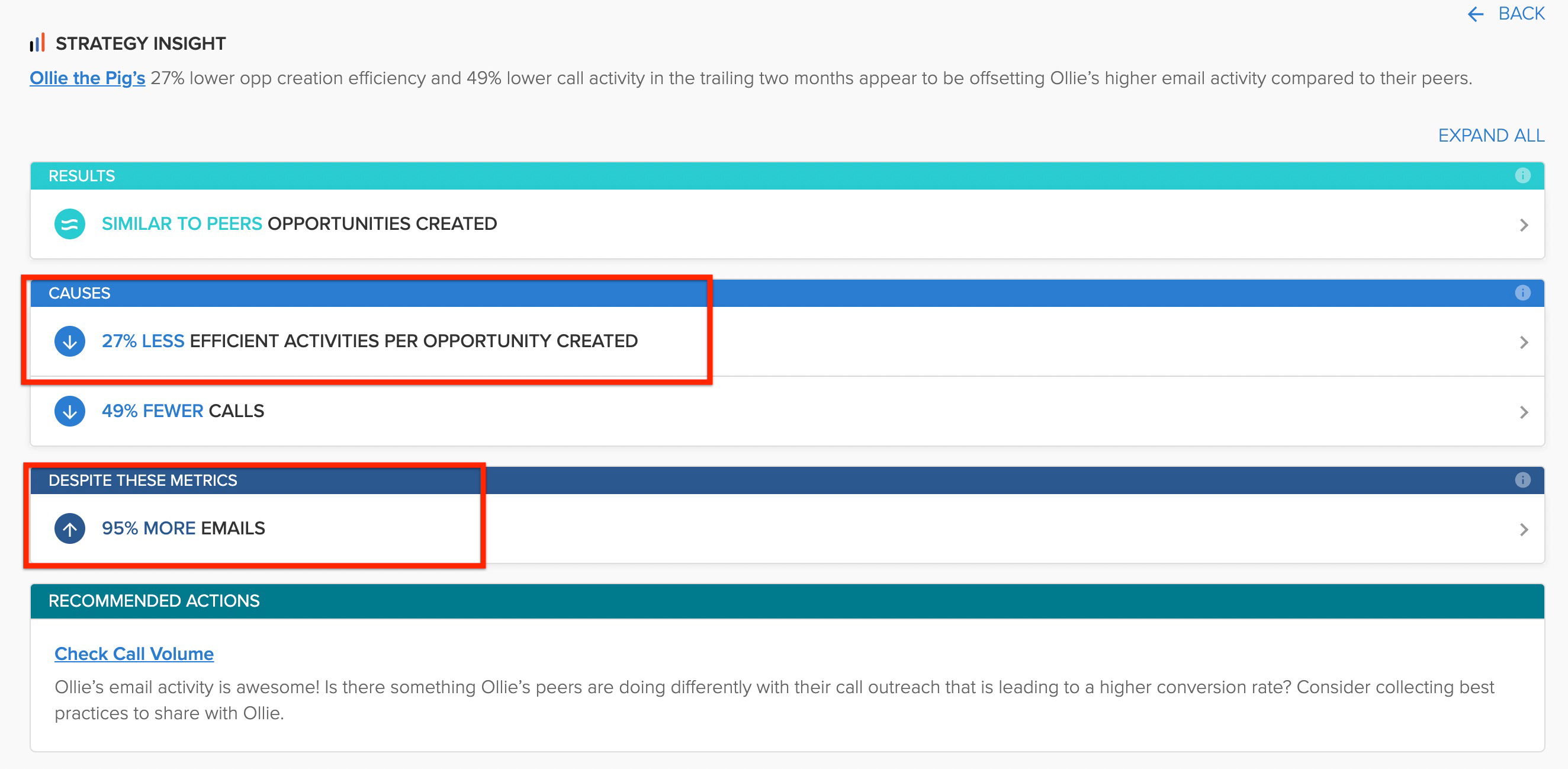 In this example, this rep is generating a similar number of opps compared with their peers, which is good. When we look at what is driving this performance, this rep has lower efficiency, as seen by their Activities per Opp Created being 27% less efficient - meaning it takes them MORE activities to create each opp compared with their peers. Additionally, this rep is sending 95% more emails. This may raise concern that this rep is putting in way more effort than their peers for a similar result and you might want to dig into this in your next coaching session to see where this rep might improve their messaging or outreach strategy to work more efficiently.
A few recommendations for coaching:
Inspect how many contacts this rep is reaching out to

Are they reaching out to more Contacts per Account than their peers and not getting to the POC quickly enough?

Are they NOT touching as many contacts per account and are overworking their contacts?

Are they using generic templates and not making their content relevant for their prospects?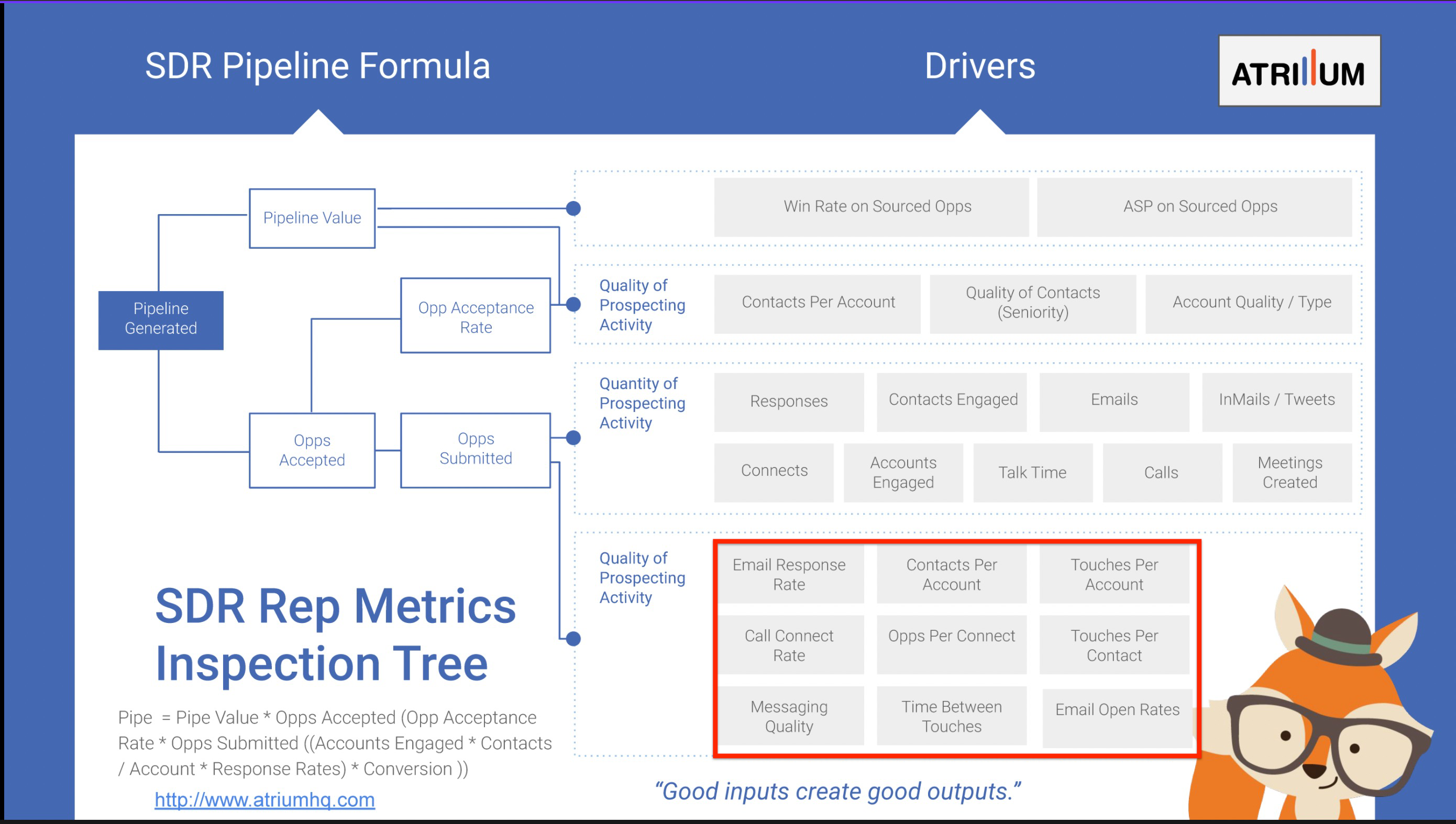 Strategy Insights for Ramping Reps
Atrium's Ramping feature is incredibly valuable for understanding performance habits BEFORE a rep has fully ramped to ensure your reps are on track and to allow managers to get ahead of performance issues early. Strategy Insights for ramping reps delivers powerful insights comparing your rampers with their peers during their ramp.
Similar to our Ramping Peer Alerts, the Ramping Strategy Insights compare current ramping reps with their "Ramping Peers Average." This average is calculated by taking the current peer group of the ramping rep - that is, every other rep that is currently in the same Discipline and Segment in the org chart. Then Atrium takes the average of that peer group at the same points in their ramp. For example, the "Ramping First Quarter" is showing you the average of all reps in that peer group during their initial 90 days in the role.
For example: This rep has a Ramping Strategy Insight showing he has 21% lower bookings compared with his Ramping Peers Average. So this average they are being compared to is the average of all other reps in the same discipline and segment in their initial 4 months in the role.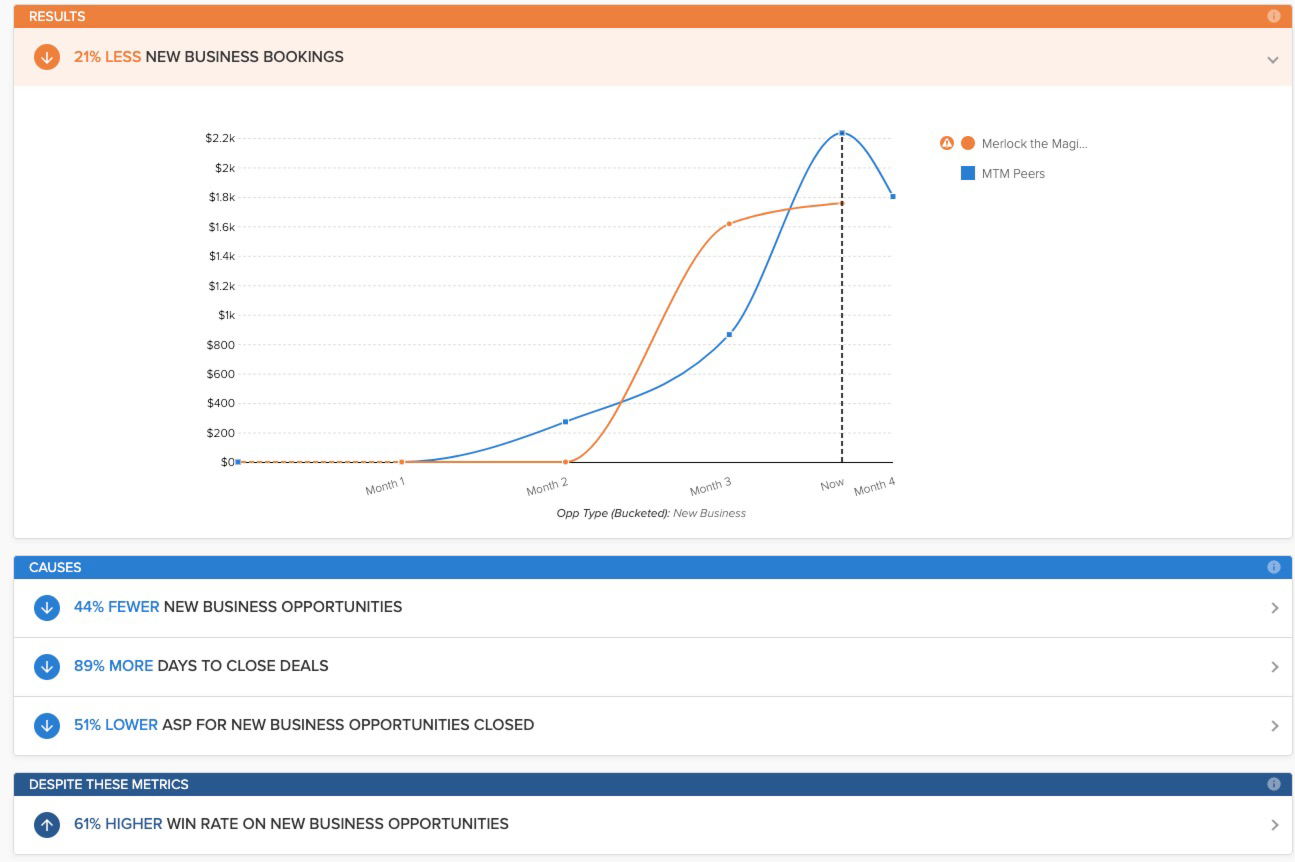 These ramping insights will show teams performance patterns early in a rep's tenure so you know if a rep is having a successful ramp or if you need to course correct before it results in a performance issue.
For example: Max Goof has 60% higher New Business Bookings compared with their peers at this point in their ramp.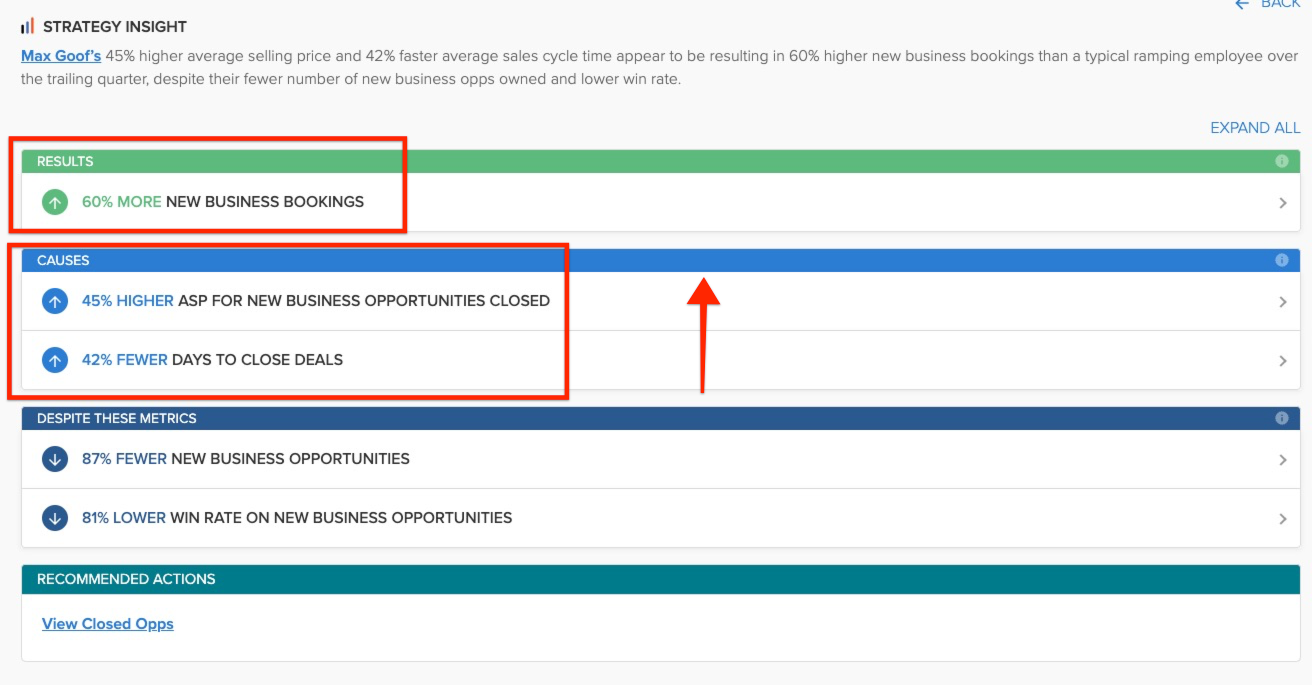 Looking at their bookings drivers, Max has a 45% higher ASP and 42% faster deal cycle. Therefore, because they are closing bigger deals more quickly, they are compensating for holding fewer opps and having a lower win rate compared with their peers during ramp.
This is great information for this rep as they continue their ramp on this team. While they have strong bookings, this pattern suggests this rep has a pretty different pattern than their peers where they are closing big deals.
A few recommendations for coaching:
Inspect this rep's Average Opp Size to understand if this rep is consistently working larger deals than their peers

If this rep is proficient at closing larger deals consistently, they may have some best practices to share with the team to raise team average ASPs

Review their New Opps Owned and New Pipeline Owned to ensure this rep has a healthy in-flow of new opps because their opp count is much lower than their peers
Look at their Opp Conversion Rates to see what is causing their lower Win Rate compared with their peers.

Improving Win Rate to be closer to their ramping peers average could help this rep over-perform even more
* Peers are defined as Individual Contributors in the same Discipline and Segment. For example, an Enterprise Inside Sales rep would be compared with all other Enterprise Inside Sales Reps